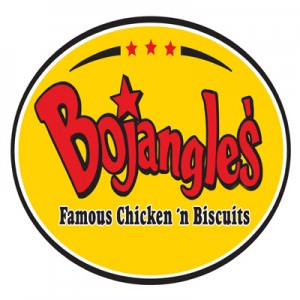 Since opening their first restaurant in 1977 in Charlotte, NC, founders Jack Fulk and Richard Thomas have expanded the Bojangles' franchise to over 600 locations across 11 states as well as in three international locations. In 2007, Entrepreneur magazine recognized Bojangles' as the top leader in the chicken franchise. Today, this franchise continues to be a top competitor in serving the best chicken in the nation and continues to expand.
Bojangles' offers a tasteful and complex variety to their menu. The restaurant is most famous for its Cajun-seasoned chicken and homemade biscuits. The restaurant also boasts of their traditional sweet tea and delicious sides such as Dirty Rice and Cajun Pintos. Biscuits are made in traditional ways, yet are also made in new and exciting ways that are featured on the all-day breakfast menu. Additionally, in order to meet customer needs, the restaurant may modify or even add to its menu based on popular customer demand. This chicken franchise strives to provide a unique dining experience and will also cater many types of events. The ultimate goal of this team is for customers to leave happy so that they want to keep enjoying Bojangles' food and service.
The franchise's success has been made possible thanks to not only the customers, but also to its driven employees who provide friendly, efficient customer service and have a passion for serving and preparing delicious food. Bojangles' is a great place to work because it cares about its employees. This company wants to see its workers grow and thrive in the food-service industry. Apply today if you would like to be a part of the team!
Bojangles' Careers
Those who apply for Bojangles' jobs must be at least 16 years of age. In addition, job-seekers must be willing to participate in a background check. Applicants who desire to be a crew member may have little to no experience for entry-level positions. Those who seek careers in management should have at least one year of experience in the food-service industry. All new team members will receive full training that is appropriate to their position.
Job-seekers can apply for a job online through the restaurant's official website by following the employment links. This will include selecting a state, city, and location. Most locations accept online applications only and do not offer printable or downloadable versions. However, a few locations do prefer printed applications, in which case the job-seeker can acquire a free application at the store location. Each location has its own preference listed on their official website.
Job Descriptions and Salaries
Those who seek employment will find a variety of jobs that can fit any person's qualifications. Bojangles' welcomes entry-level applicants as well as those who wish to pursue a career. Entry-level jobs include cook, biscuit maker, cashier, drive-thru cashier, and kitchen staff. Leadership positions include restaurant manager, assistant manager, team member, and kitchen leader. Entry-level jobs focus on customer service and food preparation. Managerial positions focus on keeping the restaurant running in a smooth and timely manner, while also addressing customer concerns. Managers will also ensure customer satisfaction. Responsibilities of all employees include maintaining a positive work environment while keeping the workplace efficient and safe.
Bojangles' careers offer flexible schedules to both full-time and part-time employees while providing opportunities to learn and grow in a successful, reputable business. Since this popular chicken franchise is constantly expanding, it is often looking for prospective workers who want to join the team. Look for their red and yellow sign at job fairs! You can find out when and where these job fairs occur on their official website.
Get Your Degree!
Find schools and get information on the program that's right for you.
Powered by Campus Explorer
Higher positions affiliated with this franchise in business, social media or marketing will most likely require a four-year degree. Degrees that are best fit for an advanced Bojangles' career are in marketing, business, advertising, public relations, or communications. Internships are also available to apply for. Prospective employees need to be creative, hardworking individuals. Also, they may need to have a few years of experience in similar fields. If you are interested in an advanced position with this company in business, social media, or marketing, email a resume and cover letter to the proper employer.
Average Wages/ Salaries & Benefits
This company takes care of its employees. It offers competitive pay and monthly bonuses as well as discounts to all of its team members in all locations. Full-time employees receive benefits such as medical, dental, and vision coverage, as well as life and disability insurance. The company will also provide a company-matching 401(k) plan. Salaries can range from $28,000 to $42,000 per year, depending on the position. Average part-time wages may start anywhere between $7.25 to $9.00 per hour, depending on the location and job title.
Workers and their immediate families have the wonderful opportunity to apply for the Jack Fulk Scholarship. In honor of founder Jack Fulk, ten $1,000 academic scholarships are awarded to student employees each year. The winners are chosen from a small, select pool of finalists who are deserving of recognition.
Advice For Application Process
Fortunately, it is easy for applicants to figure out how to apply to Bojangles' online. When applying for a job, entry-level, part-time, and full-time applicants may need to create a snagajob.com account through the Bojangles' website if they have not already done so. Then, if you are applying, you should choose the job description that would best fit your knowledge and skills. Once you select a position, proceed to fill out the application. Make sure you list previous work experience from most recent to least recent, and make sure all information is correct.
Applicants should complete the application neatly and carefully, with little to no spelling and grammar errors. This will help your Bojangles' application stand out among many other potential job-seekers. Applicants who wish to work full-time and possibly pursue managerial Bojangles' careers should also submit a resume with their application. Resumes make an applicant stand out and quickly gain an employer's attention. Resumes will require listing your job experience from most recent position held to least recent. Make sure all information is correct.
When a job-seeker obtains an interview, he or she should arrive to the interview early. Appropriate attire includes clean, business-casual clothing. Tattoos should be covered, if possible, and unconventional piercings should be removed. Also, since this franchise values friendly customer service, be sure to wear a smile.
Interviews may last around a half hour. At the interview, the interviewee should display his or her friendliness and strong work ethic. Any direct experience with cashiering, food service, or customer service should also be shared with the interviewer. Applicants should be ready to answer questions about themselves such as their availability, conflict management skills, and access to reliable transportation. In most cases, you will have the opportunity after the interview to ask the person who is interviewing you some questions about the restaurant. It is best to think about these questions before the interview, and asking questions shows that you are interested in joining the team. Some job-seekers find out right away from the interviewer if they receive the job, but not all interviewers will state this.
Above all, prospective employees need to be honest, have a good attitude, and desire to create a positive impact in the workplace. Once hired, employees may also discover additional Bojangles' job opportunities and learn to perform multiple tasks. In this case, it is best to take on more responsibilities if you are being asked to. Increasing your responsibilities gives you a chance to advance in the team and possibly increase your wages.
Hours of Operation
Store hours are typically from 5:30 a.m. to 10:00 p.m. Those who do not work on-site, such as warehouse workers, may have alternative hours.
Competitors
In comparison to chains such as Popeyes Louisiana Kitchen and Chick-fil-A, Bojangles' was the first restaurant franchise to offer breakfast to their customers. They continue to make 40% of their daily business before 11 a.m.
Also See:
Capital Grille: See this page for jobs at Capital Grille.
Ryan's: Visit the job application for Ryan's to apply today.
Texas Roadhouse: See this page for jobs at Texas Roadhouse.
Steak 'n Shake: Steak 'n Shake offers opportunities for both, beginners and experienced roles.
Eat'n Park: Checkout the application page for work at Eat'n Park.
Company Links
http://www.bojangles.com/about/employment