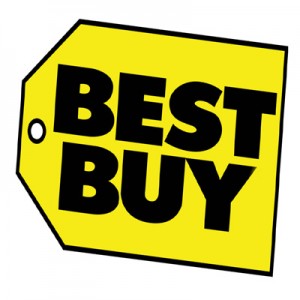 Best Buy is a corporation with main offices in Richfield, Minnesota. It is an electronic corporation focused on the production of consumer electronics, in which it is considered a leading brand.
Originally a company that started in Minnesota, Best Buy was founded by Gary Smoliak and Richard Schulze in 1966. First, it operated as an audio specialty store before becoming the consumer electronics shop it is today.
Today, Best Buy is one of the biggest consumer electronics companies in the world, with branches operating abroad such as in Mexico, China, and Canada. In total, the company has 1,026 stores open and is continuing to expand.
Best Buy provides its employees with a generous set of employee benefits which include paid training, store discounts, flexible hours, raise eligibility, life and health insurance, and a 401(k) retirement plan.
Employees often cite these benefits and the competitive and friendly atmosphere of the company as reasons why they decide to stay. Employees affirm that they are being treated well and they get to receive a multitude of benefits from their hard work.
How old do you have to be to work at Best Buy?
The minimum age requirement for an entry level job at Best Buy is 16 years. For those who wish to apply for higher positions, higher qualifications will be needed.
Best Buy Careers
Best Buy managers typically look for employees who are good at multitasking and who thrive in fast paced environments. Furthermore, they also look for organization skills and the ability to learn new skills quickly. Here are some of the jobs open at Best Buy:
Cashier: people who are employed as cashiers are responsible for monitoring and maintaining orderly customer transactions. They are put in charge of direct monetary transactions of all sorts with customers and are responsible for providing product information to customers.
Cashier lead: cashier leads are the ones who are put in charge of monitoring the performance of cashiers in a branch. They are the ones responsible for keeping track of their attendance and resolving escalated customer concerns. Furthermore, they are also responsible for training new cashiers on the job.
Sales associates: these people are responsible for entertaining customer queries. Furthermore, they are also responsible for providing information on particular products. In addition, they also help advertise programs and company offers to customers.
Home delivery driver: applicants for this job are required to have an active driver's license. Home delivery drivers are responsible for bringing customer orders from the store to the customer's location of choice. Apart from delivering goods, delivery drivers may sometimes be needed to unload products into the customer's desired location.
Computer technician: Customers may need to have their warrantied products repaired, and so a computer technician's job is to make those repairs and ensure that customer complaints about certain product malfunctions are dealt with. Applicants are required to have an extensive knowledge on technology and repair.
Warehouse supervisor: the warehouse supervisor is responsible for the upkeep of product supplies in the store. Furthermore, he or she is also responsible for ensuring that the right number of the right kinds of products are delivered to the store branch on time.
Inventory specialists: these workers are the one responsible for receiving, loading, unloading, shipping, and stocking store branch products. Those who wish to apply for this entry level job must be able to lift heavy weights consistently and be generally comfortable with basic manual labor.
Shift manager: the shift manager is responsible for the maintenance of all employee schedules. Shift managers are responsible for ensuring that the right number of people are working at certain hours of the day. Their work includes organizing work schedules and approving or denying leave requests.
Assistant branch manager: the assistant branch manager is responsible for helping the general manager with the upkeep of the whole store branch. Assistant store managers are usually put in charge of employee training and regular branch maintenance.
General Manager: the general manager is the head of the branch and is responsible for the overall upkeep of his or her assigned branch. General Managers coordinate with the head offices of Best Buy to ensure that company policies are properly cascaded to employees. They are also responsible for ensuring that the branch is well maintained and running smoothly.
Best Buy Application
Those who wish to work for Best Buy can research job openings through the company's website. There are also application forms in the website you can fill out. If you're not so adept at online applications, you can also go in person to your nearest Best Buy branch.
Best Buy has an online application process. While searching for vacant job positions, you may fill out an application form online and have it sent directly to managers. You will simply receive a call once your application has been viewed and processed.
When filling in the application form, ensure that you provide clear and correct information. Do not leave blanks on the form as much as you can, and don't put any piece of information on the form that can't be certified as being true.
Managers at Best Buy look for employees who thrive in fast paced and multitasking environments. So, when creating your resume, ensure that you highlight these qualities so that the managers can see that you're fit for the job.
Once your resume is accepted, you will be interviewed by the managers. Again, highlight any customer service experience you may have. In addition, focus the interviewer's attention on your skills as an employee.
Facts About Best Buy
Best Buy is known as a fast paced environment for employees. Not only that, employees also generally enjoy working for the company because of the friendly culture that exists within its walls.
Best Buy continues to be a leader in sales in spite of the recent shift to online shopping felt across the West. Sales in physical locations remain high mainly because of the company's advertising efforts.
The company is known as a leader in consumer electronic production and sales. A leader in this business, Best Buy has more than a thousand branches spread across multiple countries in North America and Asia.
Best Buy is also known for its recycling program. As an electronics company, they are aware of the damage that their electronics might be causing to the environment, and so the company has started initiatives to recycle old and/or broken televisions, computers, and other digital products to reduce electronic waste.
Application Links
Company: https://www.bestbuy.com
Careers: https://www.bestbuy-jobs.com
Application: N/A