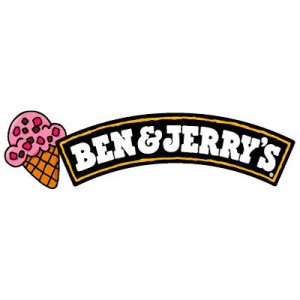 Ben & Jerry's is a premium ice cream brand with humble beginnings. It started out as an ice cream and crepe shop in a renovated gas station in Burlington, Vermont. In 1978, Ben Cohen and Jerry Greenfield opened the very first of many Ben & Jerry's locations. Today there are over 150 scoop shops across the United States. They do not only operate as standalone shops, some of them are in airports, universities, and children's hospitals. Ben & Jerry's believes business has a responsibility to give back to local communities. They make their best possible ice cream in the nicest way possible.
Ben & Jerry's has a three-part mission that guides their decision making in the way they do business. Their product mission drives them to make fantastic ice cream – for its own sake. Their economic mission asks them to manage their company for sustainable financial growth. Their social mission compels them to use their company in innovative ways to make our world a better place.
This business thinks it's important for food to be natural. All milk in their premium products comes from cows that are not treated with bioengineered growth hormones. They are proud to use all natural flavorings, extraordinary extracts, and fantastic purees. As a fair trade certified company, their farmers are guaranteed a fair price for their valuable harvests.
Other than our amazing ice cream, what really makes Ben & Jerry's special is people. This company has always relied on people and communities keeping their business going. Quality in their products comes straight from quality of their people. Because of their passion for communities, Ben & Jerry's attracts high quality people to work for them. Does this sound like a great place to work? Interested in being part of this team? Keep reading and learn about job opportunities and Ben & Jerry's careers.
In 1979, Ben & Jerry's celebrated their one year anniversary with a Free Cone Day for their customers. That tradition still carries on every year. The first franchised scoop shop opened in Shelburne, Vermont in 1981. Ben & Jerry's broke the world record for world's largest ice cream sundae in 1983 weighing 27,102 pounds.
The Ben & Jerry's Foundation was founded in 1985 to fund community-oriented projects. In 1988, founders Ben and Jerry were named U.S. Small Business Persons of the Year by President Ronald Reagan. Ben & Jerry's became a wholly owned subsidiary of Unilever in 2000. A Board of Directors was formed dedicated to preserving the social mission, brand integrity, and product quality of the company.
Ben & Jerry's partnered with Rock the Vote in 2004 to encourage young people to vote. They held a Free Cone Day in which 11,000 voters registered. This company became Fair Trade certified in 2006 guaranteeing that their farmers get a fair price for their harvest. In 2012, Ben & Jerry's introduced a line of Greek frozen yogurt. In 2013, this company made a commitment to transitioning all of their ingredients to be fully sourced non-GMO.
Get Your Degree!
Find schools and get information on the program that's right for you.
Powered by Campus Explorer
Ben & Jerry's Careers
Hiring requirements for Ben & Jerry's jobs vary depending on which position you're interested in. One requirement that all applicants must meet: a commitment to providing quality, natural ice cream products with friendly service for customers. Visit the careers website so you can see responsibilities and a job description of a job you're interested in. An application form will indicate any specific hiring requirements.
This company will accept your resume, cover letter, and Ben & Jerry's application for consideration. All qualified, motivated candidates will be contacted in order to advance with the interview process. This is where more information about salary and benefits will be shared so your questions about this company or the position can be answered.
How old do you have to be to work at Ben & Jerry's? Minimum age for a job with this business is 16 years old. There's no maximum employment age; all applicants above age 16 may apply online.
Any asset of a business must be well taken care of in order to perform at its highest level. Since Ben & Jerry's most valuable asset is their amazing staff, they take care of them with competitive wages and benefits. See below for a few average wages than can be expected at this company. Clearly, there is a lot of room for growth in a career with this business.
Scoop Shop Shift Lead                       $9.49/hour
Scoop Shop General Manager          $32,768/year
Associate Finance Manager                $80,072/year
Wages aren't the only reason this business is a great place to work. They also offer employees a fantastic benefits package. They pride themselves on being a family friendly place where employees can grow both their careers and their families. Ben & Jerry's offers a progressive benefits package that could include the following. Most importantly, all Ben & Jerry's employees get three free pints of their very own super premium ice cream every day!
Insurance, Health, & Wellness
Health Insurance, Life Insurance, Dental Insurance, Vision Insurance, Disability Insurance, Mental Health Care, Health Savings Account, Flexible Spending Account
Financial & Retirement
Retirement Plan, 401K Plan, Performance Bonus, Stock Options, Supplemental Workers' Compensation
Family & Parenting
Work From Home, Maternity & Paternity Leave, Dependent Care, Family Medical Leave, Military Leave
Vacation & Time Off
Vacation & Paid Time Off, Paid Holidays, Sick Days, Volunteer Time Off, Bereavement Leave
Perks & Discounts
Employee Discounts, Free Lunch or Snacks, Gym Membership, Mobile Phone Discount, Company Social Events, Employee Assistance Program
Professional Support
Diversity Program, Job Training, Professional Development, Apprenticeship Program, Tuition Assistance
Ben & Jerry's Job Descriptions
This company has new positions opening up constantly. The best way to keep track is to follow Ben & Jerry's on LinkedIn until a perfect job for you becomes available. When you do find a position you're interested in, you can visit parent company Unilever's website to apply. After you apply, you could be chosen for a recruiter phone screen. Their phone screen could lead to multiple on-site interviews in Burlington, Vermont leading you to an exciting new career. Here are current job openings;
Manufacturing Supervisor / Front Line Manager
Global CMI Manager
Front-End Designer
Catering Coordinator
Advice For Application Process
Ben & Jerry's wants your job inquiry with them to be successful. They want applicants to find a job with them that would be a good fit. When considering a position with this company, consider your own skills, knowledge, and qualifications. Which positions are your qualifications compatible with?
When filling out a Ben & Jerry's application, be thorough, honest, and accurate. Be sure all relevant experience and education is included. They want a chance to get to know potential employees when examining applications. How your application is filled out is your potential employer's first impression of you. It's a good idea to review all information after your initial completion of the application before submission and ensure accuracy.
An extra advantage when applying for a job can easily be obtained by writing a well written cover letter. This is a good, easy way to get more positive attention from your potential employer. This will also further help them in understanding why you're interested in a job with them.
If there is potential for a job for you, the company will try making contact via telephone or email. Please make sure you're providing them with current contact information. Stay on top of your phone calls and emails in case they are trying to make contact so you can move forward with the application process.
If you're chosen to be interviewed for a job, make sure you're at the right place at the right time. If you have any questions regarding time or location of an interview, then please do not hesitate to contact the employer. They are happy assisting potential employees.
You may find several jobs that you're qualified for and interested in on the website. If so, feel free to submit multiple applications. For Ben & Jerry's jobs, helpful application links are listed below. Ben & Jerry's jobs online are easy to find. A printable application for Ben & Jerry's is not available so please apply for any available positions online. Since there is not a printable application form, there's no need to submit a physical, direct application.
Men and women seeking employment can visit the Ben & Jerry's website for a free application. They are constantly improving quality of their products, moving forward with natural products, and focusing on customers' daily needs. If you're interested in being part of that vision, please apply for jobs at Ben & Jerry's with an online application.
Ben & Jerry's hours of operation vary depending on location. For hours of the store you'd like to work in, please check the store locator on the company's website. For home office positions, hours will be discussed in the interview process to find a shift that works for all parties involved. The industry of premium dairy treats is a great one to get into regardless of where you work. If a career with Ben & Jerry's is not possible, you have several other options.
One of the top competitors of this company is Haagen-Dazs. Haagen-Dazs has franchises all across the world. Unlike Ben & Jerry's, they do not exclusively use all natural ingredients, but do offer high end products. Another competitor of Ben & Jerry's is Baskin Robins. Baskin Robins is based in Glendale, California and is known for their famous 31 flavors. They are the largest chain of specialty ice cream shops in the world.
Also See:
Rocky Mountain Chocolate Factory: Use the Rocky Mountain Chocolate Factory job application to apply here.
Panera Bread: Panera Bread offers opportunities for both, beginners and experienced roles.
Orange Julius: See this page for jobs at Orange Julius.
Dunkin' Donuts: See our guide for careers at Dunkin' Donuts.
Baskin Robbins: See this page for jobs at Baskin Robbins.
Company Links
http://www.benjerry.com/about-us/jobs