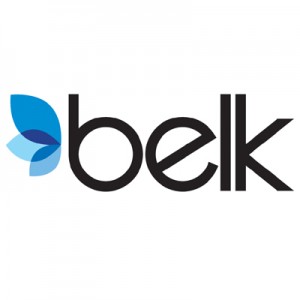 Belk, Inc. is the largest family owned and operated department store in the nation, with over 300 stores in 16 states, 23,000 employees, and $4 billion in transactions each year.
In 1888, William Henry Belk used $750 in personal savings, a $500 loan and $3,000 of consignment goods to open a bargain store called "New York Racket" in Monroe, North Carolina.  He then entered into a partnership with his brother and later renamed the store "Belk Brothers."
Belk stores are often U.S. mall anchor stores found in Alabama, Arkansas, Florida, Georgia, Kentucky, Louisiana, Maryland, Mississippi, Missouri, North Carolina, Oklahoma, South Carolina, Tennessee, Texas, Virginia, and West Virginia.
The department store chain features products selected to appeal to their target customer demographic, which is comprised of middle class and affluent women ages 35 to 54.  Clothing, shoes, jewelry, cosmetics, accessories, gifts, and home furnishings including bedding, small appliances, crystal, china, and flatware are sold.
The retailer operates a fine jewelry business, "Belk and Co. Fine Jewelers" in half of its stores.   Some product lines are offered exclusively to online shoppers, and the retail giant also operates online bridal and gift registries.  The e-commerce website was updated and re-launched in 2008, expanding the customer base and reach of the retail chain.
The company purchased stores from Saks Incorporated retail business lines, including 47 Proffitt's and McRae's department stores in 2005 and 38 Parisian stores in 2006.
With headquarters in Charlotte, North Carolina, the chain has six flagship locations, with a seventh opening in 2014, and three separate operating divisions with offices located in North Carolina, Georgia, and Alabama to manage administration and merchandising.
Get Your Degree!
Find schools and get information on the program that's right for you.
Powered by Campus Explorer
Belk Careers
Each position has its own list of qualifications based upon the level of education and experience needed to function in the role. For example, an entry level seasonal retail position does not have a minimum education requirement, but previous retail experience is preferred, in addition to excellent communication skills.  Some jobs specify that personnel must be willing to work shift rotations that involve working nights and weekends.
There may be physical qualifications required for certain jobs.  Some positions require that the employee be able to use a computer keyboard, standard telephone and other related business equipment and be able to remove sensor tags from merchandise.
Some positions require the applicant to be able to push / pull 100-500 pounds when moving stock carts. Stocking requirements can involve reaching above & below shoulder level and lifting 25-50 pound boxes.
How old do you have to be to work at Belk? The minimum age for employment with the company is 18.
Most entry-level, non-management jobs offer a competitive hourly rate of pay, while management and corporate positions are job opportunities where salary is calculated based upon a number of factors, including job responsibilities and the education and experience level of the employee.
Benefits offered are based upon the position and length of service, and are comprehensive and competitive.  New employees are immediately eligible for a merchandise discount and employee assistance program access. The benefits package may include:  Health insurance, life insurance, disability insurance, home and auto insurance, paid vacation, holidays, sick leave, and funeral leave.
The company provides excellent training and advancement opportunities to its employees through its Corporate and Store Training and Development department, which features career-building training programs designed to develop the skills of its workforce.
The standard hours of operation for store locations are:
Mon – Sat:  10:00am – 9:00pm
Sun:  12:00pm – 6:00pm
Store hours may be adjusted seasonally to accommodate holiday schedules.
Current and former employees praise the following aspects of their experience working for the retailer:  employee discount, convenient mall location, flexible hours, friendly co-workers, upbeat attitudes of management personnel, competitive pay, opportunities for growth and advancement, opportunity to gain hands-on experience within the retail industry, good communication, and a company with planned growth to maintain stability.
Belk Job Descriptions
The Careers section of the corporate website is designed to allow you to search for jobs among a listing of store or corporate positions. The majority of entry level positions are within the retail stores.
The following are titles of positions within the Store Positions category:
Job title examples are Part-Time Shoe Sales Associate, Full-Time Shoe Sales Associate, Sales Team Manager, Part-Time Ladies Sales Associate, Part-Time Home Sales Associate, Seasonal Sales Associate, Part-Time Sales Associate, Sales Associate, Sales Associate – Ladies Apparel, Ladies Shoe Sales Associate, Part-Time, Part-Time Sales Associate- Sportswear and Kids, Part-Time Sales Associate- Men's and Home, and Sales Team Manager.
Cosmetics Department examples are Clinique Cosmetics Beauty Advisor, Part-Time, Estee Lauder Cosmetics Counter Manager, Clinique Cosmetics Counter Manager, Cosmetics Beauty Advisor, Full-Time, Lancome Cosmetics Beauty Advisor, Part-Time, Cosmetics Beauty Advisor, Bobbi-Brown Part-Time Cosmetics Beauty Advisor, and Part-Time Fragrances Cosmetics Beauty Advisor.
Operations store positions include Seasonal Operations Team Associate, Operations Manager, and Full-Time Operations Team Associate.
Other store positions include Full-Time Human Resources Cash Office, Part-Time Lead Scheduler, Store HR Associate, Full Time, Salon Technician, Salon Front Desk, Maintenance Technician, Administrative Assistant, Full-Time, Receiving Lead Associate, Loss Prevention Manager, e-Com Fulfillment, PC Maintenance Tech I (Field Service), Fine Jewelry Counter Manager, Fine Jewelry Sales Associate, Lead Visual Associate, and Store Visual Merchandise Manager.
The following are titles of jobs within different divisions of the Corporate Positions category:
Information Technology jobs include IT- Omnichannel PMO Director, IT Associate Systems Analyst-Marketing Systems, and IT Senior Business Systems Analyst.
eCommerce jobs include eCommerce Digital Product Manager Mobile/Checkout, eCommerce Digital Project Manager-PMP Required, and eCommerce Web Merchandising Specialist.
Other corporate job titles include  Outbound Manager, Director of Vendor Compliance, Assistant Buyer-Kitchen Electrics, Novelty Electrics, Forecast Analyst, Director of Change Management, Assistant Buyer-Better Collections and Suits, Administrative Assistant II, Financial Systems Analyst, HR Generalist, Senior Systems Analyst – Hybris, Payroll Analyst – Production, Risk Analyst, Manager of Financial Systems and Reporting, Experienced Mechanical Maintenance Technician, Maintenance Manager-Fulfillment Center, Senior IT Auditor, and Merchandise Assistant.
There is a special Executive Trainee Program available to college students and college graduates in the following disciplines:  Accounting / Finance, Creative, Communications, E-Commerce, Human Resources, Information Technology, Merchandising, and Retail Management.
Examples of job titles related to this program include:
Merchandising,
Executive Trainee:   Stores Retail Management, Executive Trainee:  Corporate Finance, and Internship: Information Technology.
You may also perform a more targeted job search on the Careers page based upon the following categories:  New Store Openings, Information Technology Jobs, Corporate Management Jobs, Corporate Jobs, Retail Management Jobs, Retail Sales and Support Jobs, and Seasonal opportunities.
Belk Interview
If your qualifications prove to be a good match for the job, you will be contacted for an interview.  Dress appropriately for the interview, and arrive early for the scheduled interview.  Be prepared to talk about how your experience and/or other qualifications make you the best candidate for the job.
Most interviewers will evaluate your interpersonal skills during the interview, including your ability to communicate and whether your attitude and manner will be well received by customers and/or colleagues.
Advice For Application process
Visit the Careers page of the corporate website to learn how to apply for Belk online.  There is no printable application for Belk, but you can apply online by submitting a direct application via the website. Despite the fact that the Belk application process to apply for Belk jobs does not include a printable application form, it is easy to apply for jobs at Belk using the free application format to submit your Belk job application online.
To join the Talent Community, click on the "Join Our Talent Community" link on the Careers page.  An application form will display, requesting a minimal amount of information to create a job search account.
You can specify whether you are looking for a Store or Corporate position, and how many hours you would like to work each week.  For a corporate search, you may indicate which corporate area interests you, and attach your resume prior to submitting your profile.   This process takes only a few minutes, and prepares you to find local jobs and to submit applications for Belk careers online.
If you elect not to join the Talent Community, you may still search for jobs and apply for Belk jobs online by searching store or corporate positions, reviewing the job description and then submitting an online application.  This approach to applying for Belk careers without the download application form step simplifies the Belk application process and allows you to easily manage your job search.
Questions asked of an applicant for a retail position may be used to determine long term career goals with the company, hours of availability, the applicant's ability to handle challenging customers and their definition of the concept of customer service.
This retailer is unique in the industry in that it is a privately owned, family operated business.  The department stores that compete for customers in this space are Dillards, Inc., which ranked #386 in the 2014 Fortune 1000, and Macy's Inc., which ranked #107 in the 2014 Fortune 1000.
Also See:
Marshalls: Visit the job application for Marshalls to apply today.
BJ's Wholesale Club: See our resource page for more information on BJ's Wholesale Club careers.
Sam's Club: See our resource page for more information on Sam's Club careers.
JCPenny: Use the JCPenny job application to apply here.
Palais Royal: Checkout the application page for work at Palais Royal.
https://www.youtube.com/watch?v=L1_7Frg0cu4
Company Links