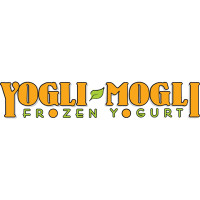 Yogli Mogli Frozen Yogurt franchises are mostly found in the Atlanta, Georgia area but have over two dozen franchise locations overall. They are a self-serve frozen yogurt company, meaning you get to pick what flavor and toppings you want to make a specialized frozen treat just to suit your individual style. Yogli Mogli has two sister companies, CherryBerry, Inc. and U-Swirl, Inc. that are also franchise opportunities.
Yogli Mogli was founded in May 2009 and began franchising at that time as well. The vision behind the company is to see its clients enjoy a healthy alternative to ice cream that still tastes as delicious. The frozen yogurt they sell contains calcium, protein, and other important vitamins as well as has the seal for Live and Active Cultures from the National Yogurt Association.
Yogli Mogli has over 21k likes on Facebook and holds a 4.5 out of 5 star review on both Facebook and Yelp for over 6 of their Georgia locations. They have been praised for the great taste of their yogurt, the good atmosphere and the customer service experience. The company seems to try and maintain a heavy social media presence so as to appeal to its younger clients. They host contests and fundraising events using Twitter and Instagram and regularly post pictures of employees working on toppings and at various locations on their main Facebook page.
Employment at Yogli Mogli is handled on a location by location basis. To be considered for employment, one must download a pdf file of the application and submit it to the location desired. The manager at that location will then contact anyone they feel they need to pursue further for any job opportunities.
Company Links
http://www.yoglimogli.com/employment-opportunities