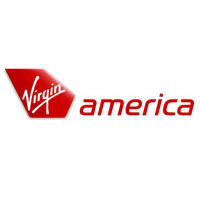 Founded in 2004, Virgin America is a young airline that has made a big impact, being named the top U.S. Airline by the Airline Quality Rating for the third year in a row.  Links to apply for jobs at Virgin America are at the bottom of the page.
The start of Virgin America was very rough, as it was denied by the U.S. Department of Transportation because the company, although on United States soil, was not being run by citizens.  In 2007, the company was cleared for takeoff after intense restructuring that gave United States citizens the proper amount of control for it to be legal.
Currently, Virgin America only has twenty-three destinations, with hubs at the Los Angeles International Airport and the San Francisco International Airport.  The company just expanded to have a flight to Hawaii, and they have two flights to various cities in Mexico.  Due to high costs, the company was forced to cancel flights into Canada, instead focusing on building service to Dallas Love Field.
The company values customer satisfaction more than anything else.  As you fill out a Virgin America application, know that your job will be geared towards making the customer's experience the best that it can possibly be. The company wants people who will give travelers the best experience that they can, while being themselves and showing off their potential to keep improving Virgin America.
Virgin America Careers
There are several Virgin America jobs available in the corporate office, mostly having to do with support work for the rest of the company.  The company is headquartered in Burlingame, California. When you apply for Virgin America jobs online, read the location so you know where you're apply to work.
At the local level, you'll be based at several locations around the United States doing various Virgin American jobs.  Mostly, they will be customer service, baggage, piloting, flight attendants, and making sure that the planes get off the ground on time.  These jobs are the faces of Virgin America that people see.
How old do you have to be to work at Virgin America? Age requirements vary by job; for many ground crew based jobs, you must be over the age of eighteen. If you're working on a plane, you have to be over twenty-one.  Make sure, as you fill out a Virgin America application, to read every requirement closely, some jobs require various experiences, degrees, or certifications.
Benefits are only given to those with full-time Virgin America careers.  Those include health, medical, dental, vision, and life insurance that dependents can be enrolled on as well.  401Ks are also included as benefits.  For all eligible friends and family, and for part-time employees as well, there is free flying on Virgin America, and some discounts with other carriers.
Virgin America Job Descriptions
Station Manager – You must be able to work well with customers and fellow crew members to make sure that everyone is satisfied and happy. By working closely with them, you'll embody the company vision and culture. Compensation is competitive.
Airport Team Member – Being able to multitask is a must as you strive to keep flights on time and customers and fellow crew members happy.  You will assume responsibility for the airline as you're the front line embodiment of Virgin America, and you must have knowledge of the company to work as best and as fast as you can. Compensation is around $10 an hour.
Pilot – Ensuring a safe and pleasant journey for travelers is the biggest part of this job by making sure that your aircraft meets all company and FAA regulations.  You are also the face of friendliness to all customers and an outstanding representative of the company. Compensation starts at around $40 an hour, but pay is raised on length of time as a pilot and time with the company.
In-Flight Team Member – By having an approachable, positive attitude with guests and team members, you will ensure that customers have a great flight.  With in-depth knowledge of your duties and safety procedures, you'll make sure that everyone is safe and happy as you fulfill the job of being a great host/hostess. Compensation is around $25 an hour.
Virgin America Interview Questions
Here are some questions you may be asked during your interview:
Why do you want to work for Virgin America? This is an extremely common interview question, so make sure you're prepared for it.  Talk about what drew you to the company, whether it was the culture or benefits, and why it's your first choice.
What experience do you have? Highlight all relevant experience that you have.  If you have any customer service experience, talk about that as customer service is one of the biggest things that the company values. 
Where do you see yourself in a few years? The interviewer wants to know if you see yourself with the company, so be realistic in your career projections. However, make sure to let your interviewer know that you're willing to take on extra challenges and responsibilities to move up in the company. 
How would you deal with an irate customer? This question might be posed in the form of a hypothetical situation.  But still, talk concisely about what you would do to fix whatever is making them angry.  Make sure to use examples from previous experience.
If you're interested in becoming a flight attendant, you may be asked: Give an example of how you react under pressure. Make sure to be clear and specific in your example.  Make sure that you explain why you made the choices you did and what your other options were.
Advice for Application Process
How to apply for Virgin America online: start by searching for the job you want.  Once you find it, select the listing in the location that you want.  Click create profile and follow the instructions from there.  There is no printable application for Virgin America.
Before attending your interview, research the company and industry.  Make sure to bring a list of questions with you to your interview.  Although many of your questions may be answered during your interview, it will place you above the other candidates.
The interview will have a formal tone; so you should make sure to dress appropriately, in a suit, at the very least.  Bring a positive and respectful attitude to your interview, it will show that you are close to what Virgin America looks for in their employees.
Make sure to show gratitude at the opportunity of an interview.  Afterwards, ask questions about the best way to check on your hiring status.  No candidates will be offered a job during the interview process as the company will want to screen all applicants before making a final decision.
Also See:
Japan Airlines: Checkout the application page for work at Japan Airlines.
Royal Caribbean International: Royal Caribbean International offers opportunities for both, beginners and experienced roles.
Seabourn Cruise Line: Use the Seabourn Cruise Line job application to apply here.
Malaysia Airlines: See our guide for careers at Malaysia Airlines.
Emirates: For career opportunities, fill out the Emirates online application.
Company Links