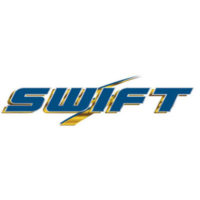 Swift is responsible for transporting goods. Large companies usually use their services. They transport materials or any items by truck to be delivered. The company's headquarters is located in Arizona. They offer their services throughout North America.
Jerry Moyes founded Swift in 1966. He is the founder, chairman, and CEO of the company. They began transporting cotton between Arizona and California. They expanded over the years to transporting goods for companies and retailers.
Swift has over 30 terminals throughout North America. They transport goods for popular companies such as Walmart, Target, and Quaker Oats. Swift has even won "Carrier of the Year" award from all of these companies. Swift employs over 10,000 people.
Swift offers a 401 k. They also offer medical, vision, and dental health insurance. Swift also offers prescription drug plans. They also offer disability and life supplemental benefits. After one year of employment, you can accrue paid time off. They sometimes offer a vacation bonus instead of paid time off in some cases, The amount of the bonus depends on how long you've worked for the company.
Employees enjoy working at Swift because of the experience they gain. They offer good pay and amazing benefits. Swift has a number of terminals where employees can stop to shower, eat, and rest. They offer on the job training for drivers looking to obtain their CDL license. Drivers get to experience new places because of all the traveling and driving they do.
How old do you have to be to work at Swift Transportation?
You must be at least 23 years old to work at Swift. You can be 21 only if you've served in the military. This is because they require you to have a clean driving record for five years.
Swift Transportation Careers
Swift offers many different careers for all different jobs. They have jobs for drivers, office staff, and technicians. Their main need is for drivers. If you want to drive, and don't have your CDL license, they do have their own school to help you obtain it.
Customer Service on Site Representative: Responsible for dealing with customers. Must communicate professionally. Must collect and maintain customer information in Swift's system. Responsible of maintaining a report to evaluate the cost factors associated with Swift. Candidate must have 1-3 years experience in customer service.
Customer Service Representative Level IV: This role is required to lead and perform customer service for a specific or assigned amount of customers. The customers can include regional or international accounts. Must have 3 years' experience in customer service. A high school diploma or GED is required.
Driver: Can be a recent graduate from Swift's driving school or recently obtained their CDL license. Must have a clean 5 year driving record. Must be able to pass a drug/alcohol screening upon hire.
Driver Leader Level 2: This role is responsible for leading a group of drivers. They must establish a good relationship with each driver. Candidate must have a diploma or GED. One year of leader or driving experience is required. A four year degree can replace required experience.
CDL Driver Instructor: Responsible to train and evaluate student drivers. They have to make sure the drivers possess the proper skills. Must make sure drivers know the rules of all roads and highways. Instructor is responsible for making sure students know how to handle any issues they may experience with Swift's trucks.
Planner: Responsible for providing and planning support to specified areas. Must also track trucks and manage deliveries based on customer needs. Candidate must have a diploma or GED. They must have 1 year of driving experience and 1 year of customer service.
Medical Assistant: This role requires a Medical Assistant certificate. This role must have 1-2 years' experience as an assistant and must know how to collect urine to test for drugs and alcohol.
Intermodal Support Service Coordinator: This role requires the person to develop and maintain spreadsheets for vendor invoices. They are the contact for vendors with billing questions. Must have a diploma or GED. Also needs 2 years' experience with billing or accounting functions.
Academy Leader: This role requires the person to manage, motivate, and lead staff in Swift's school. They manage instruction and make sure drivers are equipped with proper knowledge. Must have 5 years' experience as a truck driver. Must have 2 years' experience with a truck driver school.
Diesel Mechanic: This role requires the person to perform diesel inspections and recognize non diesel issues. They must refer these issues to the appropriate party. Must have a diploma or GED. Trade or technical school is preferred.
Swift Transportation Application
You must go on Swift's website to see all open positions. On the site you will see all specific job requirements. If you create an account, you can save your search. Swift can also notify you of any job openings related to your search by email.
Swift only offers online applications. There are no paper applications. Swift does provide a company phone number to call. It's on the site in case you have any questions or issues completing the application. You can also call to speak with a recruiter directly.
It is important to read all job requirements. They change depending on the job you're applying for. Be sure you meet all the requirements before submitting your application to be certain your application is reviewed entirely.
It is necessary to tailor your resume to the job you apply for. Include all relevant experience. If you were a delivery guy or previously worked in customer service-it's important to list that information.
It is important to be confident in the interview process. Sometimes Swift conducts phone interviews. It is important to speak clearly. If the phone interview goes well, you'll have an in person interview. The hiring process can sometimes take a while and it's important to always be polite and professional.
Things to Know about Swift Transportation
Swift's mission is to interest and keep customers. This requires employees to always put safety, service, and trust first. The culture is one of teamwork and respect. Their culture boasts of supporting all drivers, all miles, every day.
Swift and Knight Transportation are expected to merge together. These are two of the largest trucking companies. Their combined wealth is over $5 billion. This will affect both companies' stock prices. Investors can expect to make more money.
Swift is known for supporting their employees. Their goal is to treat their employees well and give them the opportunity for a better life. With top pay and great benefits, they attract new and experienced employees. They are also known for their fast and efficient 3 week courses for drivers to obtain their CDL license. Students won't have to pay the school back if they work for the company for about 2 years.
Swift strives to maintain a positive and strong commitment. They do this with their employees and communities/ Swift focuses on sustainability. They use fuel efficient transportation. This results in better air quality. Swift also makes charitable contributions. They have raised money for the YMCA and the Special Olympics.
COMPANY LINKS