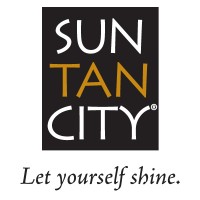 Sun Tan City is a tanning salon based in the United States. It operates over 200 stores across America, and has state-of-the-art sunbeds to give its customers a quick and easy tanning experience.
The tanning salon was founded by siblings Rick and David Kueber, who used to own video retail stores. By 2005, the company grew exponentially, having expanded to 21 more store locations.
Sun Tan City became a success, though its rise to the top is steady. It also became known as a place of tranquility and relaxation for many. For the management and their staff, creating great client experience is their ultimate goal.
Working at the company rewards employees with lots of wonderful perks and benefits. Aside from having product discounts, they also get free sunbed and spray tanning.
They also get to work in a fun environment where they can grow their potential, work in flexible hours, get commissions and bonuses, and collaborate with equally passionate and committed teammates.
How old do you have to be to work at Sun Tan City?
Job seekers who are 18 years old and above can apply at the company. Applicants for entry level positions may apply via the company website or Career Builder. Applicants for managerial positions, on the other hand, should email their resume to employment@suntancity.com
Sun Tan City Careers
The company is on the lookout for passionate, professional, and hardworking individuals who can contribute their skills and help the company continue to rise in this fast-growing industry. Here are the top 10 available positions at Sun Tan City:
IT Support Coordinator
The IT Support Coordinator's job is to collaborate with the IT team, management, company end-users, and vendors; reply to emails regarding technical issues; offer solutions using a ticketing system; and configure email setup and distribution to salons. The candidate must be highly proficient in MS Office tools, POS platforms, and the company's computer systems.
Tanning Consultant
The Tanning Consultant shall provide quality customer service and identify the needs of their clients. They shall not only meet sales expectations; but also help encode client information on the database. He shall also maintain the cleanliness of the salon. Applicants must have experience in sales and customer service.
Lamp Technician
The Lamp Technician is a part-time position. The chosen applicant shall do the following tasks: read and analyze lamp change reports; create schedules for replacements of lamps; load appropriate lamps; clean tanning beds; and return malfunctioning lamps to the warehouse.
Assistant Salon Director
The key duties of the Assistant Salon Director are monitoring the daily operations of the tanning salon; helping the Salon Director achieve sales and membership targets; review the performance of tanning consultants; coach the staff and assist in staffing requirements; and most of all, lead by example.
District Manager in Training
Applicants for this position shall help with driving sales to the salon; promote salon products and services; control the budget and expenses; monitor accounts, merchandise, and loss; and manage the overall operations of more than one store locations. He must ensure the highest level of customer service in all salons.
Salon Manager
The Salon Manager (or Salon Director) shall conduct employee performance assessments regularly and ensure maximum profitability for the salon. He likewise provides expertise to customers and the staff. As such, he must be knowledgeable in managing salon operations, client service techniques, and sales.
Customer Services Representative
The Customer Service Representative shall receive inbound calls in salons and address customers' issues in a prompt and professional manner. He should be able to offer many options to customers to address their concerns. The CSR must also be able to multitask (i.e. encoding or recording the conversation while attending to the clients' needs).
E-Services Manager
This position requires the applicant to handle customer complaints promptly and courteously. All concerns that are too difficult to handle will be shouldered by the E-Services Manager. In addition, he shall train the E-Service Representative in all aspects related to the job. He may also screen and select applicants.
Development Facility Technician
The Development Facility Technician must understand different terms, codes, and design disciplines utilized in the construction industry. Once employed, he shall conduct on-site inspections and check quality compliance. He shall also develop relationships within the local trade, and resolve technical site issues.
Brand Specialist
The Brand Specialist shall serve as brand ambassador for the company, and thus represent Sun Tan City in sales events, ensuring that clients are properly oriented about the salon's products and services. The right person for this job should have exceptional persuasive communication skills and diverse marketing efforts.
Sun Tan City Application
To apply, you must first ensure that you are within the acceptable age bracket, and agree to a drug test and a background check. Afterwards, you will be led to a page where you can complete an online application form.
This application form may be downloaded in PDF format. This form is available in the career site of the company and in the tanning salons as well.
Prepare your resumes for uploading via Dropbox or Google Drive. If you are personally handing in your CV, keep a cover letter ready just in case the hiring manager asks for it.
Resumes must highlight your skills and strengths. Include previous job experiences that are relevant to the position you are applying for. Two to three pages of CV will do.
If you pass the initial screening, you will be called for an interview a week within a week of submitting your application. The interview process also involves the drug test and background check, so this might take around three weeks to complete.
Things to Know about Sun Tan City
The company is known for its fun yet fast-paced environment. The entire place is relaxing, so employees are not really pressured at work. However, they are all encouraged to provide the best tanning experience for clients.
At present, the tanning salon has brought back Vicki's Birthday Bash, in which Sun Tan City club members get discounts in fast level sunbeds all year round.
The company also operates and believes in the four monuments or values: excellent, growth, professional development, and honesty and integrity. These four principles are the pillars that led the company to success.
The salon also believes in helping the community, too. It currently sponsors professional and amateur sports teams such as the Milwaukee Mustang's Fillies Dance Team, Maine Red Claws, and the University of Louisville Spirit Squad.
Application Links
Company: https://m.suntancity.com
Careers: https://m.suntancity.com/careers/#9JItGchA9wDxeC4q.97
Application: https://m.suntancity.com/careers/#9JItGchA9wDxeC4q.97