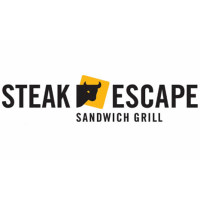 For a grilled steak sandwich, look no further than Steak Escape, a sandwich and fries spot that takes it to the next level. Currently based in Columbus, Ohio, Steak Escape was started in 1982 by Ken Smith and Mark Turner to spread the deliciousness of cheesesteak sandwiches around Northern Columbus. Starting with fresh ingredients like 100% USDA sirloin steak, hormone free chicken breast, Italian rolls baked in-house, and fresh cut potatoes, Steak Escape has built a niche for themselves with their own recipes inspired by East Coast cheesesteak traditions.
Fresh and hot of the grill, sirloin choices include the Triple Cheesesteak, Bourbon and Bacon, Original Philly, and Smokin' BBQ sandwiches, as well the Primo Double Steak Burger, their version of a Dagwood, as well as a Cubano sandwich. The Black & Bleu, for instance, has grilled sirloin topped with mushrooms, crispy fried onions, Cajun spice and bleu cheese sauce, plus mayo, lettuce and tomato.
Chicken offerings include the Chicken Bacon Club, Ragin' Cajun, and Crispy Buffalo Chicken sandwich. The Grandest Chicken is grilled breast nested in a blanket of mushrooms, sauteed onions, green peppers and provolone cheese.
Side salads are also available, and a Grilled Salad, too, which is any sandwich made on a bed of spring mix greens. The Grilled Wrap option cuts down the carbs for any of the sandwich styles by using a wrap instead of the Italian roll bread. Steak Escape offers a delicious variety of french fries, either plain (Naked Fries) or covered with grilled sirloin and a variety of luscious toppings from Sriracha to Ranch to Bleu cheese, bacon and grilled onions. There is also the Smashed Potato, which is a baked potato smashed on the grill and topped with the customer's choice of recipes.
Steak Escape gives back to the community, too. They collect donations year round and they match customer donations dollar for dollar. At the end of each quarter, Steak Escape selects a local charity or worthy cause, and every three months gives a check to its chosen cause. With nearly 150 locations, this can add up to a significant contribution to their communities.
Steak Escape Interview Questions
What would be your most desirable job? Show that you are ambitious here. It's not to say that you want to be a director within 6 weeks or anything unrealistic but that you want to succeed. Explain how you would ideally like to work in a role later on which allow you more responsibilities. This could be so that you can advance your knowledge and skills.
Would you retire if you had enough money to support yourself? I am sure that most people would like to retire at an early age. This is a question about your commitment to the company. They are checking to see how wealthy you are because they may be concerned that you will leave the organisation after a short time and they do not want to run the risk of this.
What may irritate you about your colleagues? You can explain here that you are 'not one to gossip' and that you would prefer to concentrate on your work. They may be testing you here to see if you start to complain and moan about other people and they may be concerned that you will do this in their time and in their organisation. Avoid expanding too much in this area for this reason.
Can you tell me a little more about yourself? This is your opportunity to 'sell yourself' in a positive manner. You need to imagine that you are a product being promoted to a company. This is where you can shine as a potential employee. You can explain how suitable you are for the role and how your experience will enable you to be able to perform to a high standard.
Company Links
http://www.snagajob.com/b/steak-escape-jobs