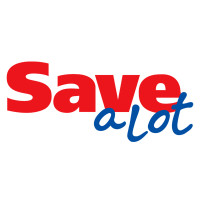 Save-A-Lot discount grocery stores serve more than 5 million value-seeking shoppers across its 1,300 stores in rural, suburban and urban areas from Maine to California. Offering savings of up to 40% on regular grocery bills, the retailer's exclusive brands continue to attract increasing numbers of discerning shoppers looking for hard discounts on groceries.
Top quality products include USDA-inspected pork, beef and poultry together with locally-sourced fresh fruits and vegetables. The stores also provide a great selection of non-food items, enabling shoppers to get everything they need at a hugely discounted price across America.
With a dedication to customer service and providing an excellent shopping experience, Save-A-Lot have built a reputation for clean, well-stocked and efficiently run stores with friendly and helpful staff ensuring customer satisfaction. The firm's vision is to save shoppers money and time, allowing customers to enjoy life to the full.
The extensive supply chain enables the brand to offer goods at heavily discounted prices, allowing customers to save money consistently and at their convenience. The retailer's brand is emphasized across a range of high-quality food and general household products, each with the common theme of offering the best value for money.
The hard discount retailer has 4Ds as its core values – Discuss, Debate, Decide & Do – and have a policy of according respect to both employees and customers, while placing the shopper first at all times.  It is a wholly-owned subsidiary of Fortune 100 Company Supervalu Inc, placing the retailer as part of one of the largest brands in America's grocery market.
Save A Lot Interview Questions
Is money or work more important to you personally? Explain that you are always hoping to gain new knowledge and experience in every project you dedicate yourself to, but if you honestly would not apply for a position if there was no money involved, do not suggest otherwise. A good way to answer this is to express that success is the most important thing to you, but that success can take on many forms.
How well do you work under pressure? Explain a specific situation where you had to push yourself to meet a deadline or accomplish a daunting task. Be sure it was something you were able to succeed at in the end, and if the pressure helped you to be as successful as possible, this is a good question to prepare for, so you can explain how you work especially well in such a situation.
Has an employer ever requested that you leave a position? Be honest! If this has happened, explain what mistakes you may have made from the previous employer's perspective. Do not speak ill of the previous company, and explain why you feel you were unable to be successful at the position, taking care to only point out difficulties that would not apply to the position you are currently applying for.
What traits does a good boss have? Answer this question by listing qualities that would apply to any position. Hard work is a good trait to mention. Express qualities that you value in yourself as well as qualities you have admired in others. Don't say anything too specific that may suggest that anyone without such a trait would be a terrible boss.
Company Links