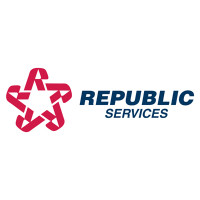 Republic Services is a waste management company in the US. The company prides itself in the delivery of quality waste disposal and recycling services to its clients. It uses non-hazardous methods to dispose of the waste.
The company began operations in 1996. Over the years, its operations have expanded tremendously. In 2008, Republic bought competitor Allied Waste Industries and managed to become the second largest waste management company in the US. They have 193 solid waste landfills,338 collection operations and 66 recycling centers. The company is headed by Donald W. Slager who has been the President and Chief Executive Officer since 2011.
There are over 30,000 employees in this company. It was named by the Business Insider as "One of the Most Meaningful Companies to Work for in America". It has also won National Waste & Recycling Association "Driver of the Year" Award 13 times.
Republic service offers numerous benefits to their employees. These include: health care and dependent care spending accounts, dental maintenance, Life Insurance and Accidental Death and Dismemberment Insurance, 401 k plan, Employee Stock Purchase Plan and employee discount programs.
How old do you have to be to work at Republic Services?
Republic services is an equal opportunity employer to be part of their team, one has to be over 18 years. For more information on available job openings, please log onto their website.
Company Links