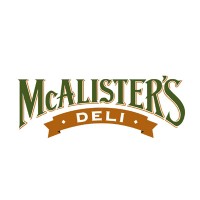 McAlister's Deli is a chain of American fast casual restaurants serving made-to-order, mouth-watering deli sandwiches in America. Their menu items include deli sandwiches, baked potatoes, salads, soups, and desserts. They also offer catering items like boxed lunches and sandwich trays.
In 1989, the company was founded in Oxford, Mississippi, by Dr. Don Newcomb, a retired dentist. McAlister's Deli is currently headquartered in Sandy Springs in Georgia.
The company has thousands of employees and restaurants in more than 400 locations in over 20 states. They have stores in Virginia, Florida, Arizona, and Michigan. This privately held company is currently owned and managed by Focus Brands.
When it comes to benefits, qualified workers enjoy flexible schedules and the chance to request rest days. They are entitled to big meal discounts in any company-owned restaurants. They also get medical benefits like dental, vision, and health care plans.
People love working at this company because they give good opportunities for everyone to work and earn. The company opened its doors to high school students, accepted them as part-time employees, and helped them finish their studies.
How old do you have to be to work at McAlister's Deli?
The minimum age requirement for most positions offered by this company is 16. However, it may be different for other positions like managers. Applicants are advised to contact the hiring staff to know more about it.
McAlister's Deli Careers
Interested job seekers may prepare their papers now and apply for the following positions:
Restaurant Team Members: They work in fast food restaurants and are responsible for ensuring people's satisfaction. They serve food and drink orders, replenishes utensils and napkins, greets customers, and answers their inquiries. They take food orders and maintain the service area neat and presentable, and prepare simple dishes.
Restaurant Assistant Managers: Restaurant assistant managers oversee other employees and monitor their work activities and performance. They administer training programs, prepare work schedules for all, and manage the inventory. They also manage guest complaints, ensure customer satisfaction, and administer effective follow up for customer reviews to gain feedback. They regularly inspect food and drinks preparation and uphold inventory to improve sales.
Hosts/Hostesses: Hosts/hostesses present a good first impression of the establishment's friendliness, high standard and excellent service. They also greet the guests upon arrival, inform them of their wait time, and monitor the waiting list. They enter customers' names in a computer, show people their tables and bid farewell to guests leaving the restaurant.
Kitchen Staff: Kitchen staff carry out a variety of functions in the kitchen section. They ensure the safety and cleanliness of foods by observing proper cleaning and sanitation of used plates, glasses, and utensils. They also ensure that the cookware supply for food preparation is functional and adequate. Moreover, kitchen staff are responsible for inventory monitoring.
Shift Manager: The shift manager assigns tasks to workers on duty. He calls a reliever in case an employee is not available for the day. When necessary, he cleans the work area and keeps it organized. He engages with guests to ensure they are happy with products and service offered. Likewise, he also promotes sales, specials, and new services or products when relevant.
Catering Associates: The responsibilities of catering associates include transporting different materials to and from the event venue. They follow the proper safety and health guidelines for handling food and dining utensils. They set up, decorate, and prepare dining and serving areas based on the layout plans and instructions provided by a catering manager.
Restaurant Managers: Restaurant managers coordinate and supervise the restaurant operations every day, inside and outside of the kitchen. They aim to provide excellent service and maximize patron satisfaction. They respond accurately and efficiently to guest complaints, review food and service quality, and search for new vendors. They also supervise and organize shifts.
Cooks: They clean the food preparation area as directed by company policy and law. Cooks prepare food based on the request of a guest. For table reservations, they may prepare food before the guest arrives. Cooks make some adjustments to foods to accommodate customers with specific diet worries and allergies.
Line Cook: A line cook sets up the stations and gathers all supplies required to prepare the ideal menu for service. She weighs and measures the ingredients, prepares different food items including seafood, meat, vegetable, poultry, and frozen items. A line cook also prepares garnishes and sauces for the assigned station.
Bartender: A bartender prepares non-alcohol or alcohol drinks for restaurant and bar patrons. He interacts with guests, takes orders, and serves drinks and snacks. He also assesses customers' preferences and needs and make the best recommendations. A bartender mixes the ingredients to prepare special cocktails.
McAlister's Deli Application
Interested job seekers are advised to visit the company website and learn more about the recruitment process. They may also download and print the online application form.
The company accepts applications submitted online and offline. Employment seekers must submit the completed application form to their preferred location and personally give the document to a restaurant manager.
Job seekers should also fill out the form honestly and legibly. When they are done, applicants must review the entries and look for errors or typos. Typos should be corrected before the submission.
Aside from that, applicants must double check their resume for any outdated or incorrect entries. It should indicate their latest mobile number and email address. All entries must be presented clearly and concise.
Note that several days might pass before the company calls an applicant in for an interview. Qualified candidates must dress properly whenever they go into the restaurants for employment-related purposes. When sending their papers, applicants should be ready for a possible on-the-spot interview.
Facts About McAlister's Deli
Many employees say that McAlister's Deli is a nice environment to work in. People work together as one team and treat each other like family. The managers are always eager to help new employees for any questions or concerns they may have.
McAlister's Deli likes giving what can make guests happier. Two months ago, they launched a new rewards program where guests will get more surprises. Guests should download McAlister's Rewards app and use it often to earn more rewards.
The company is known for their fantastic menu. Their menu includes Pecanberry, Raspberry Tea, and Peppercorn Turkey Ranch. Also, their McAlister's Famous Sweet Tea is highly popular amongst guests. This drink is available by glass or gallon.
McAlister's Deli never fails to give back to the communities they serve. Most restaurants go with programs to aid and support their respective communities. The managers and other employees actively participate in humanitarian programs organized by different charitable organizations.
Application Links
Company: www.mcalistersdeli.com
Careers: www.mcalistersdeli.com/careers
Application: N/A