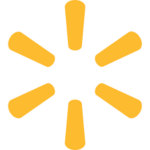 What you'll do
You play a major role in how our customers feel when they leave the store. You might be the first, last, and sometimes only associate a customer interacts with. That's why it's so important to smile, greet, and thank every customer. You are an ambassador of Walmart.
The pace can be intense, especially in the evenings, weekends, and holiday seasons. There are times when you must juggle several tasks in a short amount of time while helping customers: scan items, explain a price, bag items properly, count cash back, and keep your area clean–you get the idea!
It takes a special person who is positive, can multi-task and has a passion for customer service and helping others.
Duties and Responsibilities
Cashier
Smile, greet, and thank customers with a positive attitude
Stand for long periods of time while checking out customers quickly and accurately
Keep your area clean and presentable
Answer customer questions and help them with their needs
Be available to assist associates across the store as needed
Cart and Janitorial
Ensure customers have a great first and last impression
Gather carts from the parking lot
Operate equipment to move carts from the parking lot to inside the store
Clean restrooms, salesfloor, and parking lot as needed
Have a positive attitude in all weather conditions.
* For a complete list of duties and responsibilities, please see the actual job description.
#storejobs
About Walmart
At Walmart, we help people save money so they can live better. This mission serves as the foundation for every decision we make, from responsible sourcing to sustainability—and everything in between. As a Walmart associate, you will play an integral role in shaping the future of retail, tech, merchandising, finance and hundreds of other industries—all while affecting the lives of millions of customers all over the world. Here, your work makes an impact every day. What are you waiting for?
Walmart, Inc. is an Equal Opportunity Employer- By Choice. We believe we are best equipped to help our associates, customers, and the communities we serve live better when we really know them. That means understanding, respecting, and valuing diversity- unique styles, experiences, identities, abilities, ideas and opinions- while being inclusive of all people.
All the benefits you need for you and your family
Multiple health plan options, including vision & dental plans for you & dependents
Financial benefits including 401(k), stock purchase plans, life insurance and more
Associate discounts in-store and online
Education assistance for Associate and dependents
Parental Leave
Pay during military service
Paid Time off – to include vacation, sick, parental
Short-term and long-term disability for when you can't work because of injury, illness, or childbirth
Eligibility requirements apply to some benefits and may depend on your job classification and length of employment. Benefits are subject to change and may be subject to specific plan or program terms. For information about benefits and eligibility, see One.Walmart.com/Benefits.