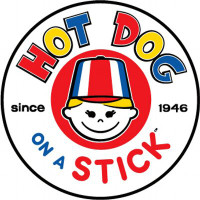 The Hot dog on stick brand is owned by the Global Franchise Group. that owns other Quick Service Restaurant franchises. The company offers a variety of well known and favorite fast foods in menus in their stores across 7 states.
The Company was found by David Barham in 1946 in Santa Monica, under the name Party Puffs. David initially sold ice cream cones and lemonade which he sold on the beaches of Southern California. Then he discovered his mother's cornbread recipe, which he used to perfect the main brand of the company. He sold these in fairs and to beach goers, and as popularity of his goods increased he was aiming for malls and supermarkets.
The first mall store was opened in 1973. Since then, the company has expanded to over 100 plus locations in over 7 states and still continues to grow. With thousands of employees and successful franchises, the company has grown to Korea as well. This commonly recognized brand has continued to become one of the most popular fast foods in America.
The employees get to be trained on a regular basis to ensure quality of both the service and food remains consistently excellent. Top operation managers for franchise are trained at GFG University, to ensure they are well equipped to run the business. An excellent promotion program is available for hardworking employees who consistently prove themselves.
How old do you have to be to work for Hot dog Stick Global Franchise Group?
To apply for a position, one must be over 18 years old. However for top management positions, experience is required and therefore the applicant should be around 25 to 30 years, with proof of experience. Workers who enjoy putting smiles on people faces, are social in nature and definately enjoy good food, love working in this environment.
Company Links
https://recruiting.talentreef.com/hot-dog-stick-global-franchise-group