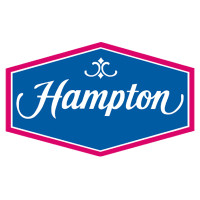 Hampton Inn is an international chain of upper midscale inns with complete amenities. Most hotels under this brand are privately owned and managed by franchisees, while a few are operated by the company.
The hotel chain was founded as Hampton Inn in 1984, but the company's name was changed to Hampton by Hilton. Promus Hotel Corporation founded their first hotel in Memphis, which was a 2-story building with over 100 guest rooms.
Hampton Inn has more than 2,000 hotels in almost 20 countries in various parts of the world. This company is among the biggest American hotel franchises. They have hotels in the United Kingdom, Canada, Turkey, and Latin America.
Hampton Inn employees are required to complete the ninety-day probationary period to qualify for all employee benefits. After 90 days, they'll enjoy 401(k) retirement plans, paid time off, and educational assistance. However, healthcare benefits offered vary by location.
Competitive salaries, comprehensive employee benefits, and job security are three reasons why people love working for this company. Hampton Inn is always giving what's right and just for all employees. Their employment package help them retain their hardworking employees.
How old do you have to be to work at Hampton Inn?
Entry-level job applicants should be 18 years old and above. Aside from the age requirement, they must have college or high school diploma, or equivalent. Having a related work experience is an advantage.
Hampton Inn Careers
The company looks for hardworking individuals with excellent customer service skills. Qualified applicants will fill the following entry-level positions:
Housekeepers: Keeping the hotels' good ambiance is the duty of housekeepers. Cleaning the bedrooms, kitchens, and bathrooms are part of their everyday activities at work. They dust and polish fixtures and furniture. They clean and disinfect toilets, bathtubs and showers, sinks, and countertops. Everything they do is to keep the hotel rooms ready to accommodate new guests.
Guest Service Associates: The guest service associates take care of customers by attending to their requests and needs in a professional way. These employees often provide information about the hotel's services and they're good at persuading the guests to book. Guest service associates do what it takes to impress the guests, and satisfy their needs during their stay.
Laundry Attendants: The laundry attendants make sure that hotels are always with sufficient stocks of ready-to-use linen. So, they help in removing stains from fabrics while keeping the rooms organized. Each day, they collect used linen and sort the items first before washing them. They also organize and stock the washed linen.
Bellmen: These friendly employees spend time mostly in the entrance to wait for and assist all incoming guests. Bellmen should welcome people and offer them help in carrying their luggage. They will lead everybody to their rooms and make everything ready for them. While they do such things, each encounter with guests must be cordial and helpful.
Night Auditor: A night auditor greets and welcomes the visitors. He takes care of everyone as he checks them in while trying to help them have a wonderful experience. A night auditor audits and balances the reports, and he sets schedules for guests' wake-up calls & next-day reservations. He also ensures that other departments have completed all EOD tasks.
Cashiers: Cashiers in the hotels collect guests' payments for room accommodations and other fees incurred throughout their stay. These fees may include valet, parking, room service, computer, or telephone use. Likewise, cashiers keep records of all transactions and a compilation of files about all financial transactions they handled in the reception area.
Valet Attendant: He supervises valet parking spaces for self-parked cars. His job involves keeping the valet lots, and garages clean. He offers services like window cleaning and waste removal. He also performs inspections of the service areas to know if maintenance is necessary. Sometimes, he maintains the valet equipment and materials like air tanks, battery packs, coolers and umbrellas.
Bartenders: Their main responsibility, of course, is to mix and serve drinks. They know many drink recipes, and their job requires them to be good at mixing the beverages quickly. Today, most restaurants and hotels have machines used for mixing drinks. However, bartenders should still know the ingredients for all beverages and the best techniques for mixing them.
Bussers: Bussers are mostly working as part-time employees in the hotels and restaurants. They have many things to do like cleaning the tables and restocking the utensils, glasses, and plates including the napkins. Bussers also ensure that all dining tables are always ready for their new guests.
Housekeeping Supervisors: Housekeeping supervisors manage the inventory and supply ordering. They ensure that all employees have everything they need, so they can do their jobs efficiently and quickly. Likewise, they do simple repairs and maintenance for tools like floor polishers and vacuum cleaners. They are also in charge of major repairs and ordering of new equipment if repairs were unsuccessful.
Hampton Inn Application
Interested applicants may apply in person or through the web. The company's official website features an updated list of job openings through its careers section.
Aspirants are required to fill out the application form first when they apply. They may access the application form through the website. Walk-in applicants may get a copy by visiting their preferred hotel locations.
Care is always necessary when filling out the application form. Applicants must make sure that everything they write down is correct and accurate. They should fill out the hiring form with honesty as well.
Then, applicants must submit the hiring form together with their updated resume. Their CV should be in a clean format and with an ID picture to make it more formal.
Qualified applicants will receive a call or email about the interview. They should prepare for it by trying to find out the common interview questions and the best responses for them. Dressing up decently and arriving early are also important.
Facts about Hampton Inn
The company adopts the local culture, and it gives value to diversity and celebration. Their mission is to create a fun and rewarding experience not just for guests but for employees as well.
Their room rates are now more affordable as they have started to offer discounts on weekends. Guests earn bonus points with their Hilton Honors American Express Ascend Card. Also, their guests will free breakfast and hi-speed internet connection each day.
Since 1984, Hampton Inn has been known for providing affordable hotel accommodation in different countries or continents they serve. They give their guests a few more ways to enjoy their stay, while getting everything they need within their budget.
They also love giving back to the community. They always aim to create happier and stronger communities. The company donated millions of dollars for research, volunteerism, and giving. Their employees uphold the idea of "Hamptonality", the company's mission and motto. 
Application Links
Company: http://hamptoninn3.hilton.com/en/index.html
Careers: https://jobs.hilton.com/our-brands/hampton.php
Application: N/A