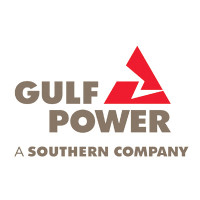 Providing power to seven counties in Northwestern Florida, Gulf Power strives to give all their customers outstanding service.  Currently, they have over four hundred and thirty thousand customers, and donate time and money to the communities they work in.  A link to apply for jobs at Gulf Power is at the bottom of the page.
In 1925, the Southeastern Power and Light Company bought the Pensacola Electric Company and reorganized it into the Gulf Power Company as a subsidiary.  However, it wasn't until early 1926, when they acquired the Chipley Light and Power Company that they were able to start operating.  Modernization was then forced upon the area with the arrival of the Great Miami Hurricane of 1926.  Before the hurricane, all power came from twenty unreliable generators scattered around Northwestern Florida.
A power line was built on the Alabama/Florida state line and allowed Gulf Power to rely on imported power for thirty-nine years.  They were finally able to get their own generator online in 1945.  Currently, the company has three power plants, a co-generation facility, and owns stock in two more out-of-state facilities.  Since 1990, in the power plants that Gulf Power owns, the amount of emissions has been reduced by ninety percent.
This company believes in building strong communities and encourages those with Gulf Power careers to donate to various charities.  The company heavily donates to United Way and to local organizations.  Also, in order to help protect the environment, Gulf Power has the Perdido Landfill Gas-to-Energy facility, which completely runs off of renewable energy.
Gulf Power Careers
There are Gulf Power jobs at both the corporate and local level.  The local level will often have you working out in the field to make sure that the power lines and plants are working properly to make sure that power gets to consumers.  Power plant and county offices will advertise for jobs locally.
The Gulf Power jobs advertised for the corporate office are listed in the links below.  Make sure that you read the company openings closely, as Gulf Power jobs online are listed with fellow Southern Company subsidiaries.  If you do fill out a Gulf Power application for the corporate level, you'll be based out of Pensacola, Florida and you could work with Alabama Power, Georgia Power, and Mississippi Power to ensure great communication and make sure that all power needs are being met as they are also Southern Company subsidiaries.
How old do you have to be to work at Gulf Power?  Age requirements vary by job.  Make sure you read each Gulf Power application carefully as many jobs require various degrees or years of experience.  Having great communication is also good for all the jobs as you will work closely with fellow staff members and customers.
During regular days, the Gulf Power headquarter office will follow regular business hours, but offer a twenty-four seven customer service line.  If there are any issues with the lines, as a result of bad weather, crews will go out as soon as it's safe to start restoring power as quickly as they can.
Gulf Power Job Descriptions
Market Specialist – Aiding in sales through successful commercial marketing while meeting company objectives is a major part of this job.  Providing training, technical expertise, and analysis to fellow employees, consultants, and trading allies.  Compensation is competitive.
Engineering Supervisor – Ensuring the safety of all employees while designing and maintaining efficient service for customers is what you'll do in this jobs.  Having great communication skills is a must for you because you will need to establish good relationships with your workers and corporate offices for sister companies.  Compensation is competitive.
Videographer/Multimedia Designer – Staying within the branding standards of the parent company is mandatory while creating effective multimedia materials.  Great communication skills is a must as you'll be working with various departments and customers to create your materials. Compensation is competitive.
Construction Supervisor – You will run all the construction needs for your district in order to maintain an effective distribution system.  Working towards improving customer service, reliability with great construction, and the effectiveness and productivity of your construction personnel is a must. Compensation is competitive.
Gulf Power Interview Questions
These are some questions you may be asked during your interview.
Why do you want to work for Gulf Power? This is a very common interview question that you should be prepared for.  Talk about what drew you to the company, whether it was the benefits or company culture, and why Gulf Power is your first choice.
What experience do you have? Highlight all relevant work experience that you have.  If you're going for a video production job, make sure to talk about all the production work that you've done, bring up the best examples that you have.
Where do you see yourself in the next few years? Be realistic in your career expectations. Your interviewer wants to know if you have a future with the company.  Make it clear that you're willing to take on challenges and extra responsibilities to move up in the company.
How would you work with the community to build good relationships? As the company focuses on community involvement, they want to know what you would do to make yourself feel like you belong and make you a trusted part of the community.  Be specific in what you would do with the company and the community.
Have you used tobacco products within the last six months? This company, on all their job applications, states that they will not hire someone who has used any kind of tobacco products within the last six months of their interview.  Be honest if they ask you that question.
Advice for Application Process
How to apply for Gulf Power online: select the job that you're interested in applying for, but make sure to read who the operating company is, as there are several Southern Company subsidiaries jobs listed in one place.  Click the job title that you're interested in and read the job requirements and description closely.  Hit the "apply now" button and follow the instructions to make a profile.  There is no printable application for Gulf Power available.
Before attending your interview, make sure to do research on the company and the industry.  Create a list of questions and bring them with you. Several of your questions may be answered during your interview, it will show your preparedness and place you above the other candidates.
Show a positive and respectful attitude when you come in for your interview.  The interview will have a formal tone, they will want to know exactly what you've done so speak clearly and concisely with plenty of examples.  Make sure that you dress professionally, business casual, at the very least.
After your interview, show your gratitude for the opportunity to be interviewed by the company.  Make sure to ask your interviewer about the best way to follow up on your hiring status.  Very few candidates will be offered a job during their interview as the company will want to screen all job applicants before making a decision.
Also See:
Georgia Power: See this page for jobs at Georgia Power.
Adecco Staffing: Checkout the application page for work at Adecco Staffing.
Southern California Edison: Visit the Southern California Edison application.
Duquesne Light: Visit the job application for Duquesne Light to apply today.
Pepco: For employment at Pepco visit the application page.
Company Links
https://southerncompany.taleo.net/careersection/fpc/joblist.ftl?lang=en
http://www.gulfpower.com/about-us/careers.cshtml