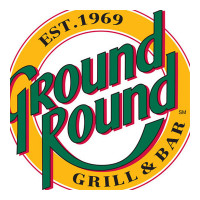 Ground Round is an American bar and restaurant headquartered in Freeport, United States. The casual-dining restaurant offers menus with a wide range of delicious gluten-free meals, kids special, burgers, salads, drinks, soups and desserts. Their bar offers a good range of quality wines, beers and other mixed beverages.
The restaurant chain was founded by Howard Johnson in the year 1969. Today, the chain is owned and run by a group of franchisee owners as Ground Round Independent Owners Co-operative, LLC. Ground Round has its stores open at 30 locations in 13 states. The restaurant chain operates as "Ground Round Sports Grille" at airports, food courts, tourist places and has good lounges too.
Ground Round was popularly known for children parties in the 1980's. The restaurant used to serve popcorn along with dinner to let children enjoy the cartoons and silent movies that were shown on a big screen while they eat. It became a favorite among families with children. Today, it is as popular, but among adults, serving good food, cool cocktails and fine drinks.
The company offers good employment opportunities for talented candidates with attractive salaries at various job positions. One can choose from being a cook, bar tender, waiter, host, a manager and many more positions. The management also offers advance training to fresher candidates.
How old do you have to be to work at Ground Round?
Candidates who wish to apply for a job position at Ground Round can do so, as there are no specific age bars stated in the company website. Recommended age to apply is at least 16 years, preferably above 18 years for managerial positions.
Company Links
www.groundround.com/Employment/