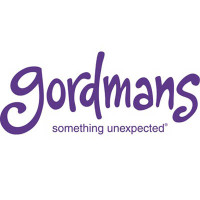 Gordmans is a discount retailer resulting from a partnership between Sam Richman and Dan Gordman, originally located in Omaha, Nebraska. Sam's small clothing store combined with Dan's innovative additions including centralized checkouts, shopping carts, and self-service shoe racks established their early growth. The clothing store prides itself on over a century of business and continues to prosper. In two recent years, their store base has increased by over thirty percent and the company has plans for several more openings in the near future.
With over one hundred locations across twenty-two U.S. states offering name brand apparel and home décor at up to sixty percent off comparable store prices, the retailer continues to thrive. Gordmans has been recognized by Forbes Magazine as one of America's one hundred best small-cap companies based off of earnings alone, as well as one of Apparel Magazines top fifty leading apparel retailers.
In support of their younger demographic, Gordmans sustains an affiliation with The Anti-Defamation League's No Place For Hate campaign. Many of the store's locations hold a month-long fundraiser to collect donations for the anti-bullying organization. Their efforts hope to make schools a safer, more productive, collaborative, and unified learning environment where students respect each other more.
Also appealing to younger audiences, associates at the retailer maintain a blog that stays updated with outfit ideas, trendy tips, and lifestyle blurbs. Recently included was a company fitness challenge. In the fitness challenge, followers were encouraged to complete one activity per day that bettered your body or mind, showing dedication to improving the wellbeing of their customer base.
Gordmans Interview Questions
What, in your professional life, has disappointed you the most? Nobody is perfect and you should not come across that way by saying you've never been disappointed in yourself, or by trying to avoid the question. We learn by our mistakes and you should focus on the fact that you applied the lessons learned and in so doing have improved on your knowledge and enhanced your skills.
What are your salary expectations? This is a very tricky part of the conversation. The interviewer wants to know if they can afford you and the best response is to ask questions yourself. Use your own words but think about using the following questions, "Can you tell me more about the job?" "Could you explain your salary structure?" or "Could you tell me about the whole package?"
Would you retire immediately if you had enough money? Be honest. If the answer is yes then say so. Some people though, won't retire even when they can, because work brings them personal happiness. The interviewer knows that you can't retire, so tell him that since you aren't in a position to then this is the type of work you enjoy.
Are you willing to work overtime or unsocial hours? If you have any problems working overtime on nights and weekends then it is best to confront them at this stage. Tell them the reasons why you may have problems whilst at the same time showing that you are trying to be reasonable and are open to suggestions regarding resolving the issue.
Company Links
https://www.gordmans.com/careers.html