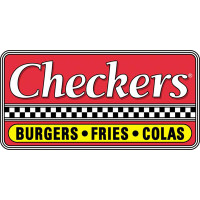 Checkers Drive-In Restaurants, Inc. is a drive-in restaurant chain in the United States. The chain comprises two drive-in restaurant chains, Checkers and Rally's. Checkers and Rally's were formerly independent chains operating in different geographical areas. The companies merged in 1999. Since then the chains have become nearly identical in appearance, menu, and marketing, with only the retention of their original name to distinguish one from the other.  There are over 750 restaurants located around the United States.
All restaurants are primarily drive-through or drive-in restaurants and they do not offer many seating options. Instead, ample parking is provided for eating in the car. The restaurants are supposed to have the nostalgic feel of a 1950s drive-in diner. Primary food offerings are hamburgers, chicken and fish sandwiches, and ice cream treats. The restaurant also offers chicken wings, fry specials, and soft drinks.
The company received criticism for an advertisement campaign it ran featuring a rapping cat. In conjunction to the television commercial, the restaurant chain began selling their food in paper bags that could be converted by adding arm and leg holes into an outfit for cats. Customers were encouraged to share pictures of their own cats online wearing the costume. Animal rights activists protested this campaign as cruelty to animals.
The restaurant change regularly offers specials on their food, for example the "two for $2" deal that gives the customer their choice of mixing or matching chicken or fish sandwiches for two dollars. Customers can also become "Flavorhood" members and receive news of specials and discounts delivered to their inbox.
Checkers Interview Questions
What sort of traits would you look for if you were hiring for this job? Try to match up necessary and valued traits here with those that you exhibit yourself. You want to express to your employer that the perception of yourself that you've presented is unbiased and in line with what they are looking to hire in.
Do you have friends or family working for us? The company may have a specific policy regarding this; inform yourself before your interview. Most often, if present, restrictions will extend to relatives. If you do have a friend in the company, consider if they have a positive reputation before bringing them up. Since any issue of policy is likely related to family, who you consider a "friend" is largely up to your discretion.
Is your schedule flexible? Are you open to overtime, nights, or weekends? Speak genuinely here. This is a fundamental need-to-know for both you and your employer. The mentioned scheduling specifics are the sort of shifts that are often difficult for employers to make keep filled, despite their necessity. If your interviewer asks about this, it's very possible that they rely on their staff to be flexible and collectively keep these unique shifts well-staffed and productive.
Have you learned from any mistakes on the job before? This may be a lesson learned genuinely at the time of a mistake, or you may need to re-rationalize a past error. You want a relatively small mistake based on pure intentions that led you to a positive new understanding or wisdom. Notions like over-working yourself, planning in too great of detail to be efficient or trying to take on a number of responsibilities that is overwhelming.
Company Links
http://checkerscareers.com/restaurant_opportunities