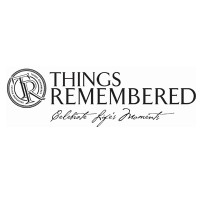 Things Remembered is a popular retailer of custom-made gifts geared for celebrating occasions. They specialize in engraving merchandises with personalized greetings from customers. They offer services for baby showers, home and décor, events, businesses, and personal gifts.
The store started in 1966 as an engraving shop named, "Can Do". It expanded and re-branded itself to Things Remembered with an office in Ohio.
The company has over 600 stores nationwide in 48 US states and four Canadian provinces. They have employed more than 5,000 personnel. They've received awards such as Pillar Award, S.H.A.R.E. Award, and Make-A-Wish® WishMaker Award.
Full-time personnel at Things Remembered enjoy medical, life, and dental coverage. They too, have flex savings plan, relocation packages, and company discounts of up to 40%. Company perks also include reimbursement, paid breaks, and more.
Employees enjoy engraving gifts for customers at the stores. They relay that the company integrates an innovative environment with excellent management leadership. Staff members noted that the chain value a work-life balance to its employees.
How old do you have to be to work at Things Remembered?
Most stores prefer hiring individuals of 18 years of age and above. But, there are some branches that accept job seekers of 16 years old for part-time shifts.
Things Remembered Careers
Among the entry-level jobs that are open for job applicants are attendants, cashiers, servers, and many more. Applicants are always welcome to submit their completed application forms together with their resume online or in-store. Here are the job descriptions of some of these jobs:
Accounting/Finance Associate: The job involves assisting the accountant or bookkeeper when filing reports and documents that tabulates the store's finances. They complete invoices and check requests to meet the month-end accrual of budget. They also assist supervisors in special projects too.
Office clerks: They research and fill in data of the company in their information management systems. They gather necessary statistics from departments and handle sensitive information to prepare reports. They do other ad hoc tasks such as writing memos, answering phones, faxing documents, and more.
Sales associate: They entertain customers and serve their needs. They give guests info about the products and services to enhance store sales. Sales staff organizes stock inventories, equipment maintenance, and merchandise shipment as well. They have to be efficient in basic store procedures.
Seasonal engraver: The engraver processes the customer's requests and turns them into beautiful mementos. They etched patterns or words to different materials and formulas for finishing touches. Engravers do regular maintenance of machinery for a seamless work and high quality product output.
Customer service representatives: A CSR person assists customers with their online orders. They're the first ones to respond to a request, complaint, or inquiry made by the clients. They check accounts and maintain communication with the company for updates over orders.
Distributor and fulfillment associate: This employee takes note of deliveries and inspects them for any damages. They sort, classify, and mark the products for easy identification. Associates record transportation details and report them to the company for updates. They coordinate with couriers and resolve shipment issues.
E-commerce team members: For online stores, an e-commerce staff is someone who manages the website. The work revolves around web designing, online marketing, and even content creation. E-commerce managers process orders and relay info to the main company. Some even work with local couriers to get the shipping done.
Marketing associates: Marketing staff assist in the advertisement and sales department of the store. They send out necessary info about the product, its deals, or features to the public. They help get the word out to customers and invite them to make purchases at the store. They record inventories too and offset any remaining products.
IT Staff: This person assists in developing new systems for the company. One example is creating information management systems that assist the customers and employees of the company. IT staff are responsible for developing frontend or backend operations of the store.
Drivers: Drivers take hold of important wares and documents to be used by the company. They load and unload store goods and raw materials to locations they are needed of. Drivers inspect the vehicle and keep it clean and in good condition. They report immediately to the supervisor for any faulty technicalities.
Things Remembered Application 
Applicants can apply directly to the store of their choice. Another option is to apply online on the company's career portal where one can see all the vacancies in each state.
You need to create an account at the Candidates section and upload a copy of your resume. Applying is easy as you get to choose from different options and fill in the blank fields.
Submit your resume for the position that you are applying for. There are no limits on how many positions you can apply, but it's best to submit one at a time only.
Your resume should be two pages max. Always keep it updated and in reverse chronological order. If you don't have any relevant experiences try focusing on your skills and tell the employer why you're an ideal candidate for the job.
Research the company beforehand to build rapport with your interviewer. You also need to practice and prepare for any questions that might be thrown at you. Get ahead of the interview by selecting an outfit tailored for that day.
Things To Know About Things Remembered 
The company's culture revolves around knowing the customers' sentimental merchandises picked. It cultivates a sense of community and belongingness among peers as well. It gives room for employees to grow and learn new skills under the management's outstanding leadership.
The company has reached its 50th year and is looking to expand more and improve their product lines. They are in partnership with the Make-A-Wish Foundation and have raised over $6 million for the organization.
Things Remembered is known for engraving and customizing gift and merchandise for customers. They specialized in designing apparel, jewelry, utensils, and wares by engraving a touch of special notes on them.
The company is in close partnership with Make-A-Wish Foundation that grants children with grave medical conditions a chance to fulfill their dreams. Their annual program has raised the company about $6 million to grant 740 wishes up to date.
Application Links
Company: https://www.thingsremembered.com
Careers: https://careersus-thingsremembered.icims.com/jobs/search?ss=1&hashed=-435744410
Application: https://careersus-thingsremembered.icims.com/jobs/login?loginOnly=1&redirect=search&hashed=-435744410