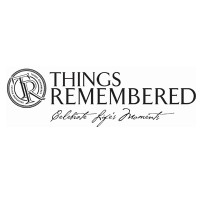 Things Remembered is America's most prominent retailer of personalized gifts. The company began over 40 years ago as a small engraving shop called "can do" and has grown to be one of the leading retailer of personalized gifts. The company operates more than 600 locations in shopping malls across the United States and over 30 stores in Canada.
The company's mission is to do everything  possible to please customers and to serve, guide, and help customers find the perfect personalized gifts for all gift-giving occasions. The chain takes pride in providing gift solutions for all occasions, offering exceptional customer service and building a relationship with its customers.
The company is also committed to its communities and strives to "give gifts from the heart" to enhance the quality of life for others. It actively supports miners charitable organizations including The American Cancer Association's Relay For Life, The March of Dimes, The United Way, Domestic Violence Center, Fresh Air Camp, Rebuilding Together, and The Susan G. Komen Race For The Cure (Breast Cancer Foundation, Northeast Ohio)
The chain strives to empower its employees to have an effect on the day-to-day functions of the business and on the company cultural overall. It prides itself in fostering a winning and entrepreneurial culture and encourages good ideas. Employees are touched by the heartfelt stories of the customers.
Things Remembered Careers
The chain hires full and part time hourly employees for a variety of positions in its retail stores. Its stores employ sales associates, engravers, assistant managers and managers. Many positions are permanent. The store also hires seasonal employees during popular gift-giving holidays such as Christmas and Mother's Day.
How old do you have to be to work at Things Remembered? You must be 14 years old to work in the United State but many states have minimum age requirements of 16 or 18. Check on the age requirements for your state. Some states allow minors over the age of 14 to work with a work permit.
Things Rememberd pay is industry standard. Minimum wage varies by state but is generally around $7.00 or $8.00 per hour. Some states have very low minimum wages and others have higher minimum wages. For instance minimum wage in Wyoming is $5.15 per hour and is $9.47 an hour in Washington State. Many positions include medical and dental coverage, a 401K retirement plan, life and disability insurance, a health flex savings plan, and discounts (up to 40%) off of store merchandise.
Get Your Degree!
Find schools and get information on the program that's right for you.
Powered by Campus Explorer
Store hours vary by shopping center. Most mall stores are open from 10:00am to 9:00pm but some open later or close earlier. Many stores have extended store hours during the summer and holiday seasons and most have limited hours on Sundays.
Job Descriptions & Salaries
Sales Associates
Sales associates work full or part time and perform most of the day-to-day retail store operations including providing customer service, generating sales, engraving, housekeeping, merchandising, loss prevention, and handling cash register transactions. Sales Associates are required to perform all duties in adherence with company and store standards. 
Seasonal Engraver
Seasonal Engraver duties are varied and include engraving, quality inspecting, re-packaging, gift wrapping and shipping customer orders. They also assist customers in the personalization process by staging products for the customer. Seasonal Engravers are also responsible for performing preventative maintenance on engraving machines. 
Assistant Manager
Assistant Managers report directly to the Store Manager. They are responsible for assisting the Store Manager  in all aspects of store operation (cash, inventory, equipment) and are in charge of a staff of 3-15 employees in the absence of the Store Manager. The Assistant Store Manager's main responsibility is to ensure that the store meets sales and financial targets and maintains compliance with store standards and operational controls. 
Store Manager
Store Managers are responsible for the retail store's day-to-day operations including the management of 3-15 teammates. Their main responsibility is to manage the store to ensure that the store meets sales and financial goals and provides exceptional customer service. Store Managers are also responsible for maintaining full compliance with operational requirements.
Things Remembered Interview Questions
Use these questions to prepare for your interview.
Why would you like to work at Things Remembered? This is one of the most commonly asked interview questions. Don't just blurt out something like "I like gifts." Instead, take the time to learn about the company so you have a good idea why you want to work for them. It would be better to say something like "I love helping other teens find the perfect gift."
Do you have previous retail experience? This is your chance to talk about any similar jobs that you have held. If you haven't had a retail job like this before then talk about positions you have held that had similar duties instead. For instance, tell them about when you've provided excellent customer service at a restaurant or when you've been responsible for operating a register at community events.
When are you available to work? Hiring managers want to know when you can start and how often you are available. Talk about your general availability and avoid bringing up scheduling conflicts unless they are absolutely unavoidable. Retail stores need flexible employees, give them the widest possible availability despite your work hour preference. Your hours will improve as you learn your job.
What are your strengths and weaknesses? This question is harder than it sounds. Think about this ahead of time and talk about any strengths and weaknesses you have that you think are applicable to the job. For instance, cashiers need to be able to quickly and accurately make change for customers and engravers need to have good attention to detail.
Do you consider yourself a leader? Be truthful and answer this question honestly then explain in a positive way why you do or don't consider yourself a leader. For instance, you can say you are a dependable team member who is great at following procedures and will go out of the way to help customers. Or you can say you're great and staying organized and motivating others so you consider yourself a leader.
Advice for the Application Process
The Things Remembered application process helps hiring managers determine find out if you will be a good team member and if you will fit in with other employees. The hiring process will be generally informal for most Things Remembered jobs. You can find Things Remembered Jobs online, download an application form or ask about openings at a store.
Always approach managers and employees with a positive attitude. Wear something clean and in good condition even if you are just there to ask about openings. In general, casual clothing is appropriate for most interviews. Dressed respectably. Don't wear mini skirts, shorts, tank tops or flip-flops to a job interview. If you are wondering what to wear. Visit the store and check out what the employees are wearing then wear something similar to the interview.
Take time to learn about the job and prepare some notes ahead of time for the interview. Do some homework about the company and bring a list of your pertinent skills and experiences with you. If you are stumped by a question you can just review your notes before answering. Also write down any questions you have about the job so you remember to ask them.
The hiring manger might let you know if you are hired on the spot. If they offer you a job, be prepared to accept the position graciously and thank them for the opportunity. If they don't hire you, ask them about any future openings that they might be interested in considering you for.
How to apply for Things Remembered job online? Follow the links below, to find a Things Remembered job application online, obtain a printable application for Things Remembered, and to apply for jobs at Things Remembered.
Also See:
Brookstone: See this page for jobs at Brookstone.
Crazy 8: Checkout the application page for work at Crazy 8.
Lego Stores: See this page for jobs at Lego Stores.
A.C. Moore Arts & Crafts: See our guide for careers at A.C. Moore Arts & Crafts.
Toys "R" Us: For employment at Toys "R" Us visit the application page.
Company Links
http://www.thingsremembered.com/custserv/custserv.jsp?pageName=CareerOpportunities&leftnav=no