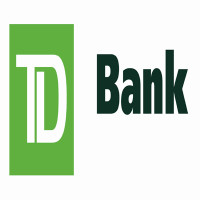 TD Bank, touted as America's most convenient bank, offers personal banking services, loans, home equity, credit and debit cards, digital wallets, mortgage, and cross-border banking for US and Canadian residents.
The origins of the bank date back to 1852, when it was still known as Portland Savings Bank. It was headed by Albion K. Parris, who was the then mayor of the city. Eventually, after a few mergers, the bank assumed its current name, TD. The initials stand for Toronto-Dominion.
The bank is also known as the 6th largest bank in North America, with branches in over 15 states. It also has more than 26,000 employees currently.
These employees get the best from the bank, and perhaps this is the reason they stay in the company. Workers at the entry level and managerial positions both receive health, dental, life, and disability insurance; pension and retirement plans; performance-based bonus; and flexible working hours.
The management also promotes work-life balance, and gives their employees their much-needed time off. The company is likewise known for being progressive and taking calculated risks.
How old do you have to be to work at TD Bank?
Job hopefuls should be at least 18 years old. They shall be working during the following schedules: 8:30 AM to 5 PM (Mondays to Wednesdays); 8:30 AM to 8 PM (Thursdays and Fridays); 8:30 AM to 3 PM (Saturdays); and 11 AM to 4 PM (Sundays).
TD Bank Careers
Most job openings at the bank are for entry-level applicants. Both part-time and entry-level employees have opportunities for paid trainings and seminars. Although most positions do not require previous work experience, having one can boost employees' chances of getting hired.
Customer Service Representative
Customers are the first priority of TD Bank. Thus, the job of Customer Service Representatives is crucial to developing a strong relationship between the company and customers. Aside from meeting with customers and giving them sound advice, CSRs shall maintain strong sales and product knowledge while exhibiting the bank's core values.
Financial Services Representative
The tasks of the Financial Services Representative includes providing sound advice and a positive experience to customers, and engaging them in interesting conversations about the bank's products. As a member of the team, he is expected to complete internal training requirements and meet all objectives for professional development.
Assistant Store Manager
The Assistant Store Manager shall lead, coach, and motivate the store staff, and encourage them to follow the policies and guidelines of the company. He manages and reviews the integrity and accuracy of data needed in new account openings, and monitors reports. He shall be in the store during opening and closing hours, and assist the staff in their tasks.
Teller
The Teller's job is to process face-to-face transactions with customers. For this task, he should be able to meet the customer's demands and attend to their every concern. He shall handle and resolve problems with ease and conduct regular transactions such as accepting payments, cashing checks, balancing the cash drawer, verifying currencies, and processing sales of gift cards.
Head Teller
The Head Teller is expected to provide exceptional service to customers, provide leadership and motivation to tellers, handle and resolve conflicts, and recruit tellers according to HR guidelines. The ideal candidate must be a graduate of a two-year degree course, and must have at least two years of previous work experience.
Investment Specialist
The applicant for this position is required to have a mutual funds license. Once employed, he shall provide smart and exceptional advice to customers and deepen the bank's investment relationship with them. He must be an excellent communicator, so as to clearly explain agreement terms and the features of the investment product.
Data Steward II
The bank is looking for a self-motivated individual, who can efficiently and effectively perform the following tasks: providing direction to business projects, supporting marketing data strategies, implementing data profiling and data quality, and collecting all business requirements. He shall also conduct gap analysis to ensure data quality and accuracy.
Business Intelligence Specialist for Marketing
The chosen candidate shall not only design complex dashboards and reports that support the company's business needs, but he shall also provide his expertise as regards Business Intelligence platforms, techniques, and tools. He shall likewise apply this knowledge in initiatives and projects related to the field.
Head of Store Communications
The Head of Store Communications shall develop and implement strategies concerning store communications, knowledge management, and Retail One Studios. He is also in charge of hiring new talent, developing and training staff members, monitoring employee performance, and innovating the way information is disseminated to the bank's clients.
Client Service Associate
The Client Service Associate shall work on diverse tasks, but with special attention to administrative support. He shall help the Investment Advisor in preparing all the needed documents for client meetings. The associate must be familiar with compliance requirements, procedures, and policies related to Investment Banking.
TD Bank Application
The TD Bank Careers page is an extensive source of job opportunities, which are arranged into several categories. Fill out the search fields for job position, category, keyword, and location.
The website is where interested applicants would find the application form as well. They are required to complete this application and prepare their CVs. Ensure that all information is accurate.
However, the webpage does not have a downloadable PDF application form. Applicants may upload their resumes through the site or personally hand it in. They could check on their applications via email, phone, or a personal appearance at the bank of their choice.
Resumes must be clear and professional looking. They should also contain the same information given in the online application form. Any skill or trainings that are remotely related to the position being applied for should be deleted.
It usually takes a week for the recruitment team to get back to applicants. Upon screening of the application forms and resumes, applicants will receive either an email or a phone call, and a schedule for the interview.
Things to Know about TD Bank
The bank sees to it that it creates a safe and professional environment for all its employees. Here employees are valued and motivated to do their best. The management also welcomes diversity.
On March 28, 2018, the company introduced The Ready Commitment, which aims to help various communities and individuals prosper. As part of the project, the company shall target raising 1 billion Canadian dollars (or the US equivalent) by 2030.
This fund will be used by the sponsored communities in the following areas: Better Health, Financial Security, Connected Communities, and Vibrant Planet. These areas are envisioned to support change and open doors to an inclusive future.
TD Bank is likewise known for its sustainable actions and programs committed to creating an extraordinary workplace and providing responsible banking. The bank currently supports over 5,000 communities, including indigenous groups in North America.
Application Links
Company: https://www.tdbank.com/
Careers: https://jobs.td.com/en/
Application: N/A