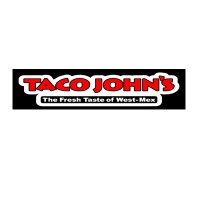 Taco John's has coined the phrase 'West-Mex' to describe its own brand of Mexican-style cuisine.  They are known not just for their tacos but also for burritos, churros, breakfasts and other delicious items.  To find out how to apply for Taco John's online, follow the Taco John's application link at the bottom of the page.
The company started off as just a single taco stand based in Cheyenne, Wyoming in 1968.  The two businessmen who bought the rights to the franchise, James Woodson and Harold Holmes, named the chain after the original founder, John Turner, as they expanded the chain.  Today there are more than 400 restaurants across the USA.
Taco John's is always looking to increase the number of its locations and there are opportunities to open franchises to expand the current network, which covers 25 different states.  You can make a free application for more information on opening a franchise or for consideration; they are always looking for people with business experience to help grow the firm.
Taco John's likes to keep to high standards; in 2014 they launched a competition to honor the cleanest local restaurant out of all of their branches.  The coveted silver cup was eventually awarded to the Longmont, Colorado location.  Keeping up the spirit of friendly competition it also held a social media contest with secret missions for members of the public.
Taco John's Careers
By searching Taco John's jobs online you can browse the many different career options open to you.  In the restaurants the positions available include Cashiers, Team Members, Fry Station Operators, Food Preparers, Assistant Managers and General Managers amongst others.  You do not need experience to apply for the entry-level jobs.
There are many different careers open in the corporate sector of Taco John's.  Whatever part of the industry you are interested in there are job opportunities for talented and experienced individuals.  The various areas with openings include Operations, Sales, Marketing, Legal and R&D among many others.  There are plenty of possibilities for professional training and advancement.
How old do you have to be to work at Taco John's?  There are some Taco John's jobs open to 15 year olds but make sure you check the job specifications before you submit an application form.  Also remember that you may be required to work evenings as the hours of operation are from 6.30am to 11pm/12am.
Get Your Degree!
Find schools and get information on the program that's right for you.
Powered by Campus Explorer
There are a large number of benefits to Taco John's careers.  In addition to advancement and training opportunities for motivated individuals, there are also attractive incentive plans.  Many employees will be entitled to a comprehensive health insurance package covering medical, dental and vision, along with paid holidays and vacations and a 401(k) retirement plan.
Job Descriptions & Salaries
Team Member – Team Members have a range of duties that they carry out a daily basis from greeting and serving customers, preparing food and maintaining the high standards of the restaurant.  This is an entry-level position that requires little to no experience.  You will be paid at an hourly rate of around $9/hour.
Recipe and Food Preparer – In the mornings the Food Preparers at some locations will serve customers and prepare the workstations.  The main part of this job is doing the day-to-day preparation of various food items to go in meals.  You will need to adhere to food preparation hygiene standards.  The typical pay is $8-9 per hour.
Assistant Manager – The responsibilities for an Assistant Manager include staff training and management, ensuring great customer service and working with the General Manager to keep the whole place running smoothly.  It helps to have management experience but there are opportunities to work upwards.  The pay starts at $13.50 an hour.
General Manager – As the manager of the restaurant you will supervise all operations including transactions, staff management and training, hiring, scheduling and inventory.  You will need to make sure that all staff carry out their jobs to the right standards and ensure a high level of customer service.  The average salary for this position is $36k/year.
Taco John's Interview
Once you've made a Taco John's application it's a good idea to prepare for your interview by practicing some questions.
What made you apply for jobs at Taco John's?  Most places will ask you why you want to work there.  This is a chance to show what you know about the place and say what drew you to it and to demonstrate what makes you suited to work at the company. 
What is your greatest strength? You can show off a bit when you answer this question but make sure that you talk about something that you can relate back to the job description.  You need to demonstrate to the hiring manager that you are the right person for the job.
Can you work on a flexible schedule? For restaurant jobs, especially ones at entry-level, it will help your employment chances if you are available in the evenings and on weekends.  If you are restricted in the hours you can work they are much more likely to go with another candidate.
What skills do you have that make you good at customer service?  Interacting with customers is a large part of most Taco John's jobs.  You should be able to show off your interpersonal skills as the interview goes on but you can tell them about any experience you have or other attributes that make you a people person.
How do other people describe you? Make sure you're nothing but positive when you answer this question, you can be honest, but you still have to talk yourself up.  If possible try to mention what former bosses or teachers have said about you as this gives off a better impression than what your friends might think.
Advice For Application Process
To make a Taco John's job application online for the restaurants, fill in the online application form on their website with your personal details and previous work experience.  There isn't an option to download a printable application for Taco John's so if you wish to make a direct application you can take your resume down to your local branch.
You can also apply online via recruitment websites if you wish to submit applications for their corporate openings.  Whichever role you're applying for, always make sure you double-check your application for mistakes before submitting to give a good first impression before you've even met the manager.  You wouldn't want such a small thing like that to hurt your chances.
Candidates will receive a telephone call to carry out a brief initial interview to discuss the requirements for the jobs and to ask a few screening questions.  If the first interview goes well you will be invited to a face-to-face interview with a hiring manager which will be longer and more in-depth.
Even for a restaurant job you will need to be dressed smartly and be well presented.  Always maintain eye contact, smile at your interviewer and speak clearly.  You don't get a second chance at a first impression with interviewers or with customers so it's important that you are confident and personable when you meet the person interviewing you.
Also See:
Jimmy John's: Use the Jimmy John's job application to apply here.
Wienerschnitzel: Visit the Wienerschnitzel application.
Jack In The Box: See our resource page for more information on Jack In The Box careers.
Tacotime: See our guide for careers at Tacotime.
Church's Chicken: Visit the Church's Chicken application.
Company Links