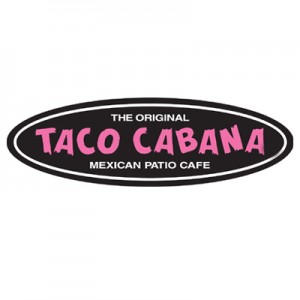 Taco Cabana is a fast food chain company in the US offering Mexican cuisine as its specialty. It is based in San Antonio, Texas and is a subsidiary of Fiesta Restaurant Group, Inc. Tacos, fajitas and tortillas are some of their best-sellers.
On September 1978, the first taco store was opened by Felix Stehling in Midtown San Antonio. The restaurant interior was designed by Felix's wife, Billie Jo. By 1990, the company started its expansion across Texas and its neighboring states.
The company has over 150 restaurants or taco cafes, with more than 4,000 employees to serve customers. All restaurants showcase an open-air eating area, an open-display cooking area and a bar featuring a special selection of different alcoholic drinks. Most of these restaurants are open 24 hours a day. 
The company provides a wide scope of benefits to its employees. The benefits included are health, dental and vision insurance, paid vacation, maternity and paternity leave, paid sick days and an employee assistance program.
Working with the company has been a pleasure to its employees because of its very flexible working hours, free lunch and snacks to those on duty and also employee discount to restaurant items. Career development trainings and seminars are also offered to employees.
How old do you have to be to work at Taco Cabana?
The minimum age requirement to secure an entry level position with the company is 16 years old. For managerial positions, a person should be at least 18 years old to qualify.
Taco Cabana Careers
Taco Cabana regularly looks for dynamic and customer-friendly individuals to help them serve their guests better. Different positions are available per store location. 
Line Server: A Line Server sets tables, places napkins and cutlery in serving trays, and prepares menu for guests. They are also ready to welcome incoming guests and are also trained to anticipate their needs. Line Servers may also get the orders of the guests and relay them to the kitchen staff for preparation.
Cook: A Cook monitors the overall work flow of the kitchen. He prepares ingredients to be used for cooking and cooks the food according to guests' orders using pots or grillers. The Cook also makes sure that kitchen is in an orderly and clean manner.
Assistant Cook: An Assistant Cook helps the cook in preparing ingredients. He makes sure that all utensils, pots and grills are clean and ready to use. The Assistant Cook may also perform the cook's roles and responsibilities in the absence of the cook.
Bartender: A Bartender prepares alcoholic and non-alcoholic drinks for the guests. He may also provide suggestions or promote the restaurant's specialty drinks. The Bartender also prepares the bar menu and makes sure that all supplies are replenished. Ensuring that the bar operation is according to the State and company regulations are also part of his responsibility.
Shift Leader: A Shift Leader makes sure that the work flow of the restaurant goes smoothly. He leads the team members with their assigned tasks for the day. He may assist in preparing food, serving guests with their food and clean tables. The Shift Leader may act in behalf of the restaurant manager during his absence.
Cashier: A Cashier processes the checkout transactions of guests. He handles receipts, credits, and customer refunds. Making sure that the cash register is well secured during restaurant operations and also during shift change are parts of his responsibility. The Cashier may also assist guests during the restaurant's peak hours if needed.
Dishwasher: A Dishwasher cleans all flatware, pots or pans, glassware and kitchenware. Making sure that the kitchenware and utensils are properly stored after cleaning is also part of his responsibilities. He also helps to maintain the cleanliness of the kitchen work area for the cook and other kitchen staff. The dishwasher may also help kitchen staff in food packing for storage.
Delivery Driver: A Delivery Driver is responsible for the loading and unloading of food packaged for delivery. He brings the orders to locations according to customers' requests. The Delivery Driver also makes sure that there is always an open communication with the restaurant during the delivery operation.
Restaurant Manager: A Restaurant Manager monitors the overall workflow of the restaurant. He makes sure that all operations are according to State laws and company standards. New staff training and employee evaluations are also part of his responsibilities. The Restaurant Manager also handles customer feedback or complaints as necessary.
Field Training Operations Officer: A Field Training Operations Officer prepares the training materials for new employees and also for the career development of the older ones. He also plans and schedules the training programs per restaurant location. The Field Training Operations Officer also approves guidelines distributed within the company.
Taco Cabana Application
To apply for a position with Taco Cabana, an interested applicant must send his resume through the company's official website. An applicant may also apply through job search websites.
While an online application may be more convenient for the job seeker, an applicant may go to stores to apply. There are different positions available per restaurant location.
For an effective application, the job seeker must always make sure that all the information such as the contact details, trainings and work experience are provided. The job seeker may also attach pertinent documents for support.
For a successful resume, it must be in a complete and chronological manner. All work experience should be related to the position applied for. Usually, hiring managers prefer resumes to be in 1-2 pages only.
Preparing for an interview is also important for a job seeker. The applicant must be on time and dress appropriately for the appointment. He may also bring supporting documents as required by the hiring manager. 
Things To Know About Taco Cabana
Taco Cabana is built on a culture of diversity and equality. They promote acceptance and respect for every employee of the company, regardless of race, ethnicity or age. Company events and team building programs are done to encourage camaraderie among employees.
The company has been acknowledged by the Hispanic Chamber of Commerce of San Antonio Texas in 2017 for the company's efforts to help the community during and after the Hurricane Harvey. Almost 6,000 meals were served to the affected families and even responders during the calamity.
The company has always been known for its humanitarian efforts. Even the employees are always willing to spend their extra hours volunteering for community rehabilitation and for charity events.
In Texas, the company has been a supporter of different military organizations. They provide discounts to military men, veterans and also their families. Since 2010, the company has been helping to raise funds for the Warrior and Family Support Center (WFSC). 
Application Links
Company: https://www.tacocabana.com/
Careers: https://www.tacocabana.com/careers
Application: https://hiring.snagajob.com/tms/apply/index/750808/650137/T4C9/null/1/2
Last Updated on