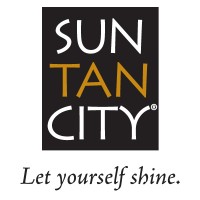 For anyone looking to find employment in a bright, growing industry, employment with a quality tanning salon organization may be just the right place. With over 250 locations in the United States, careers are available in many locations in different areas for different experience levels. See the Sun Tan City application link  for more information on current available positions and to apply online.
Brothers David and Rick Kueber launched the company in 1999 to improve business in their existing retail video stores, and the flourishing market meant that by 2005 there were 21 individual locations. Now, with over 250 locations, it is one of the premier names in the business.
The company credits its success to its simple 3-step mission: to provide superior equipment, to provide the best skin care products, and to ensure all tanning consultants are well-trained so that they can help customers to choose the most effective skincare regimes for every person's individual skin type and tanning goals.
At the core of the Kuebers' philosophy are the "Four Monuments" – values that help the brand set itself apart from the competition. These are the Monument to Excellence, the Monument to Growth, the Monument to Professional Development, and the Monument to Honesty and Integrity. With these key principles reflected in every facet of the business, company can pride itself on providing the best customer experience.
Sun Tan City Careers
There are over 250 salons in 21 states, and various locations are always looking for fun and enthusiastic team members. Job opportunities in retail stores may include tanning consultants, brand ambassadors, salon managers or assistant salon managers, in both part-time and full-time capacities. Read on for more information on how to apply for Sun Ta City online. (Currently there is no option for a printable application form or a downloadable application form – all applications must be submitted online.)
Corporate headquarters and regional offices may require customer service representatives, administrative assistants, regional directors and company managers. These positions are usually full-time and require a regular 9am – 5pm work day.
How old do you have to be to work at Sun Tan City? In order to quality to work at a tanning salon or a corporate office, you must be at least 18 years old. Please check the direct application for other necessary factors, such as education or experience requirements. Entry-level positions will include training upon hiring, but certain practical skills may be needed for management positions or technical positions.
Get Your Degree!
Find schools and get information on the program that's right for you.
Powered by Campus Explorer
Working hours may extend past open hours of operation – please check local store details on online application form for details. Benefits for full-time and part-time employees may be available also, such as health and dental benefits, vacation and sick time, disability benefits and 401k plans. Please check the details on each online job application for required hours and automatic or optional benefits.
Job Descriptions & Salaries
Brand Specialist – This is an entry-level marketing position for an energetic and independent person with a drive to succeed. The brand specialist must interact with local businesses to promote the salon and use promotional materials to help generate foot traffic. Performance excellence and strong customer service skills are essential, as the brand specialist represents the national brand, its values, and its reputation, on a local level.
Tanning Consultant – Tanning consultants are the ones who keep the salon open and running smoothly every day. Responsibilities of the job may include taking appointments, selling merchandise and operating a cash register, stocking supplies, cleaning equipment, and assisting and advising customers. This entry-level position with Sun Tan City Careers offers competitive wages, bonus potential, and opportunities for advancement.
Store Manager – The duties of a store manager include everything from dedicated client service to motivating a sales team. The manager must lead the salon team members, promote sales, supervise staff, and administer the daily running of the salon. Two years of management experience or educational equivalent are required. This position offers competitive wages, health insurance, a 401k plan, and opportunities for advancement.
Customer Service Representative – This is an office position, separate from individual salon locations. The customer service representative must possess excellent customer service skills and knowledge of professional conduct, as the job entails communicating by phone and electronically with salon managers, suppliers, distributors, corporate directors, and clients. Computer skills are vital, as is the ability to work independently to research, to provide information, and to problem-solve.
Sun Tan City Interview Questions
Once you have completed the free application online, you may be called for an interview. It is always useful to properly prepare for an interview – the following are some common questions asked by interviewers.
Why do you want to work for Sun Tan City? Be knowledgeable about the company, and the job you are interviewing for. Your resume is important, but enthusiasm and attitude also count for a lot in your Sun Tan City application.
Do you have any related experience? Explain any work you have done in similar jobs or similar fields, this will make you more of an asset to a potential employer. If you do not have skills directly related to the position you are applying for, highlight any skills that speak to your general abilities and desirability as a worker.
What do you think is your greatest strength, as an employee? Don't be afraid to speak up about your best qualities, but be honest. This question is often asked by interviewers who want to learn more about your attitude as a person, and how you will fit in with the other employees and the store culture.
Can you give an example about a problem you had at work, and how you solved it? Remember that the important thing here is how you handled the problem, not how it began. Did you need to rely on a manager or a superior to fix the problem? Are you someone who works to resolve issues with co-workers? Can you think creatively to solve a technical problem?
Where do you think you will be in five years? The answer to this question can show whether you are ambitious, open to new challenges, and willing to take on new tasks and responsibilities.
Advice for the Application Process
When filling out a job application form, be sure to read each question carefully, and to double check your spelling and grammar. Even small mistakes on an online application can show an employer that you are not attentive to details or not able to follow simple directions, so take the time to make sure everything is correct.
To apply for jobs at Sun Tan City, you may be called for an interview. When preparing for an interview, wear sensible and appropriate clothing.  For retail store jobs, make sure your clothing is clean and neat and is not vulgar or overly revealing. Business-casual clothing is a good bet for almost any junior management or entry-level position. For an interview for a management position, business attire such as dress shirts and ties, or modest skirts and tops, will always look good.
Prepare for the interview with Sun Tan City jobs by practicing your interview conversation, anticipating questions the interviewer may ask and your responses. Read up on the company and the role responsibilities by looking at Sun Tan City jobs online so that you know what the interviewer is looking for. Interest in the company and knowledge about the job will show that you are going the extra mile.
The interview itself may be short, between 10 and 30 minutes.  Be relaxed, good humored and friendly, show a positive attitude. You do not need to be very formal, just conversational and polite. Be sure to ask about salary, job responsibilities, available benefits and opportunities for advancement.
Also See:
John Deere: See our guide for careers at John Deere.
Palm Beach Tan: Palm Beach Tan offers opportunities for both, beginners and experienced roles.
DHL: For career opportunities, fill out the DHL online application.
Varsity Tutors: See our resource page for more information on Varsity Tutors careers.
Primrose Schools: See our resource page for more information on Primrose Schools careers.
Company Links
https://suntancity.com/careers/