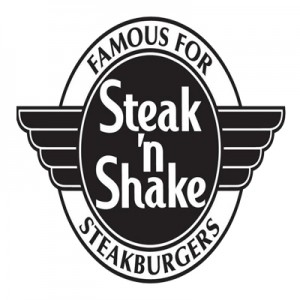 Steak 'N Shake is a sit-down casual dining restaurant, with drive-thru windows and front window service. These are primarily located in the Midwest and southern areas of the United States, but there are some locations in the Northeast and Southwest, as well as Europe. This restaurant is primarily famous for selling steakburgers and milkshakes, as its name implies, but it does have other items on the menu as well.
Steak 'N Shake was started in Normal, Illinois by Gus Belt in February 1934. They would grind the beef for their burgers right in the restaurant, in the view of customers to increase trust in a product that at the time people were unsure of eating. That practice stopped, but they continued to cook the orders in plain sight of customers to ensure freshness of the product.
80 years later, they have stayed true to their original ideals. Steak 'N Shake wants to provide the highest quality products, the best tasting food at a price that is right for their customers. To them, providing great tasting food is only half of the way to success; but excellent customer service is what makes a company stand out and keep customers coming back.
In recent times, this company has expanded to a much larger franchise since becoming an international company. They have also expanded to open restaurants in California, which plans to add more facilities in coming years to Orange Country, California.
They are still famous for their fresh and inexpensive burgers, as well as their specialty hand dipped milkshakes. These fresh ingredients help keep them as a popular mainstay, and which is why they are a company that is continually growing larger and staying profitable. If you have what it takes in terms of providing excellent customer service, you might find that this company is a great fit for you. There are many opportunities here for job seekers to flourish their careers.
Steak 'N Shake Careers
How old do you have to be to apply at Steak 'N Shake? As with most restaurant chains of this type, the minimum age of employment is 16 years of age. This is mostly for entry-level type positions like cashier or working the drive-thru window.
There are a wide variety of positions within a company like this, and that depends if you work in the restaurant or out of a corporate office. Potential employees are encouraged to apply at the location that they are interested in working at, or emailing in their resume to gain better positions if you have the previous job experience and education for those positions.
Get Your Degree!
Find schools and get information on the program that's right for you.
Powered by Campus Explorer
Wages at this company is dependent on your job title, experience, and education as well as how long you have worked with the company. The wages can also vary based on the local minimum wage requirements in the state the restaurant is located in.
For instance, a crew member can make around $8 per hour. A member of the wait staff can make around $3 or $4 per hour, not including potential for tips. Part of the production staff can earn around $8 per hour. A district manager might earn $68,000 a year, while an assistant store manager might only earn around $36,000 a year.
As for benefits, they have a few different requirements for eligibility. The benefits an employee might earn are dependent on hours worked weekly and job level or title. For instance, a full-time employee will be eligible for more benefits than a part-time employee. A manager might also get additional benefits over entry level positions. You can find information on this with your new employee packet upon hiring.
Some benefits may include employee discount, flexible hours, and ongoing training and development opportunities for employees to move up the ranks of the company. There is a chance for paid vacation and sick leave, as well as medical and dental plans. Some employees can get life insurance benefits and access to a 401(k) plan. Other benefits include incentive bonuses based on performance for qualified employees.
Most of these restaurants are opened 24 hours, with possible exceptions of holidays. This is dependent on the location the facility is found. This is a place of employment that is a fun and casual place to work. The employees must be cheerful and great with customers. This helps keep up this fun atmosphere for the customers, which is another reason that they keep coming back to the restaurant.
If you feel like you can excel at this company, you are welcome to apply here. After applying, you should hear back within a reasonable amount of time about your application. If not, you should call the location you applied at to see if they are still hiring for that position and to check in on your application. This is a great place to work if you have what it takes to provide excellent customer service and want to provide customers the satisfaction of having the freshest ingredients at the best price. Visit your nearest location to apply today.
Steak 'N Shake Job Descriptions
This is a closer look at the career opportunities that a job seeker can find with this company.
Entry-Level
For those who are just entering the job force, entry-level careers provide the opportunity to gain valuable work experience to move up the ranks within this company. Steak 'N Shake offers continual training so that employees are able to grow their careers with the company. This is a great opportunity for first time job seekers.
Here are some entry-level positions you can find here:
Crew Member
Waitress or Waiter
Grill Cook
Production Associate
Server
For more information about these positions and others like it, please visit the location nearest to you.
Management or Other Higher Level Positions
After you have gained experience in the entry-level of this company, you might be qualified for one of these higher level positions. You can also qualify if you have gained job experience elsewhere and have the appropriate certifications and degrees to gain this type of employment.
Here are some higher level positions that you might be interested in:
District Manager
Restaurant Manager
Assistant Manager
General Manager
Shift Lead
For more information on these types of positions, you can email the company or visit the location nearest you.
Steak 'N Shake Interview
These are some tips to help you get that job interview:
When applying in store, dress in neat and appropriate clothing as you do not know who you are turning your application in to. You do not need to wear a dress suit, but torn jeans and ill-fitting clothes might make a bad first impression and have your application not taken seriously.
Filling out the application in accordance with the instructions provided is important. By not doing this, your application may be dismissed and not taken seriously. When submitting your application, you should also submit an updated resume. This can give additional information, not asked on your application and can give a clearer detail about your experience and talents. Only apply for jobs that you are qualified for.
These are some tips to help you prepare for your interview and help you get an edge over other job seekers:
Prepare for your interview in front of a mirror by anticipating potential questions and answering them out loud. This can help you watch for body language that can show weakness. This will help you be more confident during the interview, as well as making you sound more articulate and less nervous.
Dress appropriately for your interview. First impressions are important and you want to make a good one on the interviewer. Bring along two copies of your resume. One is for the interviewer, in case they do not have one on them. The other copy is for you to follow along with in case there are any items that need clarification or other questions where you need to reference your resume.
When you arrive to the interview, it should be no earlier than 15 minutes. You must also not be late or just on time. Five minutes early is a good number. As you leave, give a firm handshake and be sure to thank them for their time. After a few days, call back about your interview. Thank them again for their time and ask if there are any additional questions that need answering or if any question needs clarification. This shows that you are serious about this position.
Advice For Application Process
How do I apply for Steak 'N Shake Jobs? You cannot apply for Steak 'N Shake jobs online. If you are interested in a Steak 'N Shake career, you will need to apply in store for entry-level positions. If you are interested in a higher level position, you are able to email your resume to the email address provided on Steak 'N Shake online. There is more information provided on the Steak 'N Shake career section on the website.
There are no downloadable job applications on their website. There are also no printable applications on their website. For job description information, you will need to ask the responsibilities and requirements for the position when you go to apply, as this information is also not available on their website.
There are many companies within this particular niche of the restaurant industry. This means that there are many other choices for job seekers who want to work in this particular industry. The two largest competitors for this company are Johnny Rockets and Five Guys Burgers and Fries.
Johnny Rockets is a restaurant that is a dinner style facility that is known for their burgers and shakes. While they do not offer a drive-thru like Steak 'N Shakes, and is a mostly dine-in facility, they are known for the same type of food and menu. It is an internationally known company.
Five Guys Burgers and Fries also do not have a drive-thru like Steak 'N Shake, nor are they known for milkshakes. The business model is very similar, however, as the food is prepared where the customers can watch their orders being cooked. They provide dine-in options or take-out, and provide their customers with peanuts as they wait for their food.  They are also located in the UK and Canada, and often win awards for having the "Best Burgers".
Also See:
Original Pancake House: For career opportunities, fill out the Original Pancake House online application.
Red Robin: For employment at Red Robin visit the application page.
Bill Miller Bar B Q: For employment at Bill Miller Bar B Q visit the application page.
Maggiano's Little Italy: Checkout the application page for work at Maggiano's Little Italy.
Houston's: See our guide for careers at Houston's.
Company Links
http://www.steaknshake.com/careers/open-positions/