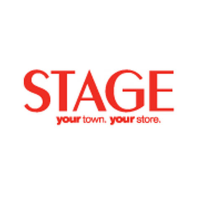 Stage Department Stores are a group of department stores owned and operated by Stage, which include Peebles, Bealls, Goody's and Palais Royale.  In their stores you will find many different job opportunities.  To find out how to apply for Stage online, follow the link at the bottom of the page to get started on your Stage application today.
Stage Department Stores have a long history, but the company officially came under that name in 1996.  The brands of Palais Royale and Bealls go back as far as the 1920s.  It acquired its different brands over a number of years.  Stage Stores specializes in bringing big name brands to medium and small-sized areas.
Under the Stage name and the other four brands, there are now over 850 different locations with stores covering 40 states across the US.  There are many products to suit all tastes in Stage stores.  They sell clothing, accessories, beauty and cosmetics, shoes and home décor items.  They also offer a wide variety of well-known brands across the departments.
The company also has partnerships with a number of different community-based organizations in a number of different areas.  Recently they have donated money to the Marine Toys for Tots Foundation and to the 30 Days of Giving Campaign.  Their employees also get involved in charitable events such as fundraising volunteer days, walks and runs.
Stage Careers
You can find many different Stage jobs available at their retail locations.  The most common hourly positions available are Stock Associates, Sales Associates and Beauty Advisors.  There are also a number of vacancies for those with a proven track record in managerial roles such as Counter Managers, Assistant Store Managers and General Managers.
The company also has openings working in the corporate side of the industry for experienced professionals.  They are accepting applications in the departments of Accounting and Finance, Legal, Planning, Buying, Merchandising, Media, Sales and Marketing, Human Resources and Internal Audit.  Most of these positions will require a college degree and relevant experience.
How old do you have to be to work at Stage?  You need to be at least 18 years old or over to apply for jobs at Stage.
Get Your Degree!
Find schools and get information on the program that's right for you.
Powered by Campus Explorer
Stage careers provide their valued employees with a great benefits package.  You can always find possibilities for further career advancement through promotion and extra training.  Most employees will be entitled to a comprehensive health insurance package with medical, dental and vision insurance included, as well as 401(k) retirement plans and paid time off.
The hours of operation are from 10am until 9pm from Monday to Saturday and from 12pm until 6pm on Sundays.
Job Descriptions & Salaries
Stock Associate – This position has certain physical requirements that go along with it as you will be required to do some heavy lifting on a daily basis.  Stock Associate responsibilities include checking the incoming merchandise for any obvious defects and monitor inventory as well as keep the sales floor adequately stocked.  The pay rate is usually minimum wage. 
Sales Associate – Sales Associates will have different duties assigned to them on a daily basis by the store and counter managers but there will always be an emphasis on high quality customer service.   Typical tasks include cashiering, greeting and serving customers and maintaining the appearance of the stores. The hourly pay is usually at a rate of $8-9.
Beauty Advisor – Cosmetics is a large area with many different Stage jobs attached to it.  You will need to be knowledgeable about the products in your line and be able to advise customers on those which are most suited to them.  You will be expected to give demonstrations.  The base pay is around $9/hour plus commission on sales.
General Manager  – General Managers are responsible for supervising the staff and also for hiring and training.  Managers oversee the performance of the store and will assist with individual and team sales targets. There will also be administrative duties including financial tasks, scheduling and payroll.  The expected salary starts at $37k/year.
Stage Interview Questions
After you have submitted your Stage application, prepare for the interview by practicing some typical questions.
Why do you want to work here?  Every company you apply for will want to know that you are particularly interested in their part of the industry.  Show that you will fit in with the company culture.
How would you handle a difficult customer? Customer service is a large part of many roles and it will help to have previous experience, that way you can give an example of when you successfully handled a similar situation in your previous employment.
What are your career goals?  Use this as an opportunity to show that you really understand the job description of your desired career by talking about what skills you are most hoping to develop in the job you're applying for that will help you in the future.
Tell me about a time when you worked in a team.  For entry-level positions especially you can talk about non-professional examples, but always remember to describe skills that you used that are relevant to the job you want.
What is the most important part of customer service?  There is more than one right answer to this question but it is crucial that you take your time to think about the answer you give as customer service is a very important part of many positions.
Advice For Application Process
If you search for Stage jobs online you can browse the various job opportunities they have available on the careers section of their website.  To submit an application you can apply online by uploading your resume via their online application form and fill in your details, skills and experience.  Always double-check information before submitting.
If you don't want to make a Stage job application online, you can also make a direct application to your local store by going down there and requesting a free application form from the manager.   You can also request that your resume is kept on file for future opportunities. You can't download a printable application for Stage.
For store-based positions the application process should only take a few weeks to complete, although for corporate position you should expect the process to be longer.  Most applicants will be required to attend more than one interview, including a phone interview.  Make sure you prepare for each interview with answers to both personal and behavioral questions.
For customer-facing roles it is especially important to be well presented and professionally dressed when you turn up to your interview, although for store-based roles you will not need to wear full business attire.  Remember to smile and maintain a friendly and positive attitude throughout.  Take your time when answering their questions and reply in complete sentences.
Also See:
Peebles: For career opportunities, fill out the Peebles online application.
Palais Royal: See our guide for careers at Palais Royal.
Bon-Ton: Checkout the application page for work at Bon-Ton.
Shopko: Visit the job application for Shopko to apply today.
Big Lots: See our guide for careers at Big Lots.
Company Links