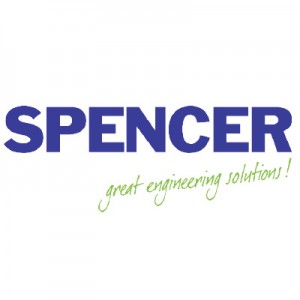 Spencer's defining trait is the atmosphere found within every shop. A mall store with locations spread throughout Canada, the U.S., and Puerto Rico, Spencer's is a store that carries a contagious a Rock N' Roll attitude.
The variety novelty store carries a wide array of goods, ranging from band shirts and merchandise to gag gifts, horror items, and sex toys. With a holiday such as Halloween so perfectly tailored to a store such as this, the franchise has also become known for its temporary Halloween stores under the name of Spirit Halloween Superstore.
Originally, Spencer's began in 1947 as a mail order catalogue for offbeat items. It was founded and run by Max Adler. In these early stages, Spencer's only offered a total of about 10 different off-beat items. It wasn't until 1963 that Spencer's first opened in Cherry Hill, New Jersey.
Following a controversy surrounding availability of sex toys for minors, store policy changes were made. Now, adult materials are stationed in back of the store, and identification must be provided for those appearing younger than 18. In certain cases, employees may refuse the sale of adult materials for those who are under age.
Spencer's now has over 600 stores open in malls nationwide, and a strong web presence. The website keeps in touch with Spencer's personality, with quirky options to design your own T-shirt and more. Visit Spencer's online or to submit an online application and apply online by following the included links. You will also find a printable application form if you wish to find nearby Spencer's locations and submit a direct application.
Spencer's Careers
Hiring managers often hear the question: How old do you have to be to work at Spencer's? Any and all applicants must be at least 18 years or older in order to be considered for Spencer's jobs. Aside from this basic, general requirement, Spencer's careers each come with their own desired qualifications
Entry-level jobs are most forgiving, as these are ones those with least experience are gearing for. Therefore, hiring managers tend to look more closely with how well an applicant will fit in with the atmosphere of a store. Certain questions outweigh experience. Questions like, do they show potential or a strong work ethic?
Get Your Degree!
Find schools and get information on the program that's right for you.
Powered by Campus Explorer
In some cases, though, managers will look for applicants with a high school diploma, or relevant school experience. Of course, anyone applying for the same position who possess prior store retail experience inherently has an upper hand.
For management positions, experience is a major plus. In most cases, at least 2 to 3 years' experience is preferred. Applicants should also have a high school diploma at least, if not a college degree. Occasionally, outstanding cases of experience coupled with strong referrals will mitigate the need for a college degree. If you see a position you are interested in, and feel you meet general requirements for said position, submit a Spencer's job application online.
Expected wages will vary depending on positions being discussed. Obviously, lower tier positions will also be paired with lower hourly wages. Sales Associates, for instance, can expect wages to oscillate around the minimum wage requirement for their corresponding state. Usually, minimum wage hovers around $8.00 an hour, though that total could be higher or lower depending on the state. To find your state's minimum wage requirements, check online.
Sales Supervisors, though somewhat considered a middle person between a Manager and a Sales Associates, are also paid on an hourly basis. These positions do entail a higher wage than minimum wage, though, due to an increase in responsibility. Those with a Spencer's career as a Sales Supervisor can expect around $11.24 an hour.
Store Managers are paid on a yearly salary. Because they are expected to manage entire stores at a time, they are expected to earn about $33,000 a year. Sound nice? If you are qualified, apply for jobs at Spencer's using the links provided. A list of benefits are also included for eligible employees. Included are 401(k) plans, vacation days, store discounts, along with medical, dental, disability, and life insurance coverage.
Spencer's stores are located in local malls and thus operate under mall time schedules. If interested in Spencer's careers, check for store hours at your local mall.
Typical hours will look like:
Monday – Saturday 10 a.m. – 9 p.m.
Sunday 12 a.m. – 6 p.m.
Fill out a Spencer's application if you feel these hours of operation are compatible with your schedule!
Spencer's Job Descriptions
Spencer's offers a variety both entry-level and management careers. Because of their trademark atmosphere, applicants should be fun, high energy, creative individuals that will help support their brand. What follows are a few example jobs and their corresponding job responsibilities; these are positions that are available at Spencer's right now!
Sales Supervisor
Those working as Sales Supervisor must show on their resume they are motivated and energized. Primary responsibilities for this career include, assisting store managers with sale, leading and assisting store associates, completing sales and inventory paperwork, along with preventing store shrinkage through management strategies.
This is a more middle-tier job, for individuals who aren't quite qualified for upper management positions but still boast a solid resume with prior store experience. Those applying for local Sales Supervisor openings must be strong leaders fluent in management techniques. Sales Supervisors are essentially a middle man between Store Managers and Sales Associates, and therefore require a mix of both jobs.
If you feel you meet these general requirements for a Spencer's Sales Supervisor, submit a free application today! You will find helpful links explaining how to apply to Spencer's online at the bottom of this article.
Sales Associate
This is an entry-level job those looking to break into this retail industry are meant for. Sales Associates deal with customers on a daily basis, therefore it's a position that leads to a solid foundation for on the job work skills later on.
General responsibilities of a Sales Associate are as follows: selling store merchandise to clients and customers, presenting customers with an approachable and helpful face as soon as they enter, demonstrating store product knowledge, along with providing assistance with general store upkeep and restocking.
Think you are ready to begin working as a Spencer's Sales Associate? Find local job opportunities online and submit a Spencer's application following provided links.
Manager
Employment as a manager entails many similar duties as a Sales Supervisor, though those duties are much more heightened. Those applying should be comfortable with the burden of responsibility, along with being confident they can manage a team and get any job done.
A more specific job description is as follows:
Managers should coordinate all store activities. This means determining all aspect of customer services are properly provided. Along with that, Managers must drive up sales performance, pushing store profitability up as well. They must also be a leader, more so even than a Sales Supervisor. Managers must motivate, coach, train, and counsel Spencer's employees. People skills are a must.
Any potential applicants with necessary experience or qualifications should consider finding an application for Spencer's at the bottom of this article. Intrigued applicants will find further specified job qualifications in the following section.
Spencer's Interview
When it comes time to interview, dress your best. This means a dress shirt and dress pants. It is always better to be overdressed than vice versa. Often, employers will be impressed with how you present yourself. Think of it this way: you have already separated yourself from those who did not dress as nicely.
Also, do not be intimidated by any questions presented. Go over a list of predetermined questions beforehand. Practice in front of a mirror. This repetition will breed confidence, make you more assertive in your responses. When answering questions, maintain eye contact. Also avoid any nervous fidgeting.
Advice For Application Process
The application process may appear daunting for any of those unfamiliar with the process. Truthfully, if you follow some common sense guidelines, it's rather easy to separate oneself.
Always highlight your skills. Sit down and think about unique aspects you bring. What relative experience have you obtained? Even if it is not direct job experience, find a way to make your life accomplishments apply to a desired job. Be sure to list any accolades on your resume as well. Of course, also include any diplomas or degrees you may have earned.
Attach a cover letter to your application. A brief few paragraphs depicting your background will suffice. Also describe your motivations for selecting this particular job. Not enough applicants submit cover letters. Doing so leaves a positive first impression, decreasing chances your resume ends in a trash bin.
Some example questions which you may be asked:
How do you fit in with Spencer's atmosphere?
What's the last time you failed at something? Why did you fail?
Do you have any experience handling money?
How do you interact with customers?
What is something we don't know about you, but should?
When interview questions finish, fire some questions right back at your potential managers. Become interested with the business or store itself. Mention a fact about the store's history you find especially appealing. Highlight unapparent motivations behind your application at that particular business. Do not ask about pay you may receive, it is considered impolite and will earn negative marks.
After reviewing these tips, you will be ready to apply for Spencer's jobs. Following this section will be helpful application links to find Spencer's jobs online. Also included will be a download application form. Spencer's rather unique atmosphere makes it appealing for those who mesh with the culture. Working in a store so dedicated to a brand it portrays is incredibly rewarding. Though it is relatively unique, and the tone of a retail chain is hard to duplicate, there are also some competing retail stores that interested applicants should look into.
Halloween City is one store worth checking out. Because it is rather specialized, and carries gags and costumes, it will also carry a somewhat similar tone. Though, due to it being a holiday store, customer traffic will be seasonal. Party City is another store worth researching. Due to its focus on party material, one may find the tone fairly similar.
Also See:
Fallas Discount Stores: Visit the Fallas Discount Stores application.
Fossil: See this page for jobs at Fossil.
Ollies Bargain Outlet: Checkout the application page for work at Ollies Bargain Outlet.
QVC: For career opportunities, fill out the QVC online application.
EB Games: For employment at EB Games visit the application page.
Company Links
http://www.spencersonline.com/