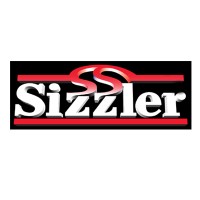 The Sizzler is an American restaurant based in Mission Viejo, California. The chain has been in operation for more than 57 years. The restaurants are very popular for its steak, seafood and salad bar.
It was founded in 1958 by Del and Helen Johnson. Today, the company franchises or owns 170 restaurants across the United States and Puerto Rico. Most restaurants are located in the West. Sizzler also has a few restaurants outside of the United States that are operated by Pacific Equity Partners. International locations include Australia, China, Indonesia, Japan, Philippines, Puerto Rice and Thailand.
The chain's prides itself as the place where America comes for great food and value. The company is the innovator of a new "family casual" segment. Guests order and pay in line then enjoy the signature salad bar until their meals are delivered by a server. Table service also includes beverages and table clearing.
Sizzler is working to meet customer interest in health and nutrition. A total of 18 menu items now meet the Healthy Dining Options standards and 13 menu items qualify as Sodium Safe. There are also 2 Kids LiveWell Options on the menu.
The chain is also active in the community. They offer a Bash for Cash fundraising program there the restaurant team partners with local organizations to help raise money. They provide a flyer for partners to use to promote their event, host the event, then give a portion of the sales to the organization.
Sizzler Careers
The restaurants hire employees who can focus on the guests and each other. The restaurant wants to make sure that all the employees are on the same page and enjoy themselves at work. There are numerous positions at the restaurant. It is a fast paced energetic environment. The chain values passionate, energetic employees and promotes the best to management positions.
How old do you have to be to work at Sizzler? Check out the age requirements and other specifics for the job you are applying for. In most states, you must be 18 years old to apply but some states allow minors over the age of 14 to work with a work permit.
Get Your Degree!
Find schools and get information on the program that's right for you.
Powered by Campus Explorer
Sizzler is an equal opportunity employer. The chain offers market standard wages and benefits.
Restaurant hours of operations vary by location. Restaurants are typically open from 11:00 am to 10:00pm. Some locations open at 10:30 or close at 9:00. Restaurants are typically open later on Friday and Saturday nights and may have special holiday hours.
Job Descriptions & Salaries
Hotside/Kitchen
Sizzler's kitchen is called the Hotside. Hotside employees are responsible for providing high quality food that is perfectly cooked to specification. There are four primary Hotside positions: Grill, Make, Prep, and Fry.
Coldside/Host and Cashier
Sizzler calls the first customer point of contact the Coldside. Coldside employees are responsible for greeting guests, taking orders, hosting and seating guests. Closed attendants also perform specific cleaning duties and sometimes provide drink service. 
Salad Bar
The salad bar is a separate section at the Sizzler and a focal point of the dining experience. Salad Bar employees are responsible for maintaining the salad bar by replenishing foods, setting it up in the morning and breaking it down at thing. Other duties include prepping hot and cold items for the salad bar. 
Service
Service employees work in the dining room and are responsible for ensuring guests enjoy their meals and experience Sizzler hospitality. Primary Service duties include serving tables and creating a welcoming environment. Service employees also maintain the cleanliness of the dining area. 
Utility
Utility attendants are responsible for providing a constant supply of clean smallwares to all sections. Smallware is the term Sizzler uses for utensils, plates, bowls, glassware, cutlery, pans and tubs.
Sizzler Interview Questions
Use these typical interview questions to prepare yourself for your interview.
Why would you like to work at Sizzler? This is a very common interview question. Take the time to learn about the culture and why you would like to work there. Don't just say "I need a job." Try to say something that you like about the restaurant or the work.
Do you have previous restaurant experience? This is an opportunity for you to talk about similar positions you have held. Talk about experiences you have doing something similar if this will be your first restaurant job. For instance, talk about any cooking, cleaning or customer service jobs that you have had in the past.
When are you available to work? Use this question to talk about your daily and weekly schedule availability and when you are available to start. Restaurants need flexible employees who can work on evenings and weekends. Be sure to mention tall the times that you can work not just the times that you want to work. Your schedule might not be ideal at first but it will improve the longer you work there.
What are your strengths and weaknesses? This question stumps a lot of people. Think about strengths and weaknesses your have then consider why they are applicable to the position. For instance, highlight your people skills if you are applying for a Coldside or Service position or your excellent attention to detail if you are applying for a Hotside position.
Do you consider yourself a leader? Be honest and explain your answer in a positive way. If you feel your are a leader say you are self-starter with the ability to motivate others. If you don't feel you are a leader tell them that you are dedicated team member who is great at following procedures.
Advice for the Application Process
The Sizzler application process helps hiring managers determine if you will be a productive member of their team. The hiring process will generally be casual for most Sizzler jobs. Find Sizzler Jobs online, download an application form or ask about openings at your neighborhood Sizzler.
Demonstrate a positive attitude and respect toward the employees and hiring manager. Dress appropriately whether you are there to ask about openings or you there for your interview. In general, casual clothing is appropriate for most positions. Be sure your clothes are clean and you are well groomed. Avoid overly casual looks such as shorts, tank tops and flip flops. A t-shirt and jeans is ok as long as the jeans aren't torn and the shirt doesn't have anything offensive on it.
Plan ahead for the interview spend some time preparing for it. Bring a list of skills and experiences you want to highlight that you can refer to during the interview. Do a little homework and learn about the company and the position. Prepare any questions you have ahead of time so you remember to ask them.
Some hiring managers will extend a job offer at the end of the interview if you do well but sometime you will need to wait for an answer. Be polite and gracious even if you don't get the job. Be sure to thank the interviewer for considering you for the opportunity and ask them about how you can follow up on the hiring status or if there are any future job openings they would consider you for.
How to apply for Sizzler online? Follow the links below, to find a Sizzler job application online, obtain a printable application for Sizzler, and to apply for jobs at Sizzler.
Also See:
Perkins Restaurant And Bakery: Perkins Restaurant And Bakery offers opportunities for both, beginners and experienced roles.
Beef 'O' Brady's: Checkout the application page for work at Beef 'O' Brady's.
HomeTown Buffet: See our guide for careers at HomeTown Buffet.
Five Guys Burgers And Fries: Visit the Five Guys Burgers And Fries application.
Bojangles': Use the Bojangles' job application to apply here.
Company Links