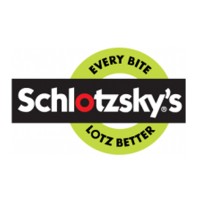 Schlotzsky's is chain of franchise sandwich restaurants headquartered in North Austin, Texas. There are more than 350 franchised and company-owned restaurants worldwide. Most stores are located in the southwestern United States. Follow the links below to get an Schlotzsky's application and apply for Schlotzsky's online.
The chain was founded in 1971 in Austin, Texas. By 1981, the chain had grown to 100 franchise stores. It continued growing throughout the 1980's and 1990's. At its peak in 2001, the chain had more than 750 stores and over $400 million in sales. In 2003, the company took a downturn and posted an $11.7 million loss in sales. Today, there are numerous restaurants across 35 states and three foreign countries.
The chain has evolved over the years but stays true to its funky nature, quirky attitude and unique bread. The corporate culture embraces a franchisee- and guest-centric vision, a new brand image and smart corporate growth.
The chain values its employees and starts all new restaurant employees at $10.50 per hour. It also offers flexible part-time and full-time schedules and works to accommodate employee's school and extracurricular activities. They offer paid vacation, free meals, comprehensive training and 401K retirement plans. All employees are encouraged to grow with the company.
Schlotzsky's Careers
The company is always looking for new talent and believes that the right people are the main ingredient for success. Restaurants are responsible for hiring their own staff and offer excellent benefits and growth potential.
The chain's corporate offices also offer rewarding Schlotzsky's careers with competitive salaries and benefits.  Look for corporate positions if you are interested in a career in franchise business, sales, or real estate. Schlotzsky's corporate also hires restaurant managers for company owned stores.
How old do you have to be to work at Schlotzsky's? Check out the age requirements and other specifics for the job you are applying for. In some states, you must be 18 years old to work while in others you can get a work permit if you are at least 14 years old. Some restaurant positions require heavy lifting or the ability to stand for long periods of time.
Get Your Degree!
Find schools and get information on the program that's right for you.
Powered by Campus Explorer
Schlotzsky's is committed to equal opportunity for all of its employees and job applicants. The company will work to accommodate persons with restricted abilities or medical conditions. The Human Resources Department actively invites applicants and employees to identify any reasonable accommodations that can be made to allow disabled individuals to perform functions that are essential to their positions.
Restaurants are typically open from 10:30 am to 1:00am Sunday through Thursday. Restaurants are open until 1:30am on Friday and Saturday nights.
Job Descriptions & Salaries
Restaurant Cashier
Restaurant Cashiers are responsibility for delivering high quality made to order food and providing a healthy eating environment for guests. Primary tasks include taking orders, handling cash, and general customer serviced. Restaurant Cashiers also clean dining room tables, empty trash, and stock dining room utensils.
Restaurant Associates
Restaurant Associates are responsible for prepping and assembling at the prep station, meat and cheese station, finish station, pizza station and soup and salad station. Primary tasks include slicing vegetables, meats and cheeses and keeping workstations clean. 
Restaurant Baker
Restaurant bakers are responsible for baking breads and pizza crusts daily. Principal duties include par baking and baking sheets of breads and crusts. Cleaning baking pans and dishes, and keeping baking area clean. Bakers also help restaurant managers determine bread and crust stock level needs. 
Team Leader
Team leaders assist the management team in all aspects of shift management and guest services. Team leaders ensure crew members follow established health and safety standards: ensure food is properly covered, labeled and stored; and ensure salad mixes are prepared according to recipe standards.
Restaurant Manager
Restaurant managers are responsible for ensuring quality restaurant operations and excellent customer service. They also assist the general managers with budgeting, inventorying, and payroll. Additionally, they interview and hire hourly employees and supervise crew members.
Schlotzsky's Interview Questions
Use these typical interview questions to prepare yourself for your interview.
Why would you like to work at Schlotzsky's? This is a very common interview question. Learn about the company's culture and why you would like to work there.
Do you have previous restaurant experience? This is an opportunity for you to highlight any previous experience you have. If this will be your first restaurant job, talk about experiences you have doing something similar. For instance, if you have cashier experience from community events or a retail job mention it. Otherwise, talk about similar restaurant positions you have held.
When are you available to work? This is an opportunity to talk about your daily and weekly availability as well as when you can start. Restaurants value flexible employees. If you are not available during certain times of the day or on certain days because of school activities or other commitments, mention it.
What are your strengths and weaknesses? Think about strengths and weaknesses that are applicable to the position. Highlight your customer service and cash handling skills if you are applying for Cashier position or your excellent measurement skills if you are applying for a Baker position.
Do you consider yourself a leader? Answer this question honestly and be prepared to explain why or why not . Stay positive if you don't feel you are a leader and talk about how you are a great team member and you are good at following instructions. If are you a leader, point out that you are responsible, detail oriented and great at motivating others.
Advice for the Application Process
Each Schlotzsky's store is responsible for making their hiring decisions. Managers will contact you directly to set up an interview if you are qualified. You can follow up with the manager in person or ask at the store about any specific hiring needs. The human resources department is available by email to help answer any questions about the hiring process.
Always demonstrate a positive attitude and be respectful toward the hiring manager. Wear clean and appropriate clothes when you are interacting with the manager whether you are there to ask about openings or you there for your interview. In general, casual clothing is appropriate for most positions but avoid overly casual looks such as tank tops, shorts and flip-flops. Clean jeans and a clean t-shirt would be fine as long as your t-shirt doesn't have anything offensive on it and your jeans aren't torn.
Prepare for the interview. Bring a list of skills and experiences you can refer to it. It will come in handy if you are stumped by a question. Do some homework and learn about the position so you have examples of your successes to talk about. Prepare any questions you have ahead of time and be sure to ask them.
Some hiring managers will extend a job offer at the end of the interview if you do well but sometime you will need to wait for an answer. Be polite and gracious and thank them for considering you for the opportunity. Don't be afraid to ask them about how you can follow up on the hiring status or future job openings.
How to apply for Schlotzsky's online? Follow the links below, to find a Schlotzsky's job application online, obtain a printable application for Schlotzsky's, and to apply for jobs at Schlotzsky's.
Also See:
Arby's: Use the Arby's job application to apply here.
The Pita Pit: Checkout the application page for work at The Pita Pit.
Taco Bueno: See this page for jobs at Taco Bueno.
Kentucky Fried Chicken: See our guide for careers at Kentucky Fried Chicken.
Jack's Family Restaurant: Jack's Family Restaurant offers opportunities for both, beginners and experienced roles.
Company Links