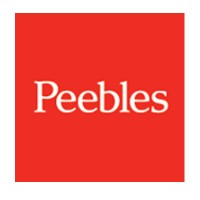 Peebles was purchased by Stage Stores in 2003, making the brand part of a larger company of five stores. Along with Peebles, Stage Stores also operates a store under its name, Bealls, Goody's and Palais Royal. In total, the company has 850 stores in 40 states. You can find the Peebles application link below.
Peebles currently has 136 locations in 17 different states, including Virginia, New Jersey, Ohio, Illinois, Michigan, Tennessee and many more. Under Stages Stores Inc., there are about 14,500 employees in the business. The parent company's headquarters is currently located in Houston, Texas, while the Peebles headquarters is in Lawrenceville, Virginia.
As part of the fashion retail industry, the business provides brand name men's apparel, women's apparel, footwear, cosmetics and housewares. There are a few brands that can only be found at Peebles, including Sun River, Wishful Park, Valerie Stevens, Signature Studio and a couple others. You can also find Nike, Sperry and Calvin Klein.
The company is publicly traded, and in fiscal year 2014, the business sold $1.6 billion. One thing that helps keep customers returning is a credit card loyalty program that started in 2012. The company also prides itself on bringing stylish and affordable clothing to its customers at all life stages.
Peebles Careers
Job opportunities in the company range from corporate to entry-level, so there really are jobs for everyone. Corporate Peebles careers include positions in legal, finance, accounting, human resources, ecommerce, information technology, purchasing and supply chain. These jobs may require someone to work at either the Stage Stores or Peebles headquarters, so keep that in mind before you apply.
Peebles jobs at the store-level are numerous. Sales associate jobs are usually always available and are entry-level positions that can be either part- or full-time. Other in-store jobs include beauty advisor and customer service representative. Manager positions include beauty counter manager, store manager and assistant manager. These positions will require additional work experience.
How old do you have to be to work at Peebles? To start working Peebles careers, you must be at least 18 years old. Stores are open from 10 a.m. to 9 p.m. from Monday through Saturday. On Sunday, stores are open from noon to 6 p.m. This means associates may have to work evenings and weekends.
Get Your Degree!
Find schools and get information on the program that's right for you.
Powered by Campus Explorer
This department store chain offers its employees a variety of benefits, including flexible work scheduling and competitive wages. Full-time employees can also start 401(k) retirement plans and sign up for healthcare coverage. Life insurance options through the company are also available. These associates also get holidays off and vacation pay.
Peebles Job Descriptions
Manager – Responsibilities of the managers include hiring and training new associates, creating work schedules, creating sales reports and protecting the stores against theft. Managers need to help with opening and closing procedures, as well. These associates need to be well-organized. Salary usually starts above $45,000, with the ability to climb above $55,000 per year.
Sales Associate – The sales associates are responsible for helping the customers navigate the store and allowing them entry into the dressing rooms. Sales associates operate cash registers, as well. These are the employees responsible for keeping the sales floors need and organized. Careers as sales associates are plentiful. Pay is usually $8 to $9 per hour.
Beauty Advisor – The beauty advisors help customers with cosmetics and fragrances. These employment opportunities require some previous beauty experience. These positions may be either full- or part-time. Beauty advisors need to be able to recommend product lines and explain makeup types and techniques to customers. Pay falls between minimum wage and $9 per hour, with the possibility for commission.
Assistant Manager – As the second in command, assistant managers need to act as a bridge between the managers and the other employees. Assistant managers will help train new employees and work the sales floor when necessary. These positions are usually full-time. Salary is usually between $20,000 and $25,000 per year.
Peebles Interview Questions
If you are called in for an interview, prepare to answer a few common questions, such as these:
Can you tell me a bit about yourself? As interviewers bring in numerous people over the course of an interview session, they need to get to know a lot of people in a really short amount of time. This question helps them get to know applicants on a more personal level. Keep your answer short and relevant to the position.
What is your previous work experience? Experience isn't required for all jobs, but if you have previous retail experience, it may help you stick out among the other applicants. Share all relevant previous work experience. If you don't have any, share traits that you have learned that may help with the job.
How do you think your previous experience will help you here? If you do have previous experience, you should share how it will help you in this new job. This will help the interviewer see the skills you have before you even start the job. Again, keep it short and sweet.
Managerial applicants should expect to undergo a more rigorous interview process, with the possibility of multiple interviews. All questions directed to managerial hopefuls will help the interviewer understand if they would be a good fit for the company or not. Popular questions include, "How would you deal with an insubordinate employee?" and "What is your management style?"
Advice For Application Process
To apply for jobs at Peebles, you can either apply in-person or online. If you apply online, you can go to the company website to browse a list of open Peebles jobs online and read a job description for each. To fill out a Peebles job application online, follow the instructions on how to apply for Peebles online.
To apply in-person, you will need to go to a local store to request a free application, as there is no printable application for Peebles. Just as there is no printable application form, there is no place to select download application form. Going to a store will be the only way to apply in-person.
Whether you apply in-person or fill out an online application, you should fill out a direct application and include a copy of your resume that outlines your previous work experience. After you fill out your application form, you will have to wait to hear back from the store. Be patient, as it will take the hiring manager a while to go through all the applications.
If you haven't heard back from the company within a month or so, you may call the store to inquire about the position. You should make sure to reference your Peebles application, if asked, so the person on the phone knows which career you are interested in. Be polite, however, as this call could affect whether or not you get Peebles jobs.
Also See:
T.J.Maxx: For career opportunities, fill out the T.J.Maxx online application.
Bealls Texas: Visit the job application for Bealls Texas to apply today.
Marshalls: Use the Marshalls job application to apply here.
Michaels: Visit the job application for Michaels to apply today.
Fred's: See our guide for careers at Fred's.
Company Links