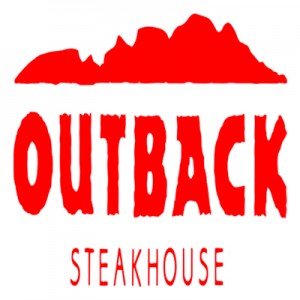 Outback Steakhouse is an Australian-themed steakhouse restaurant chain. The company's is known for providing high-quality food and service. All of Outback's restaurants are designed around the theme of the Australian Outback.
Bloomin' Brands, Inc. is the holding company of Outback, and is headquartered in Tampa, Florida. In addition to Outback, the holding company owns and operates Carrabba's Italian Grill, Bonefish Grill and Fleming's Prime Steakhouse & Wine Bar.
Outback was founded in the late 1980s. Chris Sullivan, Robert Basham, Tim Gannon and Trudy Cooper were hospitality professionals who decided to open their own restaurant. They had a vision of a dining experience that focused on providing a casual atmosphere and good food and service.
However, the industry was littered with other startups that had the same dream but weren't able to attract customers. To set themselves apart, the founders chose to use an Australian theme. The first Outback Steakhouse restaurant opened in March, 1988 in Tampa, Florida.
Outback Steakhouse quickly became known as a place that served a great steak at a reasonable price by people who genuinely cared about the comfort, well-being and joy of their guests. Since Outback Steakhouse opened, Bloomin' Brands, Inc. has grown to include Carrabba's Italian Grill, Bonefish Grill, and Fleming's Prime Steakhouse & Wine Bar. Bloomin' Brands has grown into a casual dining powerhouse. The company employs 95,000 domestic Team Members and operates more than 1,500 restaurants throughout 48 states, Puerto Rico, Guam and 20 countries.
Outback Steakhouse Careers
Company employees are known as "Outbackers." The restaurant prides itself on the way it treats its employees. Outback seeks to foster a "culture of respect and camaraderie that breeds enthusiasm."
They begin their welcoming culture by treating guests well, and they do everything they can to continue this mindset with their workers. The firm commits itself to a continuing process of training its people so that they always feel capable and accomplished in whatever they work they perform. The overarching requirement for working at Outback is to be dedicated, fun-loving, and constantly striving to make the business successful.
Get Your Degree!
Find schools and get information on the program that's right for you.
Powered by Campus Explorer
There are three main employment categories for working at Outback. They are
Hourly Positions
Management Positions
Corporate Office Positions
The following are the main Outback jobs available under each main category:
Hourly Positions 
Host, Bartender, Server, Head Wait Server, Line Cook, Prep Cook, Take-Away Person, Trainer, Dishwasher, Busser
Management Positions 
Managing Partner, Manager, Kitchen Manager
Corporate Office Positions
Bloomin' Brands provides infrastructure and support to the chain's numerous dining establishments. Their primary Home Office in Tampa, Florida supports Outback Steakhouse, Outback International, Bonefish Grill, Carrabba's Italian Grill and corporate operations for Bloomin' Brands. The Home Office in Newport Beach, California supports Fleming's Prime Steakhouse and Wine Bar and Roy's Restaurant.
The Home Office is comprised of the following departments:
Marketing, evelopment (Construction, Real Estate and Design), Finance and Accounting, Information Technology, Supply Chain, Human Resources, Research and Development, Legal, Market Intelligence, Administration, Concept Operations
The requirements for positions at Outback are as varied as the actual positions. Some requirements are common throughout the company. Employees must be dependable, self-reliant and passionate.
Restaurant positions (both hourly and management) must be obsessed about good food and exceptional customer service. It is vital that you combine a winning personality with professional dedication and a team-oriented attitude. Strong organizational, time-management and prioritization skills are also important attributes. Minimum requirements for most positions are to possess High School Diploma or equivalent required. An Associate or Bachelor's degree is preferred for management and corporate positions.
Skills
Some positions require specialized skill and training. For example, a managing partner position needs to be filled by individuals with knowledge of the following:
Inventory Management, Budgeting, Forecasting, P & L Management, Computer Literacy, Hot Schedules
How Old Do You Have To Work at Outback? The minimum age allowable to work in most states is 16 years old. To work as a bartender, the minimum age range is from 18-20 depending on the local drinking age. All applicants should investigate local labor laws before submitting applications.
Benefits
One of Bloomin' Brands' chief objectives for its workers is "taking care of Our People."
Qualified Team Members enjoy competitive pay and benefits, which depend on the location and employment laws, such as:
Comprehensive health insurance for employees and their dependent, including prescription drug coverage and Flexible Spending Accounts, Dental and vision insurance coverage, Domestic partner eligibility, Paid vacation, Paid holidays, Life and accidental death and dismemberment (AD&D) insurance, Optional supplemental life and AD&D insurance, Short- and long-term disability insurance, Optional supplemental short- and long-term disability insurance, Adoption assistance program, Team Member Assistance Program, 401(K) plan, Deferred compensation plan, Meal discount at any Bloomin' Brands' restaurant, ecognition programs for outstanding performance, Valuable discounts on a variety of products and services
The benefit difference between hourly and salaried employees is as follows: 
Hourly Employees
Medical/Dental/Prescription Card/Life Insurance, Meal Discount, Vacation
Salary Employees
Medical/Dental/Prescription Card/Life Insurance, Short Term Disability, Long Term Disability, 401k, Meal Discount, Adoption Assistance, Vacation, Flexible Spending, Employee Assistance Program
Outback Steakhouse Job Descriptions
Corporate Philanthropy
Outback Steakhouse takes great pride in giving back to the communities it serves. The company works diligently to improve the quality of life in these areas.  This is a key principle of how the company does business.
Local restaurants connect with local charities and organization and donate time, money, and of course, food. This commitment to serving the surrounding areas provides employees the opportunity to makes a difference and demonstrates Outback's desire to be a good neighbor.
Diversity
Outback and its holding company, Bloomin' Brands, Inc. are firm believers in diversity. The feeling is that America is a country of diverse backgrounds, and therefore, the company is committed to reflecting this diversity. Great strength is derived from environments where people from diverse backgrounds work together towards one common goal.
The company acknowledges the equality of every race, color, sex, age, religion, national origin, marital status and disability. Therefore, it is vitally important to encourage employees to make connections with members of social associations, civic groups, schools and other nonprofits is essential to our future growth and success of our restaurants in their local markets and home office. Bloomin' Brand is proud to support of the MultiCultural Foodservice and Hospitality Alliance. This alliance provides valuable insight and direction for inclusive progress.
The restaurant supports and serves on the boards of many cultural and ethnic heritage associations. Corporate leadership is encouraged at every level to join groups with diverse memberships who are pursuing the same of very similar goals with respect to diversity. This encouragement often results in tangible rewards and success for individuals who make this a priority.
Outback Steakhouse Interview
After a review of Outback applications, a hiring manager will contact an applicant if they are judged to be a good fit for the position. They will ask them about their work history, answer the applicant's questions, and potentially setup an interview.
If an initial interview is scheduled, an Outback Human Resources professional will talk to the applicant to assess the candidate's qualifications.
Advice For Application Process
Printable Application for Outback
Outback prefers potential job applicants to only apply for position online. Therefore, any free application, direct application, or efforts to use a download application form or printable application form should only be done in conjunction with an online application process.
How to Apply For Outback Online
Employment begins with the Outback job application online process. It is advised that applicants find a quiet place to apply for jobs at Outback. The time needed to apply for Outback jobs online varies so applicants should allot themselves a generous amount to complete the process.
Outback careers can be applied to at different locations depending on the type of job that the applicant is pursuing. Hourly employees must go to bloominbrandcareers.com (link found below). There, they will create an online profile and be able to apply for those types of jobs and maintain a record of their application history. Management positions can be applied for by going to the recruiting.ultipro.com job board (link found below). This site features all of the open positions in this category, and allows prospective workers to create an online profile based on their preferred job title, education level, and licenses and certifications.
Corporate positions are found at the osi.taleo.net (link found below).
These websites provide the necessary information to pursue Outback careers and should be bookmarked according to the type of position desired by the applicant. These sites not only provide lists of current job opportunities, but also a job description and a list of responsibilities for each position.
Applicants should have their resume, a cover letter and other documentation that would assist them as they apply online for Outback jobs. Once an Outback application is finalized and uploaded, they will receive a confirmation email. Outback has a number of competitors, including Lone Star Steakhouse and LongHorn Steakhouse.
Also See:
On The Border Mexican Grill: See our guide for careers at On The Border Mexican Grill.
Mimi's Cafe: Mimi's Cafe offers opportunities for both, beginners and experienced roles.
Golden Corral: See our resource page for more information on Golden Corral careers.
Fuddruckers: Checkout the application page for work at Fuddruckers.
El Torito: Visit the El Torito application.
Company Links