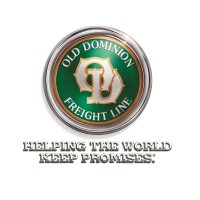 Old Dominion Freight Line began many years ago in 1934 with just one truck that ran one route back and forth.  But from there it's been nothing but up and now the company operates worldwide.  To find out how to apply for Old Dominion online use the link below to submit an Old Dominion application.
The company was founded by husband and wife team, Earl and Lillian Congdon in Virginia.  Keeping it in the family, their sons joined the business later and helped to expand to the rest of Virginia and North Carolina.  The company took over numerous other freight lines and now employs over 15,000 people across the world.
The primary focus of the company is its "Less Than Truckload" service, but it also boasts a range of other services including domestic and global shipping as well as an expedited service.  It can handle shipments of all different sizes, from packages up to household moving services, even offering instant quotes on its website.
Old Dominion strives to be innovative and modern.  It is dedicated to sustainable shipping and employs a variety of measures to make the industry greener by reducing carbon emissions.  It has also streamlined its service by using various online methods to track deliveries including a dedicated mobile app for iPhone and Android.
Old Dominion Careers
There is a wide range of vacancies with Old Dominion including Warehouse and Dock Workers, Mechanics and Drivers.  As a driver you have the option of being a company driver or an owner/operator.  For all of these roles there are various physical requirements and as a driver you may need a CDL-A license.
There are also different office-based roles in the departments of Administration, Management, IT and Sales.  The hiring requirements vary greatly between the different roles so you make sure you check the specifications carefully before applying.  But with 224 shipping service centers you'll be able to find a position to match your qualifications.
How old do you have to be to work at Old Dominion?  For jobs at their local stores you need to be at least 18.  Some positions may require you to be over 22 years old depending on the role.  Remember that many positions will need you to be available 24 hours a day, 7 days a week to meet customer delivery expectations.
Get Your Degree!
Find schools and get information on the program that's right for you.
Powered by Campus Explorer
In addition to generous salaries, there are many other benefits to Old Dominion jobs.  Most employees will be entitled to various insurance plans including medical and other packages.  There are additional perks including paid vacations, stock purchasing options and a 401(k) retirement plan.  There are also opportunities for further training and career advancement.
Job Descriptions & Salaries
Company Driver – As a driver your responsibilities will cover all aspects of maintaining your vehicle within the DOT regulations.  These regulations also include standards for safe driving and transportation of various different materials.  You will adhere to all of these when making deliveries to customers.  The pay typically starts at $20 an hour.
Mechanic/Maintenance – In this role you will need a thorough knowledge of truck repair and maintenance as well as the different regulations surrounding it.  You will diagnose different issues with the trucks and reliably repair them.  This job requires at least one year's experience in truck maintenance.  The average salary is $41k/year.
Solutions Specialist – This is primarily a sales role and so you will need good persuasive and interpersonal skills.  You will need to be able to communicate clearly the different services available to customers.  Some positions will involve travel and will require you to have a clean driving license.  The average pay for this is $62,000 a year.
SVC Dockworker – This is a physically active role and you will need to be comfortable working in all types of weather on different types of surfaces and doing a large amount of heavy lifting.  For some roles you may need to be licensed to operate a forklift truck.  The starting wages are usually $15/hour.
Old Dominion Interview Questions
It will help your employment chances when you apply for jobs at Old Dominion if you are well prepared for the interview by practicing common questions.
Why did you leave your last job? If the experience you had at your last job was quite negative, try not to dwell on it too much or use this as an opportunity for a rant.  Instead use this answer to describe what you're looking for in a new job.
Describe a time when you had to deal with a displeased customer.  It's important to be able to handle difficult situations in a calm and professional manner.  If you have previous experience in customer relations that will be a big advantage.
How do you organize your priorities?  A big part of all Old Dominion careers is the ability to set yourself goals and manage your time well to make sure you achieve everything you need to.  Make sure you have a process for organizing yourself and are able to work independently.
For driving and maintenance careers you will be asked more specific questions relating to your experience such as, "How do you make sure you keep to your schedule in adverse weather?" or "Can you weld horizontally and vertically without air pockets in the bead?"  These questions are to ascertain your knowledge in the area and assess your suitability.
Advice For Application Process
By searching Old Dominion Freight Line jobs online you can find the careers page of their website and browse the various different job opportunities.  To submit an Old Dominion job application online use the information provided to make a direct application to the location you want.  You can apply online by sending your resume to the email address provided.
They don't have an online application form and you can't download a printable application for Old Dominion as the different career areas are very diverse and require different qualifications and experience.  If you're interested in jobs in this industry it's best to browse by locations and contact them to see if you can pick up a free application. 
Make sure you read the job description carefully before you submit your applications.  You may need to provide other documentation such as your driving license and insurance documents.  Candidates will also need to pass a background check as well as a drug test.  Once you've submitted your Old Dominion application the hiring process will likely only take a couple of weeks at most.
When you are invited for an interview you may need to fill in a questionnaire depending on which of the Old Dominion jobs you're applying for.  In the interview remember to be smartly dressed even if you're not applying for an office-based position as it gives off a good impression.
Also See:
Dole: See our guide for careers at Dole.
Mediacom: See our resource page for more information on Mediacom careers.
Quaker Oats: See this page for jobs at Quaker Oats.
LADWP: For employment at LADWP visit the application page.
Gulf Power: See this page for jobs at Gulf Power.
Company Links