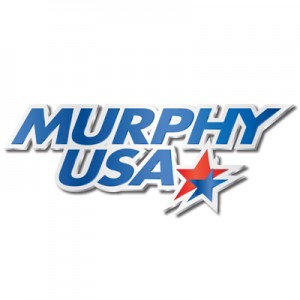 Murphy USA is a chain of over 1,200 gas stations and convenience stores located in 23 states prominently in the South and Midwest United States. They believe the most important mile is the one you're on. This is where people have been coming where they can save on fuel and get great deals on snacks since 1996. They always go the extra mile, helping you buy smarter and drive farther.
This is a company based on a set of principles. Families count on them every day to provide outstanding products; their principles help guide them continuing in the right direction.
Integrity
Be persistently ethical and honest to foster trust.
Respect
Value and appreciate others.
Citizenship
Get Your Degree!
Find schools and get information on the program that's right for you.
Powered by Campus Explorer
Believe in the power of good actions.
Spirit
Strive to be the best.
Fuel is what this business does. They pride themselves on providing a variety of high quality fuels at their pumps. Their gasoline and diesel go through careful inspection before transport. They contain cleaning agents which keep your engine running how it's supposed to for longer life. They're so confident in their products that they offer a Murphy USA Fuel Quality Guarantee.
Murphy USA is always working on projects with renewable energy. They offer E-10 fuel at over 700 of their locations which contains 10% ethanol, 90% unleaded gasoline. Ethanol is a high-octane, clean burning fuel made from corn and other renewable resources. Using ethanol reduces dependency on foreign oil. Ethanol is also good for the environment. More of their Earth-friendly products include ultra-low-sulfur-diesel, biodiesel, and winterized diesel.
This is a company dedicated to serving our local communities and families who depend on them. Does this sound like a great place to work? Interested in being part of this team? Keep reading and learn about job opportunities and Murphy USA careers.
Murphy USA was founded as a subsidiary of Murphy Oil in 1996. Murphy USA became its own, standalone company in 2013. Many of their locations are part of Walmart Supercenters. Murphy USA supports local organizations that make youth sports possible through Team Murphy USA. They believe sports play a vital role for young people teaching them work ethic, team work, confidence, physical fitness, and good sportsmanship.
Murphy USA Careers
Hiring requirements for Murphy USA jobs vary depending on which position you're interested in. One requirement that all applicants must meet: a commitment to providing quality, reasonably priced fuel and snacks with friendly service for customers. Visit the careers website so you can see responsibilities and a job description of a job you're interested in. The application form will indicate any specific hiring requirements.
The employer will accept your resume, cover letter, and Murphy USA application for consideration. All qualified, motivated candidates will be contacted in order to advance with their interview process. This is where more information about salary and benefits will be shared so they can answer any questions about them or the position.
How old do you have to be to work at Murphy USA? The minimum age for a job with them is 18 years old. There's no maximum employment age; all applicants above age 18 may apply online.
Any asset of a business must be well taken care of in order to perform at its highest level. Since their most valuable asset is their amazing staff, Murphy USA takes care of them with competitive wages and benefits. See below for a few average wages than can be expected at this company. Clearly, there is a lot of room for growth in a career with this business.
Cashier – $9.10/hour, Assistant Store Manager – $11.15/hour, Store Manager  – $38,478/year, District Manager  -$74,699/year
Wages aren't the only reason this business is a great place to work. They also offer employees a fantastic benefits package. They pride themselves on being a family friendly place where employees can grow both their careers and their families. Benefits of a career with this company could include the following.
Insurance, Health, & Wellness
Health Insurance, Life Insurance, Dental Insurance, Vision Insurance, Disability Insurance, Health Savings Account
Financial & Retirement
401K Plan, Performance Bonus, Profit Sharing, Employee Stock Purchase Plan, Stock Options, Supplemental Workers' Compensation
Family & Parenting
Maternity & Paternity Leave, Family Medical Leave, Reduced or Flexible Hours, Military Leave
Vacation & Time Off
Vacation & Paid Time Off, Paid Holidays, Sick Days, Volunteer Time Off, Bereavement Leave
Perks & Discounts
Company Social Events, Mobile Phone Discount
Professional Support
Job Training, Tuition Assistance
Murphy USA Job Descriptions
They are looking to expand their business by inviting new members into their team. They're in search of motivated, hustling associates who can fill openings in stores across the country and in their home office in El Dorado, Arkansas. They need friendly, courteous associates in their stores interacting directly with customers giving them a good experience, keeping them coming back. This business also needs motivated professionals in their home office ensuring everything is running smoothly behind the scenes. See just a few positions they currently have open listed below.
Store
Cashier, Assistant Store Manager, Store Manager
Home Office
District Manager, District Manager in Training, Support Center Agent, Project Engineer, Senior Benefits & Payroll Analyst, Retail Fuel Supply Intern, Hyperion HFM Analyst, Hyperion Business Systems Administrator, JD Edwards Business Systems Administrator, System Administrator, Workforce Management Analyst, Building Services Manager, Regional Recruiter, Instructional Design Specialist, Associate Accountant, Enterprise Systems Architect, Accounting Assistant
If these positions interest you, find the Murphy USA job application online.
Murphy USA Interview
If you're chosen to be interviewed for a job, make sure you're at the right place at the right time. If you have any questions regarding time or location of an interview, then please do not hesitate to contact the employer. They should be happy assisting potential employees. You may find several jobs that you're qualified for and interested in on the website. If so, feel free to submit multiple applications.
Advice For Application Process
This company wants your job inquiry with them to be successful. They want applicants to find a job with them that would be a good fit. When considering a position with this company, consider your own skills, knowledge, and qualifications. Which positions are your qualifications compatible with?
When filling out a Murphy USA application, be thorough, honest, and accurate. Be sure all relevant experience and education is included. The employer wants a chance to get to know potential employees when examining applications. How your application is filled out is their first impression of you. It's a good idea to review all information after your initial completion of the application before submission and ensure accuracy.
An extra advantage when applying for a job can easily be obtained by writing a well written cover letter. This is a good, easy way to get more positive attention from your potential employer. This will also further help them in understanding why you're interested in a job with them.
If there is potential for a job for you, they will try making contact via telephone or email. Please make sure you're providing them with current contact information. Stay on top of your phone calls and emails in case they are trying to make contact so you can move forward with the application process.
For Murphy USA jobs, helpful application links are listed below. Murphy USA jobs online are easy to find. A printable application for Murphy USA is not available so please apply for any available positions online. Since they do not have a printable application form, there's no need to submit a physical, direct application.
Men and women seeking employment can visit the website for a free application. They are constantly improving the quality of their products, moving forward with renewable energy, and focusing on customers' daily needs. If you're interested in being part of that vision, please apply for jobs at Murphy USA with their online application.
Murphy USA hours of operation vary depending on location. For hours of the store you'd like to work in, please check the store locator on the website. For home office positions, hours will be discussed in the interview process so they can find a shift that works for all parties involved. Murphy USA truly believes that the gas station/convenience store industry is great no matter where you work. If you are not local to any Murphy USA locations, you have several other options for getting into this proud industry.
One of the top competitors is Exxon Mobil Corporation. Exxon Mobil is the fifth largest company in the world by revenue. They have a massive global presence, one of their gas stations or one of their subsidiaries is likely located near you.
Another big competitor in convenience stores is 7-Eleven. 7-Eleven is known for their famous Big Gulp beverages and large global presence. While these large chains are good companies, the Murphy USA difference is their strong principles and commitment to local communities.
Also See:
ARCO: See this page for jobs at ARCO.
Kwik Shop: See this page for jobs at Kwik Shop.
Racetrac: Use the Racetrac job application to apply here.
Extra Mile: Visit the Extra Mile application.
Hess: For employment at Hess visit the application page.
Company Links