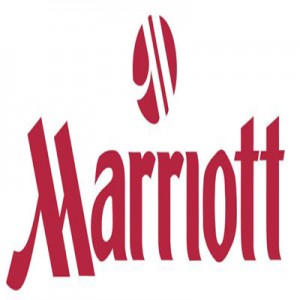 Marriott is an American multinational diversified hospitality company that manages and franchises a broad portfolio of hotels and related lodging facilities worldwide. Their corporate headquarters is situated in Bethesda, Maryland but they have locations all over the Americas, the Caribbean, Asia Pacific, Europe, Middle East and Africa.
Founder J. Willard Marriot and his wife Alice started the chain with an A&W franchise in Washington D.C. They extended the A&W menu and added food items and renamed the shop to "Hot Shoppes." Hot Shoppes grew with more locations and new services like first drive-in and in-flight airline catering.
With Bill Marriott, J. Willard's son, the company shifted to the hospitality business and opened the first motor hotel in Arlington, Virginia. Hot Shoppes was renamed the Marriott Corporation in 1967 and from then on, under Bill's leadership, Marriott transformed into a global enterprise with over 6,000 properties in over a hundred countries around the world.
Being part of Marriot affords employees generous hotel and food discounts at their properties, comprehensive and competitive benefits program with paid holiday and time off, health benefits, insurance and a 401(k)-retirement plan. They have a strong rewards and recognition program that honor long and exceptional service. Employees are also offered with professional, development, mentoring and training to help them with their career progression.
People choose Marriot because as a company, they put people in the forefront. They do not only take good care of customers but they also care for the people that give this quality service. It has a competitive compensation package plus a real opportunity for growth within the company.
How old do you have to be to work at Marriott?
Applicants need to be 18 years old and above to join the Marriot group. High school diplomas or GED equivalents are preferred.
Marriott Careers
As a multinational hospitality company, Marriott offers a wide selection of career opportunities at the front of the house and the back end as well.
House Keeping and Laundry
Housekeeping Attendant – Housekeeping attendants are exceptionally clean and orderly. They make beds and fold sheets, vacuum carpets and clean floors, dust and polish walls and furnishings, remove trash, dirty linen and room service items. They also replenish guest amenities and supplies in rooms.
Leisure Attendant – A leisure attendant welcomes guests and orients them to the spa features, rules to follow for the use of locker rooms, lounge areas and hospitality stations. They regularly monitor the spa schedule and arrange as needed. They escort guests to and from the treatment area. They assist in maintaining the treatment rooms, locker and lounge area well stocked, clean and orderly.
Laundry Attendant – Laundry attendants operate and monitor washing, dry cleaning and drying machinery, including adding chemicals and cleaning lint traps. They identify damaged items for repair or discard. They fold cleaned articles into designated size, either by hand or using a folding machine. Attendants need to maintain accurate records of laundered items.
Food and Beverage
Host / Hostess – A host / hostess handles guest dining room arrangements, from scheduling, assisting arrange seating for groups with special needs and guiding them through the dining room and the day's menu. They check menus are kept current, clean and wrinkle-free. They also assist keep the dining area clean and orderly.
Cashier – Cashiers are responsible for efficiently and accurately processing cash, credit and coupon transactions with customers following the company accounting rules and regulations.  Cashiers should have basic knowledge of using a cash register and computational skills. They also ensure the stocking, restocking and sanitizing the counter/cash area.
Cook – Cooks are responsible for preparing food items, special meals or substitute items. Cooks monitor the quality and quantity of food prepared and ensures that all that goes out of the kitchen are up to standard and worth coming back for. They also keep the kitchen and their work area clean and organized.
Rooms and Guest Services Operations
Guest Service Representative – Guest service representatives process guest check-ins / check-outs and any changes in guest arrangements. They handle billing transactions from securing payment, verification to adjusting billing as needed. They inform guests of hotel and room information, available amenities and local hotspots.
At Your Service Runner – A runner provides on-the-go assistance to all hotel guests. They place requested items such as rollaway beds in guest rooms and deliver extra towels, bathrobes or any items. They deliver items such as mail, faxes and packages. They also provide complimentary toiletries to guests such as toothpaste, razors and shampoo.
Bell Person – A bell person assists guests to their room, transport their luggage to and from their rooms and assist with luggage storage and retrieval. They inform guests of room features such as the use of the room key, mini-bar and valet laundry services. They also inform guests of property amenities, schedule of activities and other services offered.
Retail and Gift Shops
Sales Clerk – Gift Shop – A sales clerk assists customers in locating merchandise and answering any questions they may have regarding merchandise. They process all sales transactions, returns, refunds and exchanges. They also assist in maintaining the gift shop well-stocked, secure, clean and orderly.
Marriott Application
If you're interested to pursue a career on hospitality with Marriott, the best way to apply for a job is by going through their Careers page. You can search all open positions in different career categories with Marriott: guest relations, room operations, retail, fitness, spa and sales marketing. Each job posting would have a detailed description, a list of primary responsibilities and qualifications required.
Applicants need to open an online profile with Marriott. They can either manually fill in the application form or link their Google+ or Yahoo accounts to upload their details. Applicants also need to provide basic personal information, educational and employment background. Marriott then conducts an identity check and employment eligibility verification following US employment laws.
Marriott is an equal opportunity employer and does not discriminate on the basis of disability, veteran status or any other status. They're committed to hiring a diverse workforce and sustain an inclusive culture. Applicants that require assistance in completing the online form can call a hotline and a Marriott employee will return your call and assist you in completing the process.
For those who want to continue looking and are keen to learn more about having a career with Marriott, they can also join and open a profile with the Talent Community. Joining this network does not mean you're applying for a job but hiring personnel may contact you if there are open positions within your selected interest area.
For Marriott applicants, it is recommended that their previous hospitality or customer service related experience is highlighted and properly documented in their resumes. Once selected, applicants may undergo several levels of interviews depending on the position they're applying for. Generally, questions will revolve around their work experience, customer service skills and technical proficiency if any.
Things to Know About Marriott
Marriott puts people first. This philosophy continues to be the driving force of Marriott today. Each employee pursues excellence in what they do and takes pride in the quality of service they offer. The company, in turn, takes care of its employees by providing great benefits, training and growth opportunities within the company.
This people-first mentality was also recognized in 2017 when Marriott was ranked #4 in Fortune's "100 Best Workplaces for Women list" in 2017. Fortune partnered up with Great Place to Work to survey female workers at different companies across the US evaluating different metrics including ethical leadership, fair workplace interactions, competitive benefits and strong personal support.
Aside from women, Marriott strives to maintain a diverse and inclusive environment within its chain of companies. Their unwavering commitment to diversity and inclusion has garnered them recognition as one the World's Best Multinational Workplaces by Great Place to Work. Even with this recognition, Marriott still continues to champion efforts for both inclusion and diversity in the workplace.
Serve 360: Doing Good in Every Direction is Marriott's new sustainability and social impact initiative designed to foster business growth while balancing the needs of associates, customers, the environment and the communities it belongs to. Under this umbrella, Marriot looks into the following thrusts: nurturing our world, sustaining responsible operations, empowering people through opportunities and advancing human rights.
Application Links
Company: http://www.marriott.com/default.mi
Careers: http://www.careers.marriott.com/
Application: N/A