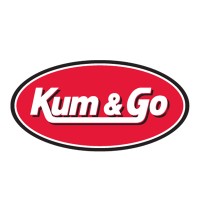 Kum & Go is a chain of convenience stores serving the entire Midwestern United States. The company serves snacks, fresh food, and cold beverages. They also offer great deals on almost all of their items.
Tony S. Gentle and William A. Krause founded Kum & Go in 1959. They opened a convenience store where people can buy gas and groceries. The company is a family owned business and is currently managed by Kyle J. Krause.
Kum & Go has more than 400 stores with 5,000+ employees. They have stores in Iowa, Missouri, Oklahoma, Arkansas, South Dakota, Nebraska, Montana, Wyoming and Colorado. Its corporate office is located at West Des Moines, Iowa.
Qualified associates receive complete health insurance plans that include life, dental, vision and medical coverage. Their employees may qualify as well for 410(k) retirement plans & pension choices and other benefits. Part-time employees receive a few similar career benefits too.
The company is able to keep their employees loyal and satisfied with the job by giving them a comfortable and happy working environment. Also, people love this company because they offer great benefits packages and competitive salaries to full-time workers.
How old do you have to be to work at Kum & Go?
Applicants must be at least 18 years old to apply for entry-level jobs. The minimum age requirement for higher positions like store managers is also 18 years old.
Kum & Go Careers
This company has been offering lucrative and satisfying employment opportunities since 1959. Applicants are always free to choose between part-time and full-time opportunities. Job seekers take advantage of the entry-level career opportunities and higher positions including:
Cashiers: Cashiers help the customers in the process of in-store check-out. Their major responsibilities include bagging the purchased items, requesting price inspections, honoring discount coupons and collecting payments. Cashiers will check the contents of their cash registers after their shift. Also, they keep store receipts, withdrawals and other important records.
Food Service Associates: Food service associates work groups to prepare and pack freshly made foods for customers. Their duties involve heating edible items to adequate temperatures, topping and packing meals, and greeting all customers. They are also responsible for introducing the newest deals and featured products to all customers.
Stockroom Associates: They receive, organize and maintain store inventory. Stock associates must be attentive to details and they handle moderate to heavy physical tasks. Also, they possess good organizational skills which are necessary for proper stocks arrangement and display. Stockroom associates work mostly for retail companies.
Retail Salespersons: Retail salespersons sell cars, clothes, electronics and other products to customers. They also help people who are looking for specific items or need more information about one. Retail salespersons persuade customers by expertly explaning how they can benefit from a product. They also answer questions about services, products or store policies.
Quick Serve Restaurant Associates: These people engage customers in order to provide the best and most efficient service possible. They also promote special sales and food services. They must promote and value teamwork. Quick serve restaurant associates stock and arrange products, maintain store's cleanliness and follow the SOP.
Restaurant Shift Managers: Restaurant shift managers must possess leadership skills so they can manage a team with efficiency. They work with waiters, and cook. They should have solid organizational skills and a professional, confident manner. Restaurant shift managers should be able to give short but concise directions to their subordinates. Also, they must have strong skills in time management, decision-making and problem-solving.
Assistant Managers: Assistant managers manage the staff when store managers aren't on duty. They give instructions to entry-level employees through their everyday routines. They also interact with customers to ensure that they'll have a good buying experience. Assistant managers ensure that employees carry out their tasks properly.
General Managers: They usually oversee the local managers and their team members. They set operations and store policies while creating and sustaining budgets. Likewise, general managers coordinate with the local management to assess all employees, and company's efficiencies and performance. They also negotiate with contractors and other employees.
Sales Managers: Sales managers are responsible for guiding and leading a group of salespeople within a company. They set sales objective and quotas, create sales plans, evaluate data and assign sales territories and sales training. They are responsible for resolving customer complaints about service and sales. Further, they prepare budgets while giving approvals to budget expenditures.
Fuel Inventory & Logistics Associates: They must be good at encoding, filing and keeping accurate records. They communicate with co-employees to ensure that correct, accurate inventory records were made. Accuracy is important in their job. Fuels inventory and logistics associates always ensure that nothing is missed when they count orders or take stock.
Kum & Go Application
Interested applicants who want to apply may visit the company's official website. They must find out more information about the qualifications first before they apply.
Kum & Go accepts applications for entry and higher level jobs both in-person and online. They usually get the response for their applications within 7 days, and a few job seekers receive calls in 48 hours.
Applicants should provide their updated information, such as their current address, email address and working mobile phone numbers. Their application form must be filled out properly because incorrect entries will lead their application to rejection.
Also, all candidates are expected to submit their latest resume with a recent photo. All necessary details especially the information for their work history should be provided. Also, applicants must give their recent contact details.
Qualified applicants will be informed immediately about the schedule of their interview. They must wear business casual attire when going to stores for the interview. Also, they should arrive on time and be prepared to answer the interviewer's questions with confidence.
Facts About Kum & Go
This company believes that success is not hard to achieve when they employ and support great individuals. Also, the management gives these people the opportunity to grow and succeed. It's why they empower everybody to come together and search for ways to grow.
The company aims to make their products and services available in other parts of the country as well. They opened a new store in Colorado Springs last January 25, 2018.
Kum & Go is known for providing quality service. Their store employees are professional and dedicated to serving their customers. Also, the company gives 10 cents discount per gallon of fuel to customers for each whole pizza they buy.
They continuously promote renewable energy and commit to preserving the natural ecosystems. 10% of their profits go to charity. Also, they donate food, build houses, serve meals and support schools. 
Application Links
Company: www.kumandgo.com
Careers: https://careers.kumandgo.com/
Application: N/A
Last Updated on