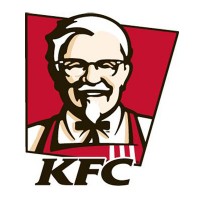 Kentucky Fried Chicken is one of the most famous and popular fast food outlets in their industry around the world, and Kentucky Fried Chicken jobs are competitive. Affectionately referred to as KFC, this company was founded back in 1952 by Harland Sanders. A hugely successful company it's no surprise that so many people want to work there, and it is easy to submit a Kentucky Fried Chicken application.
Harland Sanders first learnt about cooking chicken way back in 1896 when he was just six years old. His father had died and his mother had to work, so it fell on young Harland to cook most of the meals for his mother and his siblings. He had a passion for experimenting with different herbs and spices, and by the age of 40 he had purchased a motel and café. His secret recipe of 11 herbs and spices became well known, and by 1964 the then named Colonel Sanders had more than 600 outlets in the U.S. and Canada.
Today there are more than 18,000 Kentucky Fried Chicken stores spread through 115 countries around the globe. The main food type offered is the fried chicken, but now they also do wraps, salads and sandwiches, as well as a variety of side dishes.
The Kentucky Fried Chicken Corporation is based in Louisville, Kentucky. It is estimated that up to 185 million people watch a Kentucky Fried Chicken commercial at least once a week. More than 12 million customers are served through the stores every day. The parent company is Yum! Brands, Inc., which has more than 40,000 locations in over 130 countries and employs over one million associates. Kentucky Fried Chicken careers are available in many places all over the world, and it is easy to access their job opportunities.
Kentucky Fried Chicken Careers
Kentucky Fried Chicken believes that its company is only as successful as the people they employ. With 140,000 staff members having employment with Kentucky Fried Chicken throughout the U.S. it shows just what a great place it is to work and grow. Team members are those who spend the most time dealing with customers, and are the frontline staff, therefore are considered to have the most important jobs in the company.
As well as the team members who work in the stores there are a number of corporate positions as well. Strategic thinking, dedicated and enthusiastic staff make up the corporate portion of the staff. Positions include Food Technologists, General Managers, Systems QA Analysts, Product Developers, Architecture and Construction Managers, and many more.
How old do you have to be to work at Kentucky Fried Chicken? You must be a minimum of 16 years of age to apply to work at Kentucky Fried Chicken. For team member positions you do not need to have specific qualifications for a successful application. The main prerequisites are based on your personality and how you interact with customers. Friendliness and the right attitude will help you succeed. For corporate positions you do need applicable qualifications. Some requirements for employment may differ between the different stores. Make sure you read the job descriptions carefully before you apply for jobs at Kentucky Fried Chicken.
Get Your Degree!
Find schools and get information on the program that's right for you.
Powered by Campus Explorer
The benefits of working for Kentucky Fried Chicken include medical, prescription, dental, hearing and vision coverage. Also life insurance and a 401(k) plan, incentive plans, scholarship programs and tuition reimbursement. Paid vacation time is provided, and bonuses are sometimes available. Basic opening hours are generally 10:00am – 9:00pm Monday to Saturday, and 11:00am – 6:00pm Sundays, but this may vary between stores.
Job Descriptions & Salaries
Team Member – The main duties of a team member are customer service and satisfaction. The team member greets and serves the customer, and fills their orders. No qualifications are necessary, but previous customer service experience is an advantage. You must be able to talk face to face to people, have a great attitude, lots of energy and timeliness. The average wage is around $7 – $8 per hour.
Shift Manager – As shift manager your responsibility is to be in charge of the whole shift, making sure each staff member is doing his or her job correctly. If necessary you will also need to step in and help the staff. The store manager may also give you extra duties. The average salary for a shift manager is around $9 – $11 per hour.
Cook – The cook is responsible for cooking most of the food and preparing the side dishes. The cook must also ensure the food is cooked properly and that food is out at the appropriate times. Training is given. The average wage is around $7 – $9 per hour.
General Manager – The General Manager has the responsibility of running the store. Scheduling, task assignment, problem reporting and assisting other team members are all duties the general manager may have to undertake. You report directly to the district manager. The average salary is around $33,000 – $55,000 per year.
Kentucky Fried Chicken Interview Questions
Always prepare for any job interview by researching what type of questions might be asked, and what the most appropriate answers would be.
Can you work under pressure? This question is asked to see how you would cope with a busy environment with time pressures. If you have no previous experience, try and think of a situation where you have had deadlines, or been under pressure and talk about it.
What would you do if you caught a fellow staff member stealing? This question will show how loyal you would be to the company. Always state that you would report it to the appropriate manager.
What made you choose this company to start working for? They are trying to find out how much you have researched the company. Be honest, and give a few examples of why you think it would be a great place to work.
Who are you as a team player? The answer to this question will show whether you are a leader or a follower. They also want to know how well you will fit in working with others. Give examples of how you operated in a team situation, even if it's a sport or club.
How would you cope with an irate customer? There is always going to be an irate customer, and they want to hear how you would cope with the situation. Again, relate it to a previous conflict you may have been involved with and how it was resolved. Also, tell them you would be happy to receive some instruction as to what to do in this type of situation.
Advice For Application Process
There are a couple of different ways of submitting a Kentucky Fried Chicken application. The best method is to fill in an online application form, which is then electronically submitted. The Kentucky Fried Chicken website will tell you how to apply for Kentucky Fried Chicken online and if they are hiring. To complete the Kentucky Fried job application online you will need to electronically sign it. This can be done by entering your name and the first four digits of your social security number.
If you would rather not apply online, you can use a download application form and fill it in. The printable application for Kentucky Fried Chicken can then be handed in to your local store as a direct application. Be aware though, that the paper applications can often be delayed in reaching the appropriate person. Your free application is likely to get to the right place if you address it correctly.
Job interviews can be a bit daunting for many people. You can help to relax yourself about going to an interview by doing a few things.  Firstly, learn as much as you can about the company. Look at available Kentucky Fried Chicken jobs online and find out what the requirements are for each position. This will give you a good all-round idea of what type of person they are wanting.
It is a good idea to think about potential answers to questions they may ask, and make sure you can relate them back to the contents of your resume. Finally, remember that first impressions are often the most important so dress appropriately and always be polite.
Also See:
Potbelly Sandwich Works: Visit the job application for Potbelly Sandwich Works to apply today.
A&W: Visit the job application for A&W to apply today.
Portillo's Hot Dog: For career opportunities, fill out the Portillo's Hot Dog online application.
Chicken Express: See our guide for careers at Chicken Express.
Wienerschnitzel: See our guide for careers at Wienerschnitzel.
Company Links