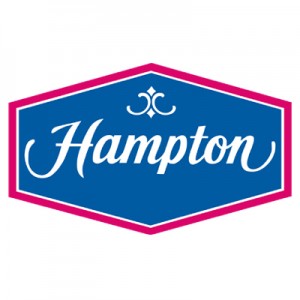 Hampton Inn – initially erected in Tennessee in 1984 – is one of several hotels under the Hilton Worldwide brand. Founded in 1984 by Promus Hotel Corporation, this hotel chain promises excellent service (or it's free!) along with free WiFi and a hot breakfast – not the continental muffin and coffee – which consists of waffles and oatmeal. Whether you are staying for business or pleasure, this hospitable company guarantees welcoming service among other things.
Each location is generally equipped with comfortable guestrooms, exercise rooms, lap desks, and much more. Guests are comforted by a 100% Hampton Guarantee® which promises "friendly service, clean rooms, comfortable surroundings, every time." If, due to any reason, you are unsatisfied with your stay, it is free. This hotel has even engraved this motto onto their reception desks where guests and employees alike may view it freely, taking solace within it.
This chain operates largely within the US. However, there are also many international locations in northern portions of North America, South America, as well as certain parts in Europe. Internationally, this chain goes by the name Hampton by Hilton and offer its guests many other amenities.
Originally, this line of hotels was under the Promus Hotel Corporation along with Holiday Inn. However, Hilton purchased Promus for just over $3.5 billion back in 1999. In 2004, they completed a more than $100 million update within their entire line of hotels which they called "Make it Hampton" and include a vast array of upgrades within each location.
Hilton Worldwide is a leading company within the hospitality industry with well over 90 years of experience. Currently, they own and operate more than 4,000 hotel/resort/timeshare chains around our world with an array of amenities and services for their guests. Employment within this hotel chain requires individuals who possess hospitable character traits, friendliness, fairness, and kindness toward each other as well as toward guests. If you find that you possess these characteristics, use any links below and view and apply online today!
Hampton Inn Careers
Hiring requirements will invariably differ by location. Those seeking employment or Hampton Inn jobs should possess certain criteria, experience, or education before being hired. Entry-level applicants should possess at least a high school diploma. How old do you have to be to work at Hampton Inn? Currently, the minimum age required for employment is 18 years old. A background check may also be required for some positions.
Applicants looking into a management role should not only have experience, but will also need a degree in the hospitality or related field for consideration. A keen ability with exceptional customer service is a plus if you desire consideration for employment with this company. Since hiring requirement do vary based on location, one should communicate directly when a manager for more precise information. You may also visit their official website where you can submit your Hampton Inn application today.
Get Your Degree!
Find schools and get information on the program that's right for you.
Powered by Campus Explorer
Average wages, salaries, and benefits for eligible employees will vary by position. While these stipulations differ based on job status, experience, and education, there are some basic payroll standards which this company has. Average wages/salaries and benefits are as follows:
Guest Services Agent – from $8.00 an hour thru $10.00 an hour with experience
Attendant – experienced attendants earn approximately $12.00 per hour
Hotel Management – hourly supervisors generally earn anywhere from $10.00 an hour thru $14.00 an hour. Salary positions such as assistant managers and hotel managers earn approximately $60,000 per year.
Keep in mind that, based on location, wages/salaries and benefits will vary. Discussing this information with a manager during an interview will provide more insight. Benefits generally consist of a 90-day probation before benefits become available. Also included in benefits is employee assistance, lodging discounts, 401(k), vacation time, plus more. Insurance coverage will differ by location and should be discussed with a manager during interviews.
Hampton Inn Job Descriptions
Within this hotel are jobs/careers which will suit individuals who enjoy working within the hospitality industry along with corporate positions as well. This company remains committed to ensuring each guest is completely satisfied from the beginning of their stay until the very end, which is why an elite staff is mandatory. They are also very dedicated to securing regular guests as often as possible. Applicants who can commit in this same capacity are ideal.
Hampton Inn jobs or Hampton Inn careers are very rewarding because those working within this industry have a unique opportunity to change the lives of each guests who stays on-site. With a friendly, attentive, welcoming, compassionate, unique staff this hotel has successfully touched lives across the globe for decades and will continue growing in the future.
Common job titles and job descriptions are as follows:
Guest Service Agent – responsibilities include greeting guests in a friendly manner making them feel welcome, checking-in/checking-out guests, along with other services regarding room reservations, coordination, etc. This position offers schedule flexibility, full-time/part-time, etc.
Attendant – responsibilities include maintaining cleanliness of rooms, doing laundry, setting out food for guests in the lobby, etc. This is an entry-level position.
Hotel Management – responsibilities include ensuring efficient site operations, overseeing staff responsibilities, handling payroll, enforcing company policy, etc.
There may or may not be other positions available within this company. However, jobs may vary by location. Visit their official website where more information can be acquired.
Hampton Inn Interview
If you are called in for an interview, be sure to bring your resume along with you. Many candidates overlook the importance of dressing in business professional attire for an interview. Do not make this mistake. When you are invited in for an interview with a manager, ascertain that you are well-dressed, confident, and self-assured. It does not hurt to write down a few questions of your own to ask the manager as well. If you are unsure of which questions to ask, do a web search or review information about the company prior to your interview.
Then, make a list of questions you have about the company, its history, your place with them, etc. A great question to ask, as an example, is 'is there any reason why you would not hire me?' This question impresses your interviewer while placing them in a position where you are allowed an opportunity to explain anything they would possibly not hire you for. Be prepared to speak about yourself, your work history, your experience, as well as why you would make a great addition to their team. Be confident, keep eye contact, and be sure to give a warm, friendly, but firm handshake. These tips should help you put your best foot forward, successfully complete your interview, helping you land an amazing job.
Advice For Application Process
Submitting a Hampton Inn application or viewing job opportunities is a fairly simple process. One sure way for consideration with this elite hotel chain and view jobs is to visit their official website for information regarding how to apply for Hampton Inn online. Once there, clicking the careers link at the bottom of the page will redirect you where you may read job descriptions as well as search Hampton Inn careers. Feel free to fill out the Hampton Inn job application online, then submit it for review by a manager.
A printable application for Hampton Inn is unavailable currently. However, one may visit one of their many local hotel chains to obtain a direct application. Once applications are completed, they are submitted to a manager who reviews them and schedules interviews. Individuals who decide to apply for jobs at Hampton Inn will be given consideration by management based on skills, experience, education, or possibly more.
The appropriate link below can also be utilized for viewing Hampton inn jobs online. Submission of your free application will guarantee that you are considered for employment. This does not, however, guarantee an interview or employment. Be sure that your skillset, education, and experience match the position for which you are applying to heighten your chance of being invited for an interview or being hired. Though there is no download application form or printable application form for this company, you may still submit an online application for consideration.
As a leader in the hospitality industry, this hotel chain has set the bar for superior customer service, among other things. Two of their direct competitors are Best Western and Comfort Inn. While these competitors offer similar amenities as Hampton, just how do they really compare?
Best Western has more than 3,900 hotels and more than 1,200 employees running their establishments. Best Western was founded nearly 70 years ago by M.K. Guertin and has their headquarters in Phoenix, AZ. While this hotel offers good amenities, brags about being "the world's largest hotel chain", or operates each hotel as a franchise, they do not offer a satisfaction guarantee to their guests which can be a disappointment if a guests has an unsatisfactory stay.
Comfort Inn originated in Rockville, Maryland back in 1939. This company has both hotels and motels under several different names. While they have a long history within the hospitality industry, and their hotels offer some very standard amenities, they – just like their other competitor – do not offer their guests a complimentary stay if they are unsatisfied for any reason.
These two competitors put up a good fight to remain ahead of the game, but they lack in areas where it matter the most. The Hampton Inn understands that guest satisfaction is a major priority if one is to run a successful business. If guests are unsatisfied, they are more likely not to return. Guests who do not return or do not recommend your business to others will soon cause others to stop visiting which, in turn, causes your business to fold. By having a 100% satisfaction guarantee for their guests, this hotel proves its commitment and dedication toward ensuring they remain in business for a very long time.
Also See:
Sleep Inn: Visit the job application for Sleep Inn to apply today.
Aloft: Aloft offers opportunities for both, beginners and experienced roles.
Residence Inn: See our guide for careers at Residence Inn.
Extended Stay America: See this page for jobs at Extended Stay America.
Quality Inn: Checkout the application page for work at Quality Inn.
Company Links
http://hamptoninn3.hilton.com/en/index.html