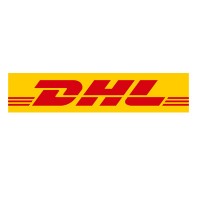 DHL stands as the world's leading courier service provider. They offer fast, cost-effective logistics solutions to all sorts of transporting needs. DHL stands for Dalsey, Hillblom, Lynn, which are the family names of its founders.
In 1969, they started an express messenger service transporting documents between San Francisco, California, and Hawaii. In time, their customer network grew and with it the company launched numerous expansions to establish more locations around the world.
DHL does business in more than 200 countries and employs approximately 50,000 worldwide. And even with this worldwide success, the company continues to work hard and commit to helping their customers, employees, and shareholders.
Employees are provided with an equitable compensation structure that offers healthcare, life and disability insurance, paid time off, 401(k) retirement plans, employee discounts, and meal allowances. They can also join health and well-being programs as well as attend training programs.
DHL puts people first. They recognize each employee's individual contribution to the company's success.  They keep their employees motivated, engaged, and provided with ample training and development opportunities to ensure their personal success.
How old do you have to be to work at DHL?
Majority of the positions require applicants to be 18 years old to apply. Some positions have a minimum age requirement of 21 years old. Having a high school diploma or a GED diploma is a must. 
DHL Careers
There's a diverse set of careers that one can pursue with the company. There are positions in the areas of customer service, distribution and warehousing, driving and courier delivery. Here are some usual positions:
Courier/ Driver – Dockworker: Couriers pick up, handle, and deliver documents and packages in a safe and punctual manner. They analyze traffic patterns, come up with alternate routes, and follow traffic regulations while ensuring the timely delivery of packages. They operate a scanner to record shipping and package information for all items picked up or delivered.
Field Services Operations Clerical Agent: A field agent provides customer service and operational support for the service center. They assist in resolving billing issues; research shipment tracking requests; and handle misplaced shipment. They help complete tasks involved in managing incoming and outgoing shipment. They unload, arrange, and catalog received shipment and help fulfill required outgoing shipment documentation and payments.
Operations Specialist: An operations specialist takes incoming customer calls, answers customer questions, assists in checking the delivery status, and provides price quotes as requested. They also input all incoming orders, deal directly with couriers, and dispatch local independent contractors and vendors for deliveries.
Customer Program Specialist: Serve as a single point of contact for DHL Global Forwarding (Freight) customers and the supply chain. They drive operational performance, root cause analysis, proactive supply chain development, and handle all customer escalations. Three years of freight forwarding or international shipping experience is required to apply.
Air Freight Operations Agent: Coordinates air freight product shipments by preparing all necessary export documentation and monitors delivery status from departure to arrival. They serve as liaison among customers, vendors, the warehouse, and government agencies. They regularly communicate with customers to provide shipment updates.  
Formal Entry Agent: Formal entry agents ensure compliance with federal and foreign regulations on importing and exporting goods. They complete all required documentations, as well as compute the weight and volume of all merchandise and their related cost to ship or receive. They also conduct invoice checks to ensure alignment between the manifest and actual goods received or shipped.
Warehouse Agent: Warehouse agents act as the primary point of contact for warehouse operations. They ensure the efficient processing of inbound and outbound traffic to guarantee that customer needs are met. They operate forklifts and help transport goods to and from the warehouse.
Supply Chain Specialist: Supports day-to-day business at the transaction level and conducts analysis to identify opportunities to improve the organization's supply chain operations. They drive local development, synergies, savings, and improvements, in close cooperation with management. They assist to ensure that all practices meet with the carrier's performance targets for timeliness and quality.
Product Specialist: Monitors work distribution and/or the email box to identify incoming queries. They ensure that all necessary documentations are accurately prepared and submitted on time. They also assist in investigating reported shipment issues and recommend an appropriate course of action. They help resolve internal/external customer complaints and irregularities.
Maintenance Technical Specialist: Performs preventive maintenance and repairs of material handling equipment and all associated equipment within the operations center. They are expected to utilize hand tools, electrical testing equipment, and computers on a regular basis. They ensure compliance with company safety guidelines and procedures.
DHL Application
The best way to search for jobs is through their Careers page. It features all open positions in the company—complete with the job's name, a detailed job description, key responsibilities, and qualifications for the role.
Once you've found the role you're interested in, click 'Apply'. This will lead you to the hiring page with the application form and document upload box. Here you can upload your resume, recommendation letters, and other relevant documents.
When you're asked to complete a basic information form, take the task seriously and check the accuracy of every detail you provide. Mistakes during this step may end up costing you your potential career.
Your resume should include a cover letter and any recommendation letters from previous employers. Your forms should be kept orderly and complete, plus the information shared should be accurate and updated.
The interview step varies depending on the job level you're applying for. Most positions only require a personal interview with the hiring manager. Some would have to go through a series of interviews with the hiring manager and HR.
Things To Know About DHL
The company envisions being the very best logistics company worldwide. To achieve that, they formed a culture of uncompromising customer-centricity and excellence. They welcome innovations and value lasting relationships with their customers, employees, and shareholders. 
In 2017, the company was recognized as one of the World's Best Workplaces. It's an award to organizations that achieve the highest standards of excellence in employee conditions. They're recognized for their non-hierarchical leadership, open communication lines, and empowered employees.
When you talk global logistics, DHL always come to mind. It has made its mark by working every day to help customer cross borders, reach markets, grow businesses, or simply send letters to loved ones.
The GoGreen program is an initiative launched to show the company's commitment to environmental protection. The company is targeting to completely eradicate logistics-related emission by 2050 with the help of new technologies.
Application Links
Company: http://www.dhl.com/en.html
Careers: https://www.dpdhl.jobs/
Application: N/A