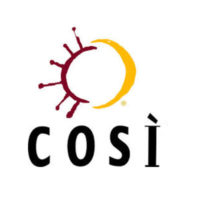 Così is a fast-casual restaurant famous for its freshly baked flatbread. It is headquartered in Boston Massachusetts, and offers a variety of sandwiches, soups, salads, and other food products.
The company as it exists today was founded in 1999 by the merging of Cosi Sandwhich Bar, Inc. and Xando Incorporated. It is this merger that makes the company unique. Since then it has functioned as a restaurant that changes entirely at different times of the day, and models popular flatbread restaurants found in Paris.
Above all the company is known for their unique flatbread recipe. The bread is prepared in front of customers, and baked on an open flame in stone hearths at each restaurant location. This provides an enjoyable atmosphere for customers, since they are able to see the bread prepared and to smell it as it bakes on the oven.
Employees for Così may be eligible for many different benefits. These range from comprehensive medical, dental, and vision insurance, to recognition programs and paid long term and short term disability insurance.
Employees love working for the company because they enjoy being part of a restaurant that serves as a mix between a fast-food and a high-end restaurant. The company provides a unique working environment that seeks to quickly serve customers higher quality food than typical fast-food chains.
How old do you have to be to work at Così?
Since the company has locations in multiple US states, there is no specific age requirement. In general, however, the minimum age is 14 years old for most entry-level jobs.
Così Careers
Although the concept of a higher quality fast-food restaurant sounds simple, there are still many different jobs necessary to make it happen. Così offers a variety of positions at its locations.
Trainee: This is the lowest position offered by the company, and the one beginners are most often hired as. Trainees lack any official title or position. They are paid to learn a specific job, and until that time work with trainers to get them up to speed on working for the company.
Barista: Baristas take various coffee, espresso, and tea orders at the front counter, and prepare and serve them to the customers. They must have warm and friendly personalities, and be able to quickly put together the orders, sometimes made up of multiple ingredients, and needing multiple steps to prepare. 
Ovenline: People working ovenline are responsible for maintaining the cleanliness of the oven, and for preparing and baking food orders efficiently. Since the ovens are visible in most restaurants, those who work ovenline may also have to interact with customers. Because of this, like Baristas and other similar positions, they must have a warm and friendly attitude while working. 
Catering: In addition to being a sit-in restaurant, the company also offers catering services. The people involved with catering are mostly cooks, but include others who take catering orders and coordinate their preparation. 
Delivery: Depending on location, the company may offer delivery services as well. Delivery drivers must have their own means of transportation, and must be ready to quickly bring food to customers near the location of the restaurant. They must be friendly, on time, and assist other areas in the restaurant when not on delivery. 
Baker: Bakers have a similar job to the ovenline, but have some more responsibilities. In addition to preparing food orders as they come, bakers are also responsible for doing food-prep before the restaurant opens, as well as for preparing more complicated orders. 
Coffee Specialist: Coffee Specialists spend much of their time with the Baristas at the front, preparing more complicated coffee orders. They must have a thorough knowledge of coffee and how to prepare it. They must be experts with all the different beans, roasts, and additional ingredients that go into making a cup of delicious coffee. 
Catering Account Executive: Catering Account Executive handle the logistical aspects of catering orders. They receive orders from customers, calculate their specific costs, and arrange the crew that will prepare them. 
Shift Leader: Shift leaders supervise the work team at restaurant locations at various parts of the day. They must be competent in most of the jobs at the restaurant, and able to help any department if necessary. They are to be encouraging, supportive, and able to give clear direction to the team of workers, whatever shift of the day it may be. 
Assistant Manager: This is the highest lower-level position that an employee can work up to. Assistant managers work closely with the restaurant's managers, evaluating the progress of the location and what things need to be either encouraged and cultivated, or what things have to be addressed and corrected. They form an integral part of the success of individual franchises and company-owned locations of the company.
Così Application
After looking at the company's various career opportunities, an interested candidate can then apply easily online. The applicant needs to specify the position required and the location of the position, and provide a cover letter and resumé.
The company provides an online application form that is straightforward and incredibly easy to fill out.
Excluding the cover letter and resumé, the only personal information the applicant must provide is a home address and a phone number. (And obviously a name, too!) This may be one of the ways the local restaurant contacts the applicant if they wish to hire him.
Applicants should make it clear on their résumés that they are passionate and encouraging workers. These are some of the most important foundations of the work ethic of the company.
If an applicant is selected for interview, he should first make sure to be on time. Restaurants especially do not want to hire people who are late. Second, he should be relaxed, friendly, and answer all questions honestly and with integrity.
Facts About Così
The company's interesting name comes from an opera that was written by Wolfgang Amadeus Mozart (1756-1791) called Così fan tutte ("Thus do they all"). This was one of the original owner's favorite operas.
The company, in addition to having over 100 restaurant locations throughout 16 continental US states, also has restaurants in Dubai, the United Arab Emirates, and Costa Rica. Most restaurants are open for all meals of the day: breakfast, lunch, and dinner.
Così takes the most pride in making their unique, fresh, and homemade flatbread. This staple of the company is based on a recipe that is over 2,000 years old. It's essentially the same bread that the ancient Romans ate!
The company supports many different charity organizations in the neighborhoods their restaurants are located in. They do this by hosting multiple benefit nights, on which 25% of all profits are donated to a qualifying non-profit organization.
COMPANY LINKS