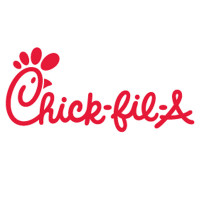 Chick-fil-A which is known for its signature chicken sandwich, also provides a wide array of delicious meals from chicken nuggets to burritos and wraps, to healthier choices of salads, fruit cups and yogurt parfaits.
The company traces its roots to the Dwarf Grill which was established in 1946 by Samuel Truett Cathy, who in 1964 was finally able to create the perfect recipe for his original chicken sandwich. And in 1986, as more and more people have gotten to taste his masterpiece, they've decided to leave the comforts of the mall and the first ever Chick-fil-A restaurant was opened on North Druid Hills Road.
Chick-fil-A now has more than 2,100 restaurants in 46 states and in the District of Columbia, making its signature chicken sandwich made available to people in malls, schools, airports, and even for those who are just passing by. By winning the Consumer Choice Awards for the category "Provides Value Through Service", Chick-fil-A has proven that not only can they provide great meals, but also great customer service.
Having an average retention rate of 95%, Chick-fil-A recognizes that to be able to provide delicious food and impeccable customer service, happy and satisfied employees are a big part of the equation. Employees receive 401k retirements plans, as well as medical insurance on top of the company perks such as food discounts, paid leave, and even scholarship grants to attend colleges or universities of their choice.
People love working for Chick-fil-A because they not only provide work experience, but they also make sure that their employees are able to step up and become future leaders and managers. One way to ensure that is the generous college scholarships they give out to deserving employees. They don't just focus on the future of the company, they care for yours too. 
How old do you have to be to work at Chick-fil-A?
Teenagers as young as 16 who would like to start earning may already apply at Chick-fil-A. However, it does not include various positions requiring college degrees, an amount of work experience, or expertise.
Chick-fil-A Careers
Franchisee Accountant: A Franchisee Accountant focuses on the development of Franchisee-centered solutions arising from issues with the different Chick-fil-A branches and stores, which includes analysis of monthly performance, monitoring of financial transactions, and consults on franchise improvements.
Fixed Asset Accountant: A Fixed Asset Accountant assists to ensure that the full fixed asset cycle is achieved, from the acquisition of newly bought fixed assets to the record keeping and auditing of existing ones, and to the calculation and analysis of depreciation and its impact on overall financial stability.
Security Engineering and Operations Associate: A Security Engineering and Operations Associate is responsible for the maintenance and development of cloud security by tracking the latest cyber threats and creating various solutions to possible attacks. They provide technical assistance and ensure that cyber security protocols are being followed and are in compliance with the current laws and regulations.
Cyber Risk Associate: A Cyber Risk Associate is involved in the overall cyber security governance which includes risk identification, assessment of system vulnerabilities, updates on the current security-related policies, and the development of a security network that is readily adaptable as the company grows.
Financial Consultant: A Financial Consultant provides Franchisees with consultation on their restaurants to ensure that they achieve their financial goals. They observe, analyze and develop specific solutions and strategies that suit the Franchisee's present financial status, then monitor his/her progress by conducting periodical visits to ensure adherence and success.
Receptionist: A Receptionist is responsible for handing out name badges to all entering individuals while providing genuine hospitality, and ensuring the maintenance of company security. They are also in-charge of answering calls for the Support Center and the My Campus Services (MCS), and ensure that all service requests are logged in at Service Now.
Business Consultant: A Business Consultant handles several individual restaurants and is responsible for providing sound marketing strategies that will help the restaurant Operator achieve its goals and reach its potential. They provide support and coaching to struggling branches to aid in its growth and ensure that everything is at par with the company's vision.
Health Insurance Specialist: A Health Insurance Specialist is part of the Benefits and Payroll Services Team which is in-charge of all the healthcare matters provided for in the health insurance of the employees. They cater not only to current employees, but to those who have already retired as well.
Consultant on Food and Product Safety: A Food and Product Safety Consultant is responsible for the quality of the food and various products when it comes to consumer safety. They aid in the identification of possible threats that may compromise food quality and develop various ways on the improvement of product safety.
Consultant on Franchisee Recruitment: A Franchisee Recruitment Consultant helps the Franchisee Recruitment Team identify and sort the best possible Chick-fil-A Franchisees that will not only help the company grow, but will also adhere to Chick-fil-A's vision and ideologies. They also aid in the development of marketing tools that will provide clear and easy-to-understand literature for prospective Operators.
Chick-fil-A Application
Any interested persons may apply for a job by simply going the Chick-fil-A's website and selecting the title of the job and clicking the button "Apply for this Job Online". A social media profile can also be used to apply, as well as by uploading a resume online.
Online applications are available and can be easily accessed using Chick-fil-A's official website. Prospective applicants may provide their information directly, or they may use their social media profile, or upload their resume from their computers or handheld devices.
If you already have a previous application, you can just log back in and save time encoding your information. You may also apply for more than one position at a time, but you would have to be directed at the main page of the company's website first.
It would be easier and more convenient for interested applicants to have their resumes ready on their computer or handheld devices so as to be able to easily upload them and submit to the company's website.
Before heading to an interview, make sure that you have read the job description and the responsibilities that go along with it. The Careers page of Chick-fil-A's website provides for a thorough information regarding the different vacant positions. 
Things to know about Chick-fil-A
Chick-fil-A recognizes people's need to rest and spend time with their family and friends. Thus, Chick-fil-A is closed on Sundays to give way for their employees to have their personal time.
8.8 million dollars' worth of scholarships have been given by Chick-fil-A to hundreds of its deserving employees in 2017, which is proof of how great it is to be a part of their team.
Not only are they known for their signature chicken sandwich, but their generosity has become widespread already. Making sure that they are not the only ones to succeed, they have provided their employees with college scholarship grants and give them the opportunity to become successful as well.
As if it's not enough, Chick-fil-A has doubled its investment in providing its employees college degrees. If it wasn't clear then, it is clear now: how serious they are as their chicken sandwich in providing the best work experience one can wish for. 
Application Links
Company: https://www.chick-fil-a.com
Careers: https://www.chick-fil-a.com/Careers
Application : "N/A"