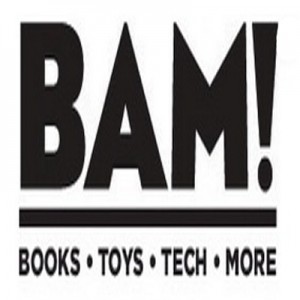 Books-A-Million, also known as their acronym BAM!, was founded 1917 in Florence, Alabama. It was first started by Clyde. W. Anderson as a newsstand. Eventually, profits from this stand allowed an expansion into a bookstore. Clyde's sons soon inherited this business, who soon began expansion through opening new stores in 1964.
Today, Bookland has become a subsidiary of BAM!, along with 2nd & Charles, and Joe Muggs. BAM! however continues as its primary retail store. Its first super store was opened in 1988. Then, four years later, it made its first NASDAQ post. These stores primarily sell books, gifts and food.  There are currently over 250+ stores owned by Books-A-Million.
BAM! offers a free application on smartphones that can help users read ebooks. Some Joe Muggs Coffee locations exist as stand-alone places. Books-A-Million reported $509 million in revenue in 2010. Their net income was $13.8 million. Clyde B. Anderson, who's current Books-A-Million CEO, is the grandson of Clyce W. Anderson, the founder of this company. There's no printable application for Books-A-Million, however, the website has plenty of application forms.
Currently, Clyde B. Anderson serves as Executive Chairman. Its corporate headquarters is in Birmingham, Alabama.
Books A Million Careers
All employees must be capable of working with a team within a fast paced work environment.
Requirements to become a bookseller are: having a genuine love of books, strong customer service skills, multitasking ability, good communication abilities, and being a team player while maintaining a professional appearance. No previous experience is necessary for this job, however it can be beneficial.
As a Barista, employees must have a love for coffee, strong customer skills, an ability to multi-task, great communication skills, be a team player and must have a professional appearance. These requirements are the same for Team Members who wish a Books-A-Million application for any job opportunities at a BAM! cafe. Since this is an entry level job as well, no previous experience is necessary.
Get Your Degree!
Find schools and get information on the program that's right for you.
Powered by Campus Explorer
All Managers must have a love for books, pass a background check, have strong customer service skills, great communication skills, ability to multitask, good leadership skills, maintain a professional appearance, a recommended assessment score and completion of all New Associate and Management Training courses within a 90 day period. While not required, having previous experience with management remains heavily preferred. Possessing a flexible availability schedule can be very beneficial when seeking this kind career.
All potential Managers must also have had previous experience in retail work before being hired as a Manager.
Employees at 2nd & Charles must have a creative interest in movies, books, comics, music or video games. All employees must also have product knowledge with an ability to research market trends.
Even though jobs at its corporate headquarters are limited toward any area with a corporate office, the standard requirement across all corporate jobs is possessing previous experience within a relevant field potential employees wish employment with.
How old do you have to be to work at Books-A-Million? Potential employees seeking employment as a Bookseller or Barista should be 18+ years to work with the cash registers. Otherwise, minimum age for employment can vary based upon where each store's located at.
Minimum age of employment for Team Members is 16 years old. By comparison, anyone seeking a position as a Manager should be 21 years or older.
Booksellers make an average of $8.09 per hour.
General Managers have a salary average of $39,609.
Assistant Managers are paid an average salary of $28,593 – $35,064.
Co-Managers make an average of $25,219.
Baristas are paid an average of $8.38 per hour.
Part-time employees receive very few benefits. All employees receive a 20-30% discount on store items. Employees also receive 401(k) with dental/vision insurance. However, full health insurance benefits are reserved specifically for full-time employees.
Hours can vary depending on location. However, average times are 9am -11 pm, Monday through Thursday. On Friday through Saturday, doors close at 11pm. On Sunday, store hours are 10am – 9pm.
Books A Million Job Descriptions
The most common jobs at this company include being a Bookseller, Barista, and joining their management staff within any superstore or subsidiary stores.
Bookseller responsibilities include greeting or immediately helping customers when they enter a store. This entails working as a cashier and helping satisfy customer needs (examples include, finding a book, or providing directions). As booksellers help customers with their purchases, they must also advertise the Discount Card program toward each customer and attempt to sign them on this loyalty program. All store employees must sign on as many customers possible. Finally, Bookseller responsibilities include keeping their workplace sanitized. This is an entry level job that does not require any previous experience.
Baristas must greet customers or assist customers upon entering the store, providing customer service, operate cafe equipment, prepare coffee drinks, cashier, sign customers onto Discount Card Program, and ensure their work area is sanitized. A barista at this organization is an entry level job.
Managers, Co-Managers, and Assistant Manager's responsibilities include ensuring their stores continue running as efficiently as possible. Store Managers specifically must carefully screen new members for their team while managing daily operations within their store. Once new members are hired, Managers must oversee their training.
All Managers must maximize profits within their store while providing quality service toward customers. Manager responsibilities also include ordering new products, managing inventory, and outlining goals for all employees. Each manager's responsibility includes supervision of their store's team while ensuring customer service is always meeting company standards. If a location's Store Manager is absent, then their responsibilities must be assumed by either a Assistant or Co-Manager.
While Baristas are used at superstore locations, Books-A-Million also owns Joe Mugg's Cafe, which employs its own Team Members and Managers. Joe Mugg's locations can also sometimes operate under a Books-A-Million name.
Team Members have all the same responsibilities as Baristas, however there is a heavier emphasis on maintaining the cafe. Customer Service as a Team Member is more specialized toward helping customers with any beverage related needs. Thus they do not require (unlike bookstore Baristas) an interest or knowledge toward books.
Another subsidiary owned by Books-A-Million is 2nd & Charles, which focuses on reselling and purchasing used books, movies, video games, comics, collectibles and other forms of media industry. While this subsidiary can have the BAM! name attached, these jobs are recommended for potential employees seeking Books-A-Million jobs that stress pop culture knowledge. Prospective employees can send a direct application toward this subsidiary if they wish for a career whose specialization is resale. Associates must have knowledge regarding media sold. Buyer Managers must also possess knowledge on the forms of media their stores sell.
Books-A-Million offers jobs at its corporate location in Birmingham, Alabama. Careers at this location can vary based upon what areas are currently hiring, including Books-A-Million jobs online.
Advice For Application Process
To create a Books-A-Million job application online, one must first visit their website. Once there, visiting their careers page will allow interested employees a chance at browsing through the available careers. From there, prospective employees can apply for jobs at Books-A-Million that they wish employment at. This includes jobs at any subsidiary owned by this company. The website will only allow interested applicants to submit online applications – i.e. there's no printable application form for Books-A-Million nor a place to easily download application forms. Interested applicants must also make an account so they can apply. Any relevant link will be supplied below.
All Books-A-Million careers involve a large amount of customer service. Showing that you are able to pleasantly interact with any customer will always look good on any resume. Try visiting the local store you are sending a Books-A-Million application form to! This can be a good way to get your questions answered. It's also a good way to understand what your interview will be like.
Interested employees looking into Books-A-Million careers at 2nd & Charles should also have an interest toward a particular popular culture subject. Don't be afraid to show a Manager your passion toward a subject, but don't forget that focus should remain on your customer relations/communication skills. Your passions should be a tool that helps you interact with customers better.
Don't forget, you should apply online for the job you want! Checking online helps by giving you an update if your interested job is still available.
Barnes & Nobles opened its first shop in New York City, 1917. It began as a bookstore in 1886. Their starting name was "Arthur Hinds & Company". In 1917 Glibert Clifford Noble bought Hinds & Company. He then partnered with William Barnes, resulting in their company's name changing into Barnes & Nobles. Today, Barnes has 658 retail stores, with 705 college bookstores. It's headquartered in Manhattan, New York City.
Book Off was founded in August 1991. Book Off currently owns 866 stores across Japan and eight international locations. Its success originates from how it actively encourages readers into browsing through its products along with innovative ways at making used books look newer. Book Off also offers discounts for new or near new books that other retail companies are unable to. It's currently headquartered in Sagamihara, Kanagawa, Japan.
Also See:
Cintas: See our guide for careers at Cintas.
OfficeMax: Use the OfficeMax job application to apply here.
Humana: Use the Humana job application to apply here.
Stanley Steemer: See our resource page for more information on Stanley Steemer careers.
Aflac: See our resource page for more information on Aflac careers.
Application Link
Career opportunities:
http://www.booksamillioninc.com/careers.html
A job search across all BAM! properties:
https://bam.taleo.net/careersection/2/jobsearch.ftl?lang=en