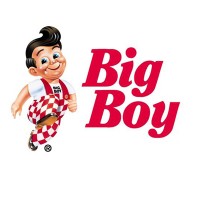 Big Boy restaurant chain is famous for their burgers and sandwiches. They are just as famous for their statue outside each restaurant, which is also their trademark, of a chubby boy wearing a white and red checkered outfit while holding their famous burger called "the Big Boy". If you would like more information about a Big Boy application, follow the link below.
Founded in Glendale, California in 1936, by Bob Wian and it was originally called "Bob's Pantry". After a few evolutions of name changes, it became simply known as "Big Boy", which is the name of their signature double-decker cheeseburger. The inspiration for their trademark was a young boy named Richard Woodruff, who entered the original store and Bob Wian referred to as "big boy".
This trademark itself also went through many changes throughout the years as the company grew. In addition to being known for their trademark burger, they are also known for some dessert menu items like the Hot Fudge Cake and their Strawberry Pie. They serve breakfast, burgers and sandwiches, regular dinner combos, and desserts.
This restaurant values families and treats their customers like they are part of the company's family. They have an emphasis on customer service, and expect their staff to have the best interpersonal skills. This company wants their employees to exemplify the friendly environment that the original restaurant found much success with.
Big Boy Careers
There are so many opportunities within this industry, and there is really something for everyone here. There is also room for growth at both the restaurant and corporate level. At the restaurant level, there are entry-level positions that they can turn their job into a Big Boy career. Some positions you can find here are greeters/cashiers, servers, and service attendants.
At the corporate level, there are much more variety in the types of positions that are available. The variety requires people of all skill sets to make the operations run smoothly. Some of these important positions can be in the fields of accounting and finance, franchise sales and development, restaurant operations and marketing.
Different positions require a different set of requirements to gain employment. Some positions require more education and experience than others. How old do you have to be to work at Big Boy? The minimum age of employment is 16 years of age, and that is for positions like dishwasher and servers.
Get Your Degree!
Find schools and get information on the program that's right for you.
Powered by Campus Explorer
The type of benefits you receive will depend on the hours worked weekly and your position within the company. Some benefits may be medical, dental and health insurance. Some may also have access to paid time off, 401(k) plan and tuition assistance. They may also have access to employee discounts and free meals or drinks during their shift.
The hours of operation can depend on the location and on holidays. Some holidays, there may be closures or the restaurant may close early. For more information on hours, check your local restaurant. Generally, hours of operation are from Monday through Friday from 6:00am to 12:00am and on Saturday and Sunday from 6:00am to 2:00am.
Job Descriptions & Salaries
Cook- The cook is responsible for providing the customers with quality food that has been prepared in accordance to not just the company policy, but any state regulations in safe food preparation. They must ensure that the kitchen is always clean and organized so that the food is made in a sanitary environment. They will be sure to store food safely in according to regulations. A cook may earn around $9 per hour.
Server- A server is responsible for providing prompt and hospitable service to the customers. They will take the customer's order and bring it to the kitchen. Upon the kitchen finishing orders, they will deliver orders to the customers. They must also be sure that the restaurant area is always clean and organized for a positive customer experience. A server may earn around $4 per hour, not including tips.
Assistant Manager- The assistant manager assists the general manager in running the daily operations of the restaurant. They will help manage and train staff. They must be sure that the staff is following all company policies for operation and will discuss with employees who are not to be sure they start following said policies. An assistant manager can earn around $35,000 a year.
General Manager- A general manager is responsible for the daily operations of their restaurant. They will hire and fire employees as needed. They are responsible for the budget and payroll of their restaurant. The general manager will schedule employees. The general manager must be sure that all staff follows the company policies for operation. A general manager can earn around $47,000 a year.
Big Boy Interview Questions
These are some potential questions that you may be asked during your interview.
Why do you want to work at Big Boy? You should do your research about the company and their values prior to the interview. The interviewer is curious as to why you chose this company and why you might be a good fit here. Answer honestly with any values and ideals that you share with the company and how that inspired you to apply.
Where do you see yourself in 5 years? The interviewer wants to know any goals and aspirations that you may have and if you can accomplish those with the company. They want to know if this is just a job you want to have for a month or two until you can find something better or if you are interested in growing your career with this company.
What is makes a customer service experience an excellent one? The interviewer is interested in knowing your views on customer service, as that is the largest requirement for this position. Think to a time when you received excellent customer service and what made it so special to you. Answer with this memory.
Why should we choose you over the other applicants? The interviewer is looking for you to sell yourself to them. Explain your strengths and why you feel they would benefit the company. Be honest and explicit with this answer without sounding too boastful.
Is working as a team important to make a business run smoothly? The restaurant business requires the entire staff to pull together and work as a team to be successful. The interviewer is looking to see if you are a team player and work well with other. Explain how important team work is to you.
Advice for the Application Process
Wondering how to apply at Big Boy? You can apply directly online at Big Boy jobs online. There are no printable applications online. There are no downloadable applications on the website. You may also fill out an application form at your local Big Boys. Be sure to fill out the application in accordance with the provided instructions.
On the website, the job descriptions and responsibilities are clearly stated so that a potential job seeker can find the positions that are right for their skills. You should only apply for positions that you are qualified for. When you submit your application, you should also submit an updated resume to give the hiring manager a clearer view of your skills and experience.
After applying to the company, you should hear back from a hiring manager within a reasonable amount of time. If you have not, you can call the restaurant that you applied at to check the status of your application and see if they are still currently hiring for that position.
You should prepare for your interview before hand by asking yourself potential questions and answering them out loud. This can help you seem less nervous, which will make you more confident during your interview. This will also help you be more articulate during your interview. You should dress in a professional manner for your interview because first impressions are important.
Also See:
Quiznos: For career opportunities, fill out the Quiznos online application.
Penn Station Subs: For employment at Penn Station Subs visit the application page.
Tacotime: Tacotime offers opportunities for both, beginners and experienced roles.
Long John Silver's: Visit the job application for Long John Silver's to apply today.
Shake Shack: Checkout the application page for work at Shake Shack.
Company Links