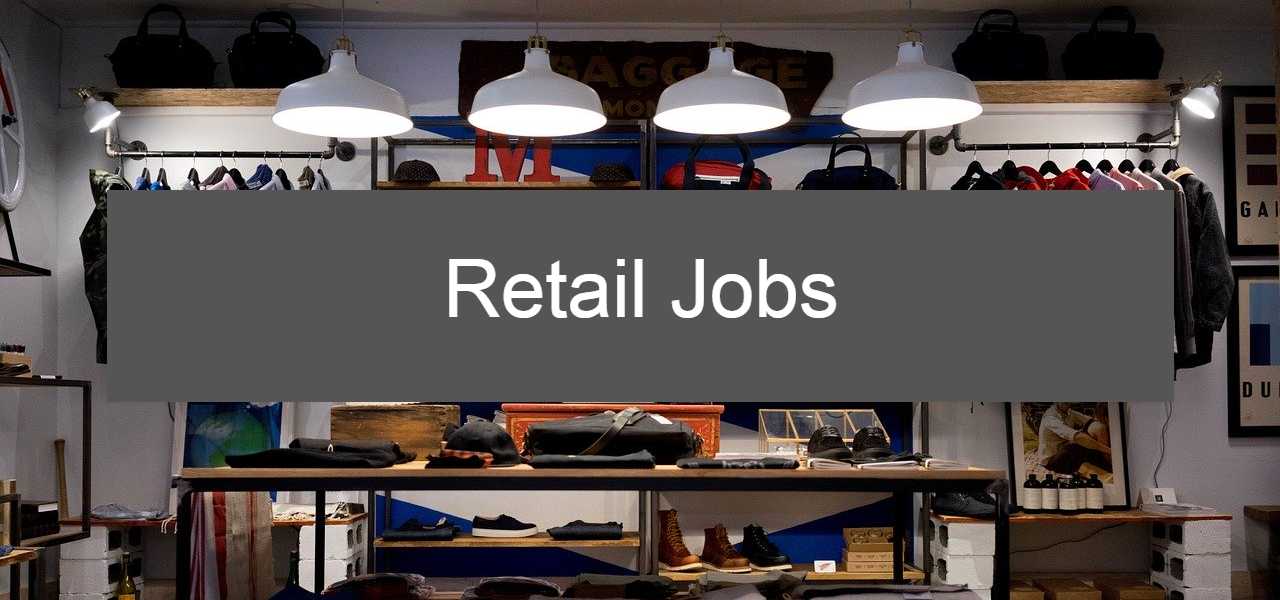 The retail sector employs approximately 16 million people in a variety of positions offering a diverse range of settings for employment. The pay however is low as with any job that doesn't require a high level of education, although the variant of retail positions does offer something for everyone.
The retail sector requires you to keep an open schedule as most retail positions don't follow the traditional Monday-Friday working week and more often than not will require weekends. Like most jobs, dedication and commitment are well rewarded in the retail sector with growth potential available, but also limited.
Working automated jobs such as a cash register offer limited growth potential but do provide opportunities for those with little to no job skills and a flexible schedule to fit around other commitments.
It is also worth noting that the digitalisation of retail spaces has largely affected physical retail stores, massively denting the amount of business physical shops have in compassion with new online retail outlets, although online merchandising is creating new jobs.
Career Options within the Retail Sector
As there are a plethora of retail positions available which cover a variety of different fields its important to find the best for you. Somethings to consider are your level of education, what interests you as well as where you are within your career. For example, a cashier role has low level of responsibility and pay, however the role is incredibly versatile in terms of schedule making it the perfect retail position for someone who has other commitments such as schooling.
The retail sector does offer other jobs that provide a higher level of job responsibility and with that, a higher salary. For example retail sales associates often make much better earnings than a cashier, especially if the role is commissioned based allowing you to gain extra money for what you put in. In order to take on a role like this successfully you will need excellent interpersonal skills aligned with the ability to close a sale. With the higher level of work experience comes a better level of pay, but also the scope to move up and gain promotions.
As the retail sector employs a high amount of people and covers a wide range of fields there are plenty of opportunities for growth for the right people. Opportunities for career advancements and better paid positions are available for roles such as retail managers and store sales associates and with larger corporations  there are even opportunities to move into roles such as security, administrative positions and IT bases roles.
For recent college graduates many larger retail companies will offer retail management training as they actively seek staff members with a higher level of education. You can find these kinds of opportunities in the careers section on a variety of different companies websites.
The Best Jobs In Retail
This is a list containing 20 of the best retail opportunities available right now. In each section we'll look at what the job offers you, what you'll be required to do, a rough idea of salary expectations and lastly what job prospects could look like if available.
Beautician
A beautician is someone who normally works in a salon, or at a cosmetics counter within a department store, or shopping complex. The beautician meets clients who have some displeasure with their appearance and recommends products that will alleviate the issue. This can involve trying out products on the client in store, or at the salon.
After gaining some experience many beautician start working freelance or in other words independently outside of salons and department stores. Working as a freelancer is usually more profitable. Normal Beauticians make roughly $12.11 an hour.
Butcher
A Butcher is someone who prepares meat and fish. There are many privately owned Butcher shops as well as dedicated sections in most supermarkets. The job entails trimming, cleaning and displaying both meats and fish. You will also be responsible for pricing the produce as well as answering any questions and making recommendations to the general public. As you will be working with food, hygiene certifications will be required. You'll also have to take inventory and place orders as managing stock levels is critically important for this job. The average pay per hour for a Butcher is currently $13.56.
Buyer
A buyer is someone who purchases the goods that a retail store will stock and hopefully sell. The job entails sourcing the items that will be sold which requires you to organise deliveries, regularly check inventory levels, negotiate on prices and evaluate sales performances. This job requires a calm-head and technical savvy. Benefits include attending trade shows, working on a variety of projects as well as a higher pay rate. Buyers are currently paid a median salary of $54,779.
Cashier
A cashier is someone who works the cash register at a retail store. Cashier jobs are readily available with approximately 3.65 million people in the US employed as cashiers last year. The job requires little to no education and also offers on the job training which is perfect for those just starting out. As with most jobs that require no formal education, the pay is typically bad estimated to be $9.78 an hour. This job does however generally offer great levels of flexibility so its worth considering if you can't commit full time.
Customer Services Representatives
Customer Service Representatives can be found throughout all large retail spaces. Normally they work at a desk and deal with enquiries such as returns, product information, pricing and other questions about sales, returns and items that aren't typically directed at the cashier. This is a customer facing role that requires a good level of interpersonal skills with the willingness to go above and beyond. A Customer Service Representative will typically make $15.41 per hour.
District Managers
District managers typically manage a collection of stores within a geographical region. They train, supervise and make sure that retail spaces hit their targets whilst also making sure that Staff are happy, well equipped and performing correctly. District managers typically earn $102.516 per year.
First Line Supervisor
First line supervisors, or area managers are assigned specific areas of a retail store, or a specific retail space that make sure runs correctly. They are a level below the District manager position, but typically a level above the regular sales staff and retail team. First Line Supervisors earn a median salary of $73,362 per year.
Loan Officer/Branch Manager
Loan officers working in retail banks evaluate mortgage and loan applications. They also up sell mortgages and loans to people and businesses. They normally manage a team of staff and rigorously follow bank policy. Loan Officers can typically expect to earn $66,187.
Information Technology (IT) Consultant
Retail IT coordinators main task is to help with user support. This could include hardware, software and server support. Normally your job will be fixing problems, so troubleshooting, resolving issues, and ultimately upgrading systems. As the digital is always changing and growing, this is a role that is particularly high in demand. A typical salary at the moment is $87,887.
Human Resources Specialist/Training Manager
This role operates both in store and at corporate offices depending on the company. Human Resources provides retail companies with new staff so the role requires you to be in charge of recruitment. This include hiring staff, initiating training programs and arranging the appropriate benefits for staff members. The role also oversee's employee relations so settling disputes, issues and problems within the work place. A Human Resources Specialist earns $66,287.
Logistics Coordinator
Retail logistics coordinators are responsible for assigning the right stock to the correct retail stores in order to maximise profits. They are responsible for ordering, tracking and delivering stock. They make sure that the shelves aren't empty and stores stay well stocked. Typically, a Logistics Coordinator will earn $49,290.
Loss Prevention Specialist
Loss Prevention Specialists act as the main safeguard from shoplifters in a retail store. They are normally responsible for cash handling as well as loss control. They remain vigilant and check store tags on items, reset and monitor the alarm system. A normally salary would be $30,657.
Manager Trainee/Leadership Development Assistant
If you are a recent college graduate this option may interest you. Navigating the job market as a college graduate can be hard. Luckily, lots of large retailers offer training schemes for college graduates. These schemes are set up to give you a broad understanding of allege elements involved in working within a large retail company. It's also worth noting that companies also offer these traineeships for great performing employees offering in-house training. Typical earnings for these schemes is $47,480.
Online Merchandiser
This is an area of retail that is fast growing. Online retailers are responsible for running digital retail spaces, they determine customer sales, analyse data and decide on selected promotions in order to boost sales. Plenty of people have taken to doing this job freelance, or part-time on their terms through sites such as EBay, Depop and Grailed. The average income for an Online Merchandiser is currently $63,976.
Pharmacist
Pharmacists are responsible for managing drug stores. They prepare and distribute the correct medication to any given patient. Given that the world has an ageing population, this
is an extremely safe job and one that should make you $133,337.
Pharmacist Technician
Working in drug stores and pharmacies this job requires good interpersonal skills. You will be dealing with the public, preparing medicine, stocking shelves, entering data and managing an ever chasing ever growing system. They currently make around $33,993.
Merchandise Displayers
Merchandise displayers work both in store and exclusively with a products manufacturer. They primarily set up displays in an appealing manner showcasing new products, promotions and must-have items. The median earnings for a Merchandise Displayer is $56,901.
Sales Associate
Sales Associates jobs are plentiful and readily available. Whilst the salary isn't always the highest, with a good level of motivation, great interpersonal skills and an ability to sell this job can provide a healthy commission. If you are selling high ticket items such as cars, furniture or jewellery and are a commissioned based sales person you can expect to make good earnings. The median earnings for a retail sales person are currently $26,795.
Store Manager
The Store Manager is responsible for looking after the retail store. They will keep track of stock, make sure employees are working effectively and correctly as well as liaise with higher member of the company about hiring staff, training and sales targets. This job typically earns $61,108.
Team Leader/Assistant Manager
The assistant manager helps the manager with their duties. Their primary concern is the day-to-day activity of the store. Making sure that the store runs effectively and Staff are working promptly and are happy. Of course, this role also has the scalability to become a manager. Whilst working as an Assistant manager you can expect to earn an hourly rate of $13.72.