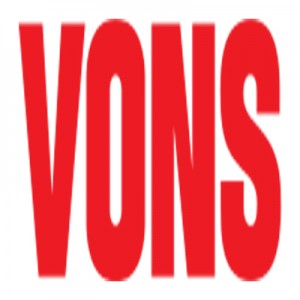 First opening in downtown Los Angeles, California, Charles Von der Ahe opened the first store. It was a twenty feet wide "groceteria" in what was basically a small town in 1906.  It was at this location that "cash and carry" was pioneered. This strategy was very successful and fueled growth for the chain to 87 stores by 1928.
The organization's growth over the next 70 years has continued.  Some of the first self-service produce was offered in these early stores. In the 1970s they had accumulated 159 stores with 16,000 plus employees making it the number one grocery chain in Southern California.
Operating primarily in Southern California, this company is a traditional grocery chain that remains fresh in the industry. Many locations rival upscale chains and feature high-end amenities. Online shopping is offered at Vons.com and delivery services are available in select locations.
Also introduced have been full-service banks, one-hour photo centers, professional pharmacies, dry cleaners and customer service centers offering copying and faxing. Pushing store brand merchandise such as Safeway SELECT, Signature, O Organics, and Rancher's Reserve is a strategy to appeal to cost conscious shoppers.
With a strong reputation as a responsible corporate citizen, the organization is committed to the communities they serve. Environmentally conscious, sustainability initiatives are actively pursued. Steps have been taken to reduce the carbon footprint of the business. Conservation of natural resources has been made possible through a product line developed to accomplish this goal.
The employees raise millions of dollars each year for their local Easter Seals Society. Employees can also give to charity by earmarking funds through the Vons Foundation. Some of these charities benefit teacher training and local food banks.  Support of the community at the local lever is a mission of the corporation. The mission statement addresses the goal of earning the loyalty of the people serviced by anticipating and fulfilling needs with superior-quality products, a unique shopping experience, customer-focuses service and constant innovation, while maintaining profitability and growth for the owners and shareholders.
Vons Careers
There are many job opportunities at the retail level and in corporate offices.
Get Your Degree!
Find schools and get information on the program that's right for you.
Powered by Campus Explorer
The corporation is a Fortune 100 company with over 160,000 part-time and full-time employees. As with any large corporation, you can find opportunities in many disciplines such as accounting, administration, communications, marketing, customer service, construction, real estate, finance, human resources, information technology, legal, government relations, quality assurance, retail operations, and supply chain.
There are innumerable opportunities to advance professionally and grow personally within the company. Training programs are offered to qualified employees that will improve their skills and aid in personal development.
How old do you have to be to work at Vons?  The minimum age to work is 18 years old.  You must be available varied hours including the hours of operation, which are 6:00 a.m. To 12:00 a.m., seven days a week. Additional employment requirements may include background checks, personality tests, skills tests, and drug screening.
Vons jobs offer competitive wages and salaries for the grocery industry. Cashiers average a pay rate of $12.00 per hour. Clerks can expect to earn from minimum wage to $9.00 an hour. Specialty positions within the company will earn more per hour or a higher salary.  These positions include produce, deli, meat and seafood clerks, and pharmacy.
Retail supervisors earn an average of $16.61 per hour. Meat clerks earn around $10.56 per hour.  A courtesy clerk earns an average of $8.66 per hour, while a deli associate earns an average of $9.03 per hour. The pharmacy staff receives above industry average pay. A staff pharmacist can expect around $63.39 to $64.59 per hour.
Managers have many responsibilities and their salary reflects this. Average pay for managers begins around $40,000.00 annually and can increase with promotions and additional responsibilities and experience to $100,000.00 and more per year. Store manager positions company-wide average between $60,000.00 and $80,000.00 annually.
Benefits
Above industry standard benefits are offered to qualified employees. Full-time and part-time retail store employee benefits differ by location and job description.
Other team members may be eligible for comprehensive benefits including a choice of medical plans, prescription drug coverage, vision care, dental and orthodontia, employee assistance program, health care and dependent care flexible spending accounts, company paid life insurance, paid time off for vacation, sick leave, and holidays, retirement plans, 401(k) plan, and a stock purchase plan.
Additionally there are programs for professional and career education and an employee association for leisure-time activities at a discount. Current and former employees report a varied and rewarding employment experience with the organization. Employee's opinions are valued and taken into consideration when making changes at the company. Competitive wages and salaries and comprehensive benefits, and potential for career growth are some reasons people find for working with this long-lived and exciting organization.
Whether just starting your working life, advancing down a career path, or enjoying employment that utilizes your talents and appreciates your contribution, this is a wonderful place to work. Diversity of work force and community where everyone belongs as a part of a group is a great way to grow professionally and personally.
Vons Job Descriptions
There are unique demographics surrounding the supermarkets that must be considered when hiring people for the positions they offer. The grocer's clientele is primarily upscale and culturally diverse. Products from local farmers are sold, and high-quality choices of produce, meats, seafood, cheeses, and produce.
Common positions are those you might find in any grocery chain. Jobs are available as cashiers, stockers, assistant store manager, store manager, delivery drive, pharmacy, service desk, deli, bakery, dairy and frozen foods, meat and seafood, meat cutter, produce, and many more. Many of these jobs are entry-level and provide a terrific way to gain skills and experience, potential for future promotion and advancement.
Applicants who possess knowledge of organic products, food safety, and general grocery store operations are highly sought after. Multicultural surroundings and communities for primary locations influence the skills sought by the organization. Bi-lingual job seekers who speak English and Spanish are in demand.
Servicing culturally mixed communities in the United States, the business strategy provides for the needs of these communities with quality products and good jobs for its citizens. While it isn't required to speak both English and Spanish to be considered for employment, workers must still be able to communicate effectively with customers as a way of providing good customer service.
While you may be hired in one position, such as cashier, you are frequently asked to cover other job duties as required. The ability to wear many hats is an asset. Cross training is provided to enable employees to fulfill any role as needed.
Vons Interview
The interview is a crucial step toward gaining employment with the organization. The process can take a few days or several weeks depending on the job sought and whether it is an entry-level position or management position.
Common interview questions are designed to determine your personality traits and how you would handle certain situations with customers and co-workers you might encounter in the position. Confidence, enthusiasm, and a professional and smart appearance will help you make a good impression. The person, or people conducting the interview may well be the people you work with if hired.
Arrive at your appointment on time and bring any requested documentation including your resume.  Familiarity with store layouts and some knowledge of the company history is an asset for the interview demonstrating your ambition and commitment.
Ask questions about the position that would affect your ability to do the job. You may want to inquire about how many hours you would be required to work, what are the physical requirements for standing and lifting. In short, asking questions demonstrates your enthusiasm working and your desire to work with the company.
Advice For Application Process
The organization is always taking applications and always hiring.
How to Apply for Vons Online – Vons Job Application Online
To apply online is easy. From the main website page select the careers tab link. Choose your area of interest. Retail, pharmacy and wellness center, home delivery, distribution and manufacturing, corporate, and college are the choices. At Vons jobs online, find the job opportunities in your area of interest. Fill out all requested information; verify your age and location. You are asked to login to your online profile, which you can create at this time. After this step you can submit your application form.
Direct Application – No Printable Application for Vons
You can apply in person for Vons jobs. Visit your local store and ask for a Vons application, or use an in-store computer terminal to fill out an online application (available at some locations).  This is a free application. You cannot download application form. There is no printable application form.
While striving to remain a unique grocery store choice in the market, there are competitors. Ralph's offers a similar grocery shopping experience and many of the same job opportunities in their locations. Stater Bros. Markets is a growing enterprise in the industry and has a presence in many comparable markets.
Also See:
Jewel Osco: For employment at Jewel Osco visit the application page.
Brookshire's: See our resource page for more information on Brookshire's careers.
Waldbaum's: For career opportunities, fill out the Waldbaum's online application.
Hannaford: See our guide for careers at Hannaford.
Lucky Supermarket: See our resource page for more information on Lucky Supermarket careers.
Company Links
http://www.careersatsafeway.com/