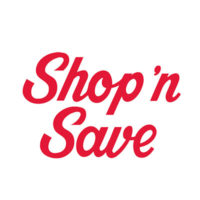 Shop 'n Save is a grocery store chain that stocks and sells products such as bakery items, dairy produce, and frozen goods. They also offer a professional pharmacy service within their stores. The company owns and sells a number of its own brand products such as: Essential Everyday, While Harvest, Super Chill, and Shopper's Value.
Shop 'n Save launched their business in 1979, opening their first store in Belleville, Illinois. 4 years after the company was founded, it was taken over by Wetterau Inc, a business dedicated to the sale and distribution of food items through supermarket locations across the country. Nine years later, Wetterau Inc was itself taken over by SuperValu and as a result, they became a SuperValu subsidiary.
The SuperValu network of stores is made up of more than 3,400 owned, franchised, and independent grocery stores operating in the USA. 41 of those stores are Shop 'n Save locations. Approximately 35,000 employees work across the SuperValu network.
Staff at Shop 'n Save work in an organisation that really values them. They work in an environment which offers inclusion and support, with no boundaries set on the achievements that can be made. AFLAC & Extra Life Insurance is available for employees (though there are a minimum number of hours that need to be work in order to qualify for access) and 401k pension contributions are also made.  
How old do you have to be to work at Shop 'n Save?
Child Labour Rules state that anyone as young as 14 years old is able to work in a grocery store. This means that anyone 14 years old or older is able to work at Shop 'n Save. 
Shop 'n Save Careers
There are a number of different career opportunities and paths to follow at Shop 'n Save. There are four main areas of the organisation that a potential employee could enter into include: Store, Pharmacy, Corporate & Store Support, and Distribution & Transportation.
Examples of the most commonly available and recruited jobs are:
Cashier: Cashiers work on the cash register. They provide excellent customer service with a smile, helping customers redeem coupons, food stamps, rain checks, taking cash and issuing receipts. Cashiers also place customer's purchased items into carts in a neat way. Cashiers need to be aware of the laws on the sale of alcohol, tobacco and other restricted items. They may also be involved in assisting customers locate the products they need while also cleaning and stocking shelves.
Clerk – Bakery: Bakery Clerks prepare and bag baked products. They also help customers with cake and bread orders, often decorating products to order. It is important that Bakery Clerks adhere to safety and hygiene regulations, and they may also be regularly involved in cleaning duties.
Clerk – Courtesy: Courtesy Clerks work to ensure the shopping experience for a customer is as good as it can be. They help customers find the products that they are looking for, load or unload heavy products while they also pass on customer feedback to other staff to act upon.
Clerk – Deli: Deli Clerks take customer orders over the deli counter, which can mean they slice, weight, date, price and label products. They also make sure that a good selection of produce is on offer. Deli Clerks need to have a good understanding of hygiene regulations and follow those rules at all times. Cleaning duties are regularly undertaken.
Clerk – Grocery: Grocery Clerks have quite a physical job. They stock aisles and register and scale products in a timely manner. They need to be able to work quickly and efficiently, making sure the right products are in the right place and are put there without being damaged.
Meat Sales Associate: Meat Sales Associates are responsible for ensuring that meat products are prepared in line with customer orders. They also work to make sure pre-prepared cuts of meat are available for sale. Knowledge and the following of hygiene rules are very important in this role.
Clerk – RX: RX Clerks are responsible for checking, verifying and then preparing medications in line with prescriptions. RX Clerks count up or measure doses of medication and then label bottles, before then filling prescriptions after getting approval from the Pharmacist. This job role involves completing and checking paperwork, so a keen eye for detail is a must.
Centre Stock Associate: Centre Stock Associates check invoices against the stock which has been delivered to a store by counting it. They then unpackage goods and put them in the appropriate storage area ready for colleagues to put out on the store's shelves. A keen eye for detail is important in this job role, and so is being able to deal with issues that arise quickly.
Clerk – Food: Food Clerks serve customers in in-store food service areas. This can be coffee shop barristers or cafeteria assistants. Good service skills are important for this role, as you would be handling money while also preparing or serving food. Multi-tasking skills will help your succeed in this type of job role.
Speciality Merchandise Associate: Speciality Merchandise Associates order, stock and straighten non-food items within the store. They also build and maintain attractive displays that help to drive sales by capturing the attention of customers. Speciality Merchandise Associates keep a keen eye out for places to put speciality or seasonal items to help futher drive sales.
Shop 'n Save Applications
To apply to join the company, applications should be made online via the SuperValu group's careers portal. It is likely that attempts to apply in store with a CV or other type of application will be refused and applicants would be re-directed to the online careers portal. To apply for a role, you will need to sign up for a free account.
To stand a good chance of being accepted into a role or invited for interview, you should make sure that applications are fully completed. All applications should be fully proof read.  CVs should also be proof read. All of the information contained within a CV should be tailored to ensure it is relevant for the application you are making.
Interviews are a vital part of the application process. Applicants who are going for an interview should make sure they are well presented and have had a good night's sleep the night before. Before interview, make sure you have prepared answers to standard interview questions, such as: "What are your strengths and weaknesses?"
Things to Know About Shop 'n Save
Reviews which have been posted online by former and current employees alike praise the company culture. They often talk about the company being a fun place to work and co-workers making it enjoyable.
The SuperValu group, which owns Shop 'n Save, is regularly in the news. Their appearances in the news are often linked to the buy-out of other chain grocery stores. In the summer of 2016, SuperValu bought 22 Food Lion stores off the back of a merger between Ahold and Delhazie.
Shop 'n Save is best known for their friendly customer service and their low prices, something which the community they operate in appreciate! They are also well known for playing an active role in their community.
The company prides itself on being a good corporate citizen, and this is engrained into their culture. They support a wide number of not for profit 501(c)(3) organisations who are working towards eradicating huger, and poor health and nutrition. They also support originations that provide good environmental stewardship. Shop 'n Save sponsor sports events such as the Special Olympics. 
COMPANY LINKS