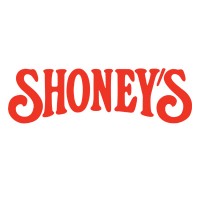 Shoney's is one of the most popular family dining restaurants in the United States that serves a variety of meals, including their breakfast menu (i.e. pancakes, omelets), a hot food bar, salads, entrees, burgers, beer, and their all-week specials.
The restaurant franchise began in 1947 as Parkette Drive-In owned by Alex Schoenbaum. In 1952, the Parkette was licensed by Big Boy Restaurants and it expanded its operations through aggressive sub-franchising until it changed its name to its current one in 1954.
The restaurant now operates in 150 locations, both franchised and company-owned, across 17 states of the United States. The company ventured into creating its own brand of motel chains in 1975. The remaining company Inns today have been renamed into GuestHouse.
As one of the leading family restaurants, the company puts premium value on its employees and their families. The restaurant chain offers employees an outstanding set of benefits including a 401(k) savings, paid leaves, and a magnanimous health care coverage.
After 70 years in the restaurant industry, the company has consistently upheld the principles of kindness and respect among its workforce. It has made a reputation for achieving successful milestones together with its employees.
How old do you have to be to work at Shoney's?
The minimum age of working for the company is 18 years old. Job seekers who qualify for age requirements and specific job descriptions are welcome to submit their applications.
Shoney's Careers
The company is well known for treating its workforce as its family while fostering a work-friendly environment. It takes pride in seven decades of serving fresh food to its wide variety of guests and customers from across the country. Career growth in the restaurant chain follows a progressive path of personal and professional development. Available positions are as follows:
Server – Servers primarily interact with customers and are responsible for taking their orders. Servers are expected to provide the best customer service quality in accordance to the company's Steps of Service. The position also requires answering queries related to the restaurant menu and bar items.
Prep Cook – Prep Cooks are responsible for preparing and cooking dishes that meet and exceed customer expectations. Prep Cooks are expected to abide by the standards of dish presentation and taste qualifications. They will follow recipe card procedures for creating menu dishes and must be able to work in a fast-paced environment.
Cashier/Greeter – Cashiers/Greeters are the first people who get to interact with customers. Cashers/Greeters are responsible for processing customer transactions and suggesting and organizing table seating when necessary. The position requires working in changing shifts including nights as well as weekends.
Dishwasher – Dishwashers are in generally charge of cleaning dishes, food preparation equipment, flatware, pans, utensils and glassware. Dishwashers are also responsible for maintaining kitchen materials orderly as well as in keeping the kitchen area clean and sanitized at all times.
Bar Quality Coordinator – The Bar Quality Coordinator is primarily responsible for maintaining the restaurant bar's quality at par with company standards. The Bar Quality Coordinator are in charge of creating employee schedules to ensure that the bar is well staffed especially during peak hours. The position will also be responsible for checking the quality of dishes and other food items served at the bar.
Bartender – The Bartender prepares alcohol and non-alcohol beverages for the restaurant's bar customers. The Bartender is expected to assess customer preferences and make recommendations when necessary. The position requires individuals who have experience in preparing and mixing cocktails or working at the bar.
Salad Bar Attendant – The Salad Bar attendant is responsible for performing routine salad preparation techniques in compliance with sanitation and safety standards. The Salad Bar Attendant is in charge of preparing and arranging vegetable and fruit selections for the salad bar using available food service equipment.
Shift Leader – Shift Leaders are expected primarily to run restaurant staff whenever the manager is not available. Shift leaders are responsible for reminding staff about their daily routines and schedules while also interacting with customers and ensuring that they receive a satisfactory experience with the restaurant and its services.
Assistant Manager – The Assistant Manager's primary focus is to provide support to the management team and ensure store operations are in compliance with the company's operational policies and procedures. Assistant Managers work under limited supervision and may take on duties of the Restaurant Manager when he/she is not around.
Restaurant Manager – The daily responsibility of the Restaurant Manager is to provide direction and leadership to the entire restaurant crew. The Restaurant Manager's mission is to ensure that workflow processes are adequate and all procedures are complied with by the restaurant crew.
Shoney's Application
How to Apply? The application process is quite straightforward. After submitting your application either through the online job portal or to the nearest restaurant, candidates usually have to wait for one to two weeks to get a job offer.
Is online application available? Yes. While online applications are available, restaurant management encourages applicants to submit printed application forms to the nearest restaurant locations.
Tips for filling application form. In filling out the form, ensure that all forms are filled out correctly. Pay close attention to the accuracy of information you are writing and make sure to use blue or black ink only.
Advice on resume. It's always advisable to highlight your strongest points in your resume, but keep in mind that experience and job record is mostly what employers are looking for rather than educational background.
Advice on interview preparation or process. The company sometimes hold on-the-spot interviews whenever candidates submit their resumes in person. Make sure to answer as honest as possible and don't forget to establish some rapport with the manager. 
Facts about Shoney's
Kindness and Respect – The family dining chain prides itself for treating its employees like family. Like family, the company believes that everyone should be treated with kindness and respect even at the workplace.
70th Anniversary in 7-7-7 Style – In 2017, the restaurant chain celebrated its 70th anniversary with astonishing price rollbacks and its 7-7-7 promo featuring 7 different fresh dishes served 7 days a week for 7 weeks available for 70 cents each.
First Mall-based Location – The company launched its first mall-based restaurant last January 2014 in Sugarloaf located in Lawrenceville, Georgia. The franchise location features a full bar.
Free Burger for Veterans and Troops – The all-American food chain wants to say thanks to soldiers by offering free its All-American Cheeseburger for all veterans and active duty military personnel every May 25.
Application Links
Company: www.shoneys.com
Careers: www.shoneys.com/careers.html
Application : www.shoneys.com/careers.html