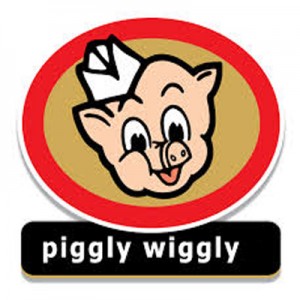 Piggly Wiggly is a chain of grocery stores that can primarily be found in Midwestern and Southern areas of the United States. It was the first self-service grocery store, and prides itself in making huge strides within this type of industry. Upon entering the first store, the customer grabs a cart and travels through a maze of aisle until they get to the cashier.
It is an independently owned and operated chain, meaning that each store is completely independent of each other with their own owners and leadership. Stores are located primarily in smaller towns and cities. There are over 600 stores currently.
The first Piggly Wiggly was opened on September 6, 1916 by Clarence Saunders. He patented the idea of self-service grocery stores, which were now very popular as a result of seeing the success of this first store. Soon after, in the 1920's and 1930's, other companies started to follow along with this business model in hopes to achieve the same levels of success. Today the company is owned by C&S Wholesalers, a company that owns many other chains of supermarkets across the United States. Even though each store is individually owned, they still maintain the same structure and business practices as the original.
In addition to being a company that revolutionized the industry, they continue to flourish today. They hire employees that believe in hard work and providing excellent customer service. The company believes that the employees own their store, not the franchise although they still have their name on the store. This gives the employees a sense of importance in the company, and makes them work harder.
Hard work and customer service excellence is incredibly important to this company. If you feel as though you embody these characteristics, then you are encouraged to apply to join the ranks of this innovative store.
Piggly Wiggly was featured in the movie "Driving Miss Daisy". The company named is owned by C&S Wholesalers, which is headquartered in Keene, New Hampshire. They were the first store to do the following: provide check out stations, mark prices on every item on the shelves, and provide shopping carts for customers.
Piggly Wiggly Careers
How old do you have to be to work at Piggly Wiggly? As with most grocery stores, the minimum age to gain employment is 16 years of age. This is for entry-level positions like baggers and cashiers. These positions will be able to work up to other positions as they get old enough to work in other departments.
Get Your Degree!
Find schools and get information on the program that's right for you.
Powered by Campus Explorer
A Piggy Wiggly job is more than just a job. A Piggly Wiggly career can come out of the jobs for those who are interested in furthering their Piggly Wiggly career. This depends on how hard the employee works to further their career, and those who show that they exemplify the standards of the company are offered this opportunity.
If you feel like this is a company that you can excel in, then go to your local store to find out more information on applying with the store. The average wages and benefits for employees of this store, depends on a few different things. Your job title is one consideration when it comes to wages. Other considerations include education level and how much experience you have. Just as it is with most other companies, wages and benefits can increase when you are promoted within the company.
A cashier here can make about $8.20 an hour. A stocker might earn around $7.90 an hour. A bagger is subject to the location's minimum wage. A manager, however, can often earn around $12 per hour. A deli clerk can earn close to $9 per hour. Benefits are subject to the same considerations that wages have when it comes to compensating employees. However, benefits may only go to qualified employees based on hours worked weekly. This means a full-time employee or a part-time employee. Full-time employees may qualify for additional benefits over part-time staff.
Some benefits are store discounts, paid vacation, and paid sick leave. Part-time employees can also enjoy flexibility with their schedules as well as paid on the job training. Full-time employees are eligible for health insurance, 401(k) plans, and additional savings plans.
Other benefits are at the discretion of the location that you are employed at, since they are individually owned stores subject to the benefits the owner decides to provide for staff. Any information about the benefits that you are eligible for can be found in your new employee packet that one often receives upon hiring. You can also ask your manager if there are any other additional questions.
The stores hours are as followed: Open Sunday – Saturday from 7:00am to 9:00pm. This is subject to location and may have different hours for holidays.
Piggly Wiggly is a business that treats their employees like part of the family. Each store is employee owned, which means that you are able to have contact with the owner for questions or concerns. You do not get this level of closeness and personal touches in much larger corporation owned grocery stores.
They are looking for people to work hard for their company, and follow the company's standards of excellence. They believe that low prices are what will bring the customers in, but great customer service is what keeps them loyally coming back. This is the most important thing for this store: customer satisfaction.
When you apply with the store, you should hear back within a reasonable amount of time. If you do not, you can call up and see if they are still hiring for that position and to check in on the status of your application.
Piggly Wiggly Job Descriptions
This is a closer look at the career opportunities that one can find within this store.
Entry-Level
Entry-level positions are great for the first time job seeker to gain valuable experience. This company offers paid training, which encourages employees to move up the ranks within their store. If you are a proven employee, you can find higher level positions within the store which opens you up to higher pay and more benefits.
Here are some entry-level positions that you can find here:
Cashier
Bagger
Stocker
Checker
Deli Clerk
For more information on these positions, please visit the nearest location to you.
Management and Higher Level Position
If you have proven yourself a valuable employee to this company, you might be promoted up the ranks. Likewise if you have previous work experience at another company, you may qualify for these higher level positions. Some of these positions have specific experience and education required to be qualified for them.
These are some management or higher level positions that you might be interested:
Produce Manager
Assistant Manager
Store Manager
Courtesy Clerk
Shift Manager
Meat Cutter
Front End Supervisor
For more information on these positions, please visit the nearest location to you.
Piggly Wiggly Interview
These are some tips for the application process to help you gain employment:
Dressing in clean and appropriate clothing is something to consider when going into a store for an application. You never know who is taking your application, and you want to give a good first impression.
One should only apply to positions that they are qualified for. By not doing this, the application may not be taken seriously.
The application should be filled out in accordance to the instructions provided. By not doing this, the application might not be considered. When you submit your application, you should submit an updated resume. This will give them a clearer picture of your experience and skills.
Here are some tips to help you through your interview and give an edge over other applicants:
Prepare for your interview before hand in front of the mirror. Anticipate the questions that you might be asked and answer them out loud. By doing this in front of the mirror, you are able to read your body language for weakness that may show a lack of confidence or nervousness. This will help you seem more articulate during your interview. Dress appropriately for your interview. First impressions are very important and you want to make sure that you are taken seriously.
Bring along two copies of your resume. One will be for the interviewer to have on hand, in case they do not have one on them. The other is for you to follow along with in case there are any items that need clarification. Do not arrive any earlier than 15 minutes. You should also not arrive just on time or late. When asked questions, keep answers short and honest. Interviewers can tell dishonesty. Be sure to thank your interviewer after the interview. This shows that you value their time.
After a few days, it is appropriate call back to check the status of your application. Be sure to ask if there are any additional questions that need to be answered or clarified.
Advice For Application Process
How do you apply for a position at Piggly Wiggly? There is no place to apply for Piggly Wiggly jobs online at their main website. There also is no place on their website for downloadable applications. There also is no place to find a printable application. Instead, interested parties are encouraged to go to their local Piggly Wiggly to apply in person.
There are certain locations that may allow a person to apply at their specific website online. There are links on the main site to these locations. There is no place on their website to look up job descriptions or responsibilities for a person to see if they are a good fit for the position that they are applying for. More information can be provided at the specific location that is closest to you and are interested in.
The grocery store sector of the business industry is a vast one. There are so many different competitors to this company, which is great for job seekers who want to work in this industry. The two competitors for this company are Aldi and Pick 'n Save Grocery.
All of these stores have the same ideals of great customer service while providing the customers with low costs to keep them happy. Aldi has a similar set up to the original Piggly Wiggly, where customers have to go through a maze of aisle to get to the end. However, Piggly Wiggly employs baggers, whereas Aldi does not. Aldi is also known for paying their employees exceedingly well for the industry, and offers better benefits. They do not sell name brand products, which helps this business model succeed for them.
Pick 'n Save operates in the same area has Piggly Wiggly does, which makes it a more comparable competitor. They pay their employees at the same rate, and offer the same benefits to their employees. Both companies allow for movement within the company.
Also See:
SuperValu: See our guide for careers at SuperValu.
Marc's: Checkout the application page for work at Marc's.
Shaw's: See our guide for careers at Shaw's.
Ingles: Ingles offers opportunities for both, beginners and experienced roles.
Pro's Ranch Market: Pro's Ranch Market offers opportunities for both, beginners and experienced roles.
Company Links
http://www.pigglywiggly.com/pig-links