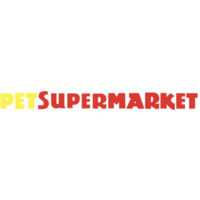 Located across 12 states, situated primarily in Florida, Pet Supermarket offers a range of items for all pets.  With over 10,000 products from toys, medicine and food. As well, vaccinations are offered for almost all pets. A large number of consumer products are sold online with a very easy to use e-commerce store.
Chuck West is credited as the founder in 1973 under the original name "Pet Circus". Changing its name to Pet Supermarket in 1986, a long standing relationship with area organizations that involve adoptions are hosted.
Employing around 1000+, the company is known for its active work within the community. Working to carry supplements and medicines for all possible pets.
Offering great benefits, which include a competitive compensation program,  group insurance benefits, 401K program and paid time off. There are great employee discounts and health benefits. As well the love of animals is an added plus.
It's a special feeling to work with animals all day. Helping fellow pet lovers bring satisfaction as well as knowledge that pet service can be quick and quality. In conjunction with a range of benefits, employees see value in learning from this industry.
How old do you have to be to work at Pet Supermarket?
Minimum working age at Pet Supermarket is 16. This will be an entry level position as a store associate.
Pet Supermarket Careers
Creating a great atmosphere for pets and their owners is one of the great value propositions offered at Pet SuperMarket. There are a number of different jobs and possible careers that come with great benefits.
Retail Sales Associate – Responsible for completing and performing tasks appointed by the store manager. As well selling products, helping with sales and customer service. Delivering outstanding customer service and meeting store goals. Must be able to work in a fast paced environment. Understanding of store products and trends within the industry itself.
Pet Groomer – Must be able to handle and control different types of animals. Gaining the animals trust and get them ready for grooming. Having a good handle with scissors and great customer service skills. Knowledge of professional techniques and all maintenance of the grooming area are a must. Previous training with animals is an added bonus and can lead to a much easier onboarding process. 
Jr Accountant – Open to recent graduates of an accounting program, responsibilities will include data entry, recording inventory of items and shipping statistics. Process any store errors and look into making adjustments. Work closely with store management to ensure all operations are in order. Compiling and working on various accounts receivable files and cross-checking all documents are correct and on point. 
Assistant Store Manager – Working closely with the store manager and corporate to build a great work environment. Train and ensure workflow of store associates is on par with company guidelines and customer service is kept at a high level. 
Store Manager – Responsible for overseeing store operations and working with corporate. Helping the store assistant manager train and keep workflow for employees at a high level. Delivering reports and meeting store goals to keep profit high. Creating work schedules, signing off on pay stubs and team meetings are a major tool to keep moral and success high. 
Accounting Clerk – Perform duties that include building excel spreadsheets, filing reports, assist in clerical functions and oversee cash receipts. Help with accounting managers to create reports and keep daily worksheets. Working with the junior accountant and store associates to make sure all reports are correct. 
CDL Driver – Working to deliver store products and operate commercial vehicles. Short for commercial drivers license, duties will include deliveries from store to store. Filling in driver logs, performing inspections on loads and trucks as well good customer service skills. Driving store to store, possibly state to state, to deliver and load various products. 
Maintenance Technician – Responsible for in-store set-up of displays and signs. As well working with other stores in the region and keeping track of all repairs to building systems. Must own a tool set and love to problem solve. Working with small machinery and various construction appliances are necessary.  
Retail Assistant – Working to cover a range of duties which include handling cash, refilling stock, keeping store standards and providing incredible customer service. Being reliable and passionate about the work will help to deliver store goals and various customer needs. Setting up displays as well creating a friendly environment for customers. 
3rd Key – Assist management in store operations and sales. Meet store goals and keep up daily operations that are up to company guidelines. Supervise and work in place of any off duty managers. Open and close the store when needed. Provide assistance to store employees in the store and warehouse.
Pet Supermarket Application
The most common way to apply is in store, where it's easily attainable to see the needs of that particular branch. Applying online through the company website is also a great way to get your resume and cover letter to HR.
An online application is accepted and can be more beneficial to target a range of jobs. It's usually better to walk in to the nearest location and fill out an application, accompanied by a resume. This way there can be a face to face interaction which can sometimes create a hiring opportunity on the spot.
It's important to do research on the position being applied for. Understanding the ins and outs of what will be tasked and how the workflow is done will make it easier to get the job. Be truthful in information being filled in.
Study the company and understand the position. Find out names of the managers and be well versed in a few products and sales. This information can be found on the website or locally in ads. Walk in and converse with a few employees. This can have a trickle down effect that can work very well in favor of getting hired.
Come well dressed and clean cut. Make sure to arrive 10 minutes early to show you are ready to take on the position and that time management is important. Have a firm handshake and speak with confidence and clarity.
Things To Know About Pet Supermarket
Company culture is built on a customer based value system. Ensuring all employees enjoy many benefits and a fun work environment, structure builds a foundation that allows employees to grow. Allowing employees to grow from within, there are a range of training and promotion options when working well.
Pet Supermarket does a lot of charity work and pet adoption throughout it's selected communities. Making sure to find homes for various pets as well as providing the space to get the proper medication. Taking the utmost care in all customer pets making sure events and pricing is affordable.
Known for rivaling PetSmart, it's clear this company wants to be the one stop shop for all pet needs. Creating a family atmosphere and extensive employee training system allow Pet SuperMarket to be at the forefront of the market.
Major social efforts include events to promote pet adoption, providing vaccines and medication to all animals. As well, sponsoring local charities and animal rescue foundations, allowing customers to be apart of their community foundations.
COMPANY LINKS
https://www.petsupermarket.com/