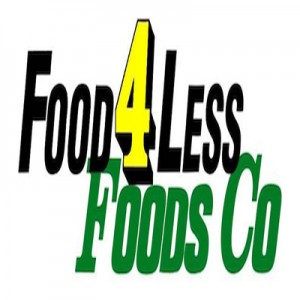 Food 4 Less is a discount warehouse grocery store chain that is unique because customers are responsible for bagging their own groceries, whereas at other stores there are baggers employed by the store to do this for the customers.
These chains of stores are owned by parent company Kroger. It has stores located in California, Illinois, Indiana, Nebraska, Nevada and Ohio. They pride themselves in being a "No Frills" type of grocery store, which they attribute to being able to keep the costs low for customers.
The Food 4 Less name and logo was originally from the 1930's, when the company was a part of the Falley's chain. Falley's was a full service grocery store, where Food 4 Less was their cheaper warehouse counterparts. Food 4 Less was able to cut labor costs by placing boxes on the shelves in their original cases, rather than placing them on the shelves individually. This was just another way that they were able to keep costs low for the customers.
Food 4 Less does not just want to bring quality to their customers for an inexpensive price, but they also believe in being a part of the community. They give to a few different charities to help their local communities. One program they have is "Bringing Hope to the Table", which contributes to the "Feeding America" campaign to help feed families that are going hungry as well as donating to local food banks.
Another charity that they proudly support is "Sharing Courage", which donates to breast cancer research. They predict that annually, their "Sharing Courage" campaign donates $3 million dollars for breast cancer research. They also have an "Honoring our Heroes" charity, which helps veterans, troops and their families. They have donated $2.3 million this year alone, raising their total of money raised to $10.8 million dollars since its creation in 2010. This money goes to the USO and programs that they support.
They support the Salvation Army, to assist the families that are in need within their communities. They have raised millions of dollars for this cause. In certain regions, they also do additional things like providing holiday meals for families in need and toy drives for children of needy families.
Food 4 Less Careers
How old do you have to be to work at Food 4 Less? An employee must be at least 18 years of age in order to apply with this company. That is for entry-level positions. You can find more information on the company website.
Get Your Degree!
Find schools and get information on the program that's right for you.
Powered by Campus Explorer
When you apply to this company, you actually apply to all local affiliated stores. This can help the job seeker increase their chances of finding the right employment for them. Be sure to apply for positions that you qualify for.
This company hires people that have excellent customer service skills, great interpersonal skills, and those willing to give back to the community. These are the types of employees that this company is looking for, and if you feel that you fit this mold, you should apply to join this great company. Some positions here include cashier, human resources and management positions. If you would like additional information about these positions, you can visit the company's website.
The benefits and wages offered within this company, much like with others like it in this industry, can vary based on a few different things like job title, education level and experience. As a person moves up within the company, their wages and benefits can reflect this change. For instance, a cashier can earn $10.20 an hour. A utility clerk can earn $9 per hour. A general clerk might make around $14 per hour. Some managers can earn near $70,000 a year. This will depend on the factors mentioned above.
Benefits are not just subject to the same criteria as wages are. Benefits can also depend on the hours worked weekly by the employee, like if they are part-time or full-time employees. Some of these benefits include health plans and dental plans, as well as future savings plans.
Other benefits an employee might qualify for are company matched 401(k) plans, stock purchase plans and access to assistance programs that are sponsored by Kroger. They might also receive paid vacation, sick time, and holidays. They might also qualify for vision plans.
If there are any questions about these benefits, you will find the answer within your new employee packet upon hiring. If there are any additional questions, your manager should be able to answer them for you. The hours of operation at the store can vary based on location. Hours can be as followed: Sunday – Saturday from 6:00am to 1:00am.
Food 4 Less Job Descriptions
Here is a closer look at job opportunities that are offered here.
Entry-Level
With a company like this, there is room for a person to grow their job into a career. Their jobs can grow with them, allowing for an entry-level employee to move up the ranks if they show excellence in their particular field, while showing that they exemplify everything the business would like in an employee.
Here are some entry-level positions a person can find here:
Cashier
Night Crew
Meat Clerk
Customer Service Cashier
Utility Clerk
For more information on these positions, or other like it, you can visit the company website.
Food 4 Less encourages their employees to take advantage of all the training programs they offer, so they can increase their skills and move up the ranks of this company. This company ensures that their employees are well trained to be able to take on more responsibilities. These positions also are available if you have gained the necessary experience elsewhere.
Here are some higher level positions that one might be interested in:
Grocery Sales Manager
Loss Prevention Specialist
Deli/Bakery Coordinator
Store Director
Store Manager
Customer First Manager
For more information on these positions, or other similar positions, please check the company website.
This is a business that truly cares for their customers. They want to give them the best deals with the best service. Even more than that, this is a company that realizes the community is just as important as their customers. As a result, their reputation for charity is just as important as their reputation as a great store with great prices.
The company website has wonderful information about the hiring process. Once you apply to the company, your applications stays on file for one year. When you apply, the application gets shared with all local Kroger stores, not just the Food 4 Less locations in your area. If you apply, you should hear back from the location you applied at within a reasonable amount of time if you are qualified for a position. If not, you can call the human resources representative at the company to check the status of your application.
Food 4 Less Interview
Here are some tips to help you get that job that you want:
Only apply for positions that you qualify for. Applying for a position that you are underqualified will usually mean they will not even look at your application. Apply in accordance with the instructions provided.
When you submit your application, you should also submit an updated resume. This will give a clearer picture of your talents and education for the human resources department. If applying at the location, dress in neat and appropriate attire. You never know if a manager or your interviewer is taking your application, and you want to make a good first impression.
Before your interview, you should practice in front of a mirror. Ask yourself, or have a friend as you, questions that you might be asked. Watch your body language to be sure that you are showing confidence when speaking. This will help you be more articulate and less nervous during your interview. These are some tips to help the interview process go smoothly to increase your chances of gaining employment:
Dress appropriately for your interview. First impressions are important, and you want to look like you are serious for the position. Bring along two copies of your resume. One is for the interviewer, in case they do not have a copy on them. The other copy is for yourself, so that it is easy to follow along with in case they have questions or need clarification on your resume.
You do not want to arrive more than 15 minutes early for an interview. Likewise, you do not want to show up late or just on time for an interview. Be short, clear, and concise when answering questions. You should also be honest, as the interviewer can generally tell if someone is lying to them. You should avoid over-giving information. Give a firm handshake to greet your interviewer and when you leave the interview. Be sure to thank them for their time.
After the interview has taken place, you should write a thank you note to your interviewer. This can impress them and show that you are serious about the job, as well as that you appreciate their time as valuable. You should call after a few days to check in on your application. Be sure to ask them if there are any additional questions that they would like answered or if anything needed to be clarified. This shows that you are serious about this position.
Advice For Application Process
How do you apply to Food 4 Less? You can apply at Food 4 Less jobs online. You can find Food 4 Less jobs that are available, as well as any job descriptions and responsibility for these positions. Gaining a Food 4 Less career is as easy as applying online for positions that one is qualified for. A Food 4 Less career can be a rewarding one for any job seeker.
There are no downloadable applications or printable applications on the company website. There is only a link that allows you to fill out an application directly online. You may be able to go to the location that you want to work for, and fill out an application there.
Food 4 Less has a lot of competition within this industry. The grocery store sector is a very large one with many different companies that have stores looking for employees and trying to keep their customers happy.
The two biggest competitors they have are Aldi and Price Chopper. Both of these stores pride themselves in consistently offering low prices for their customers. Aldi and Price Chopper are both much larger companies than Food 4 Less, and they are more similar to grocery stores than warehouse type stores.
Aldi is similar in the aspect that they can afford to pay the employees more and charge the customers less due to creative business techniques. One is that they also do not employ baggers, which means the customers need to bag their own groceries. Aldi also only sells their own products, unlike the other stores that offer most popular brand names.
Also See:
United Supermarkets: See this page for jobs at United Supermarkets.
Amigos United: See this page for jobs at Amigos United.
SuperValu: Use the SuperValu job application to apply here.
Pathmark: For employment at Pathmark visit the application page.
Foodtown: For employment at Foodtown visit the application page.
Company Links
https://www.food4less.com/topic/store-opportunities-4