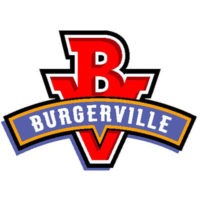 Burgerville has been serving fresh food made from ingredients from their backyard–the Pacific Northwest.  Starting with a single restaurant to 42 locations spanning within a 290-km radius, across the Portland metropolitan area.
Founded in 1941 by George Propstra in Vancouver with Jeff Harvey taking over role of CEO in 2008.  Overall holdings of Burgerville belong to The Holland Inc.
Using the slogan "Choose Fresh, Local, Sustainable. Choose Burgerville.", the company is the largest chain in America to operate on 100% wind power. Commitment to homegrown resources, 72% of food is brought in from the surrounding 400 mile area. Range-fed beef, trans-fat free canola oil and composting food waste has lead to massive over turn in savings. Employing around 1300, Gourmet Magazine named Burgerville it's 2003 winner for freshest fast-food in America.
2016 saw employees organize a union called "Burgerville Workers Union" with help from various organizations. This allows for benefits and other job security perks.
Great company policies, knowledgeable managers and flexible working schedules are just a few of the reasons why employees love Burgerville. Employment here teaches social skills, time management and customer service in a fast paced environment.
How old do you have to be to work at Burgerville?
Minimum age to start work is 16, with amazing entry level jobs. Also they offer Management and corporate leadership team members various bonuses and compensation packages.
Burgerville Careers
There are tons of different career opportunities offered. All offer incredible experience and valuable tools that will build towards future jobs. 
Crew Member: A crew member is an important role that requires quick thinking and word class customer service. They take orders, cashiering, filling and producing orders, as well as up-keeping a clean and friendly workplace environment. Making sure all requests are passed up to upper management and are entitled to amazing health and job benefits.
Restaurant Assistant Manager:  As an assistant manager, duties will include overseeing team members and operation of the kitchen and front service areas. Tasked with ensuring everything runs smoothly and providing world class customer service. A restaurant assistant manager also must relay all information to the restaurant manager.
Janitorial Maintenance Technician: Responsibilities include maintaining interior and exterior restaurant cleanliness as well as restaurant equipment. Providing amazing customer service and willingness to thrive in a high paced environment.
Porter: A porter is responsible for custodian duties that make sure the building is clean and neat. They mop, sweep, vacuum, throw away trash.  They use industrial equipment on occasion and may have to run errands for employees if needed.
Cashier: A cashier is responsible for taking orders and being able to handle money in a face paced environment. They must provide outstanding customer service as well as communication skills to inform other crew members of real time changes.
Data Entry Clerk: A data entry clerk requires above average computer skills and fast typing ability. Responsibilities include; typing data in directly from clients, spreadsheet creation that deal with large numbers and values. Data is sensitive information so keep backups of all files.
Cook: A cook must be able to prepare orders in a timely and quality manner. They must be able to command kitchen duties and keep up with stock of supplies and food. They are required to sustain company standards and regulations to supply top quality food.
Assistant Administrator: A more corporate role but from the entry level, they are responsible for answering phone calls, taking notes and organizing files. They also keep workflow of information around the office and may need to greet various customers.
Marketing Specialist: A marketing specialist is required to maintain digital and social marketing projects. They must put together concepts and deliver on various tasks that are both social media based and ad based. Understanding trends and customer awareness are important to deliver.
General Manager: A general manager is the highest level position at the store level.  Responsible for overseeing entire store operations, hiring, perform bank related duties and manage crew members. They also must report to head office and keep track of all financial records.
Burgerville Application
There are various ways to apply. The Burgerville website is the place to start. Hiring services are handled by a company called "HiringThing". This is the best way to apply as it gets directly sent to head office and it's most up-to-date.
You can print an in-store application or walk into any location. There are also websites like Indeed and Workopolis that can provide extra details and career opportunities.
Great tips for the application form is to be honest in your availability and skill set.  Understand what is important and how you can add to the Burgerville team.
Online applications are a great way to apply so make sure all social accounts are professional. Set up a resume and cover letter specific to the job being applied for.
Preparation for an interview is as important as the interview itself! Dress well, study the company and job position being applied, be prepared to show your best sides and most important–be yourself!
Things To Know About Burgerville 
Encouragement to convey stories to customers about how the company operates is crucial to the culture. Any service companies greatest asset is its employees, this requires a long standing commitment within the company. Company wide events and great benefits create a true love for each employee.
There are a constant stream of events and giveaways offered. Usually around strawberry season, Burgerville offers discounts or even free milkshakes within the region.
Known for only offering backyard grown ingredients from local providers. 72% come within a 400 mile region. Known for being energy efficient, the company is the first fast-food chain to use 100% wind power. They have saved over 100,000 dollars annually by composting food versus just throwing it out.
Socially, Burgerville is bar none. They promote all the farmers and companies they work with and create a network of customers who love the product and food. They build their brand out there using only fresh ingredients and home grown values.
COMPANY LINKS